Donegal is being moved to level three COVID-19 restrictions for three weeks. 
The Cabinet met by phone this afternoon to consider the extra restrictions for the county, following advice from the National Public Health Emergency Team (NPHET).
The restrictions will be in place from midnight Friday until October 16th.
Taoiseach Micheál Martin this evening confirmed the extra measures for Donegal, saying the county will have the same restrictions as Dublin - including no indoor dining in restaurants.
Restaurants and cafés can stay open for delivery, takeaway and outdoor dining for no more than 15 people.
Wet pubs will be allowed stay open in the county - but will only be able to serve outdoors on the same basis as restaurants.
Weddings planned for this weekend in Donegal will be allowed to go ahead on level two rules.
Extra supports will be available to businesses in the area, including a top-up to the restart grant.
No other counties will face extra restrictions for now, but officials are warning that the situation continues to evolve and deteriorate nationwide.
"If we're honest there's every chance we could have similar announcements in other areas. Each and every one of us needs to reflect on that" says the Taoiseach. Adds that nothing is inevitable and personal responsibility vital

— Seán Defoe (@SeanDefoe) September 24, 2020
Latest figures show Donegal has a coronavirus incidence rate of 122 per 100,000 people - the highest rate in the country other than Dublin.
Some areas are particularly badly affected - with the Stranorlar LEA seeing an infection rate of 336 per 100,000.
30 cases were confirmed in the county yesterday.
Level three restrictions include further limits on social gatherings, and the closure of the likes of cultural institutions.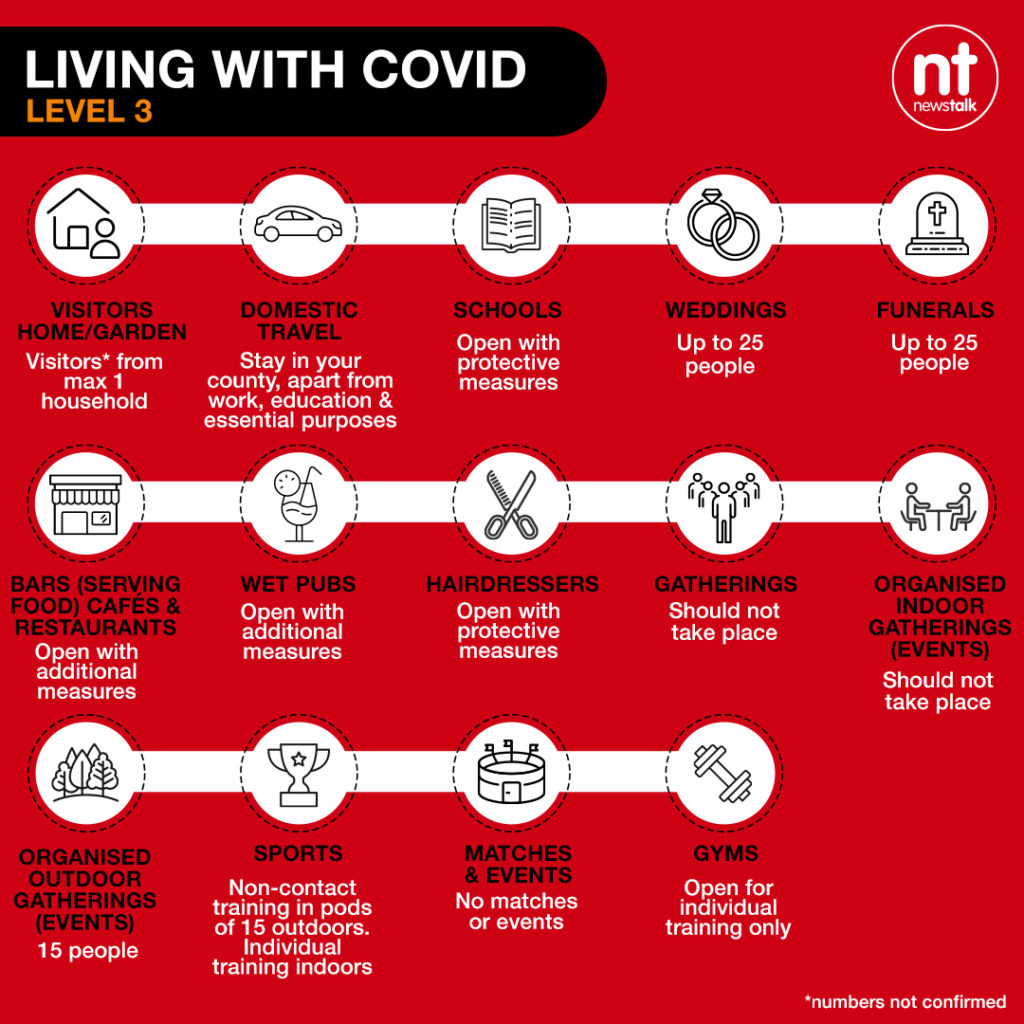 It had been expected a decision on Donegal wouldn't be taken until next week, but the rise in cases has led to a quicker intervention.
It is the only county being moved to level three from tonight.
Waterford saw a slight drop in the incidence number today, and will be given more time to reduce the spread.
There has been concern over the spread of the virus in Louth, which is the only other county with an incidence rate over 100.
Reporting by Sean Defoe and Stephen McNeice