A further 10,600 Irish people have tested positive for COVID-19, the Department of Health has confirmed. Of that figure 6,689 took a PCR test and the remaining 3,911 registered a positive antigen test with the HSE. 
836 hospital patients have contracted the virus, of whom 78 are being treated in ICU.
The five day moving average stands at 11,231 - up slightly from yesterday's figure of 11,149.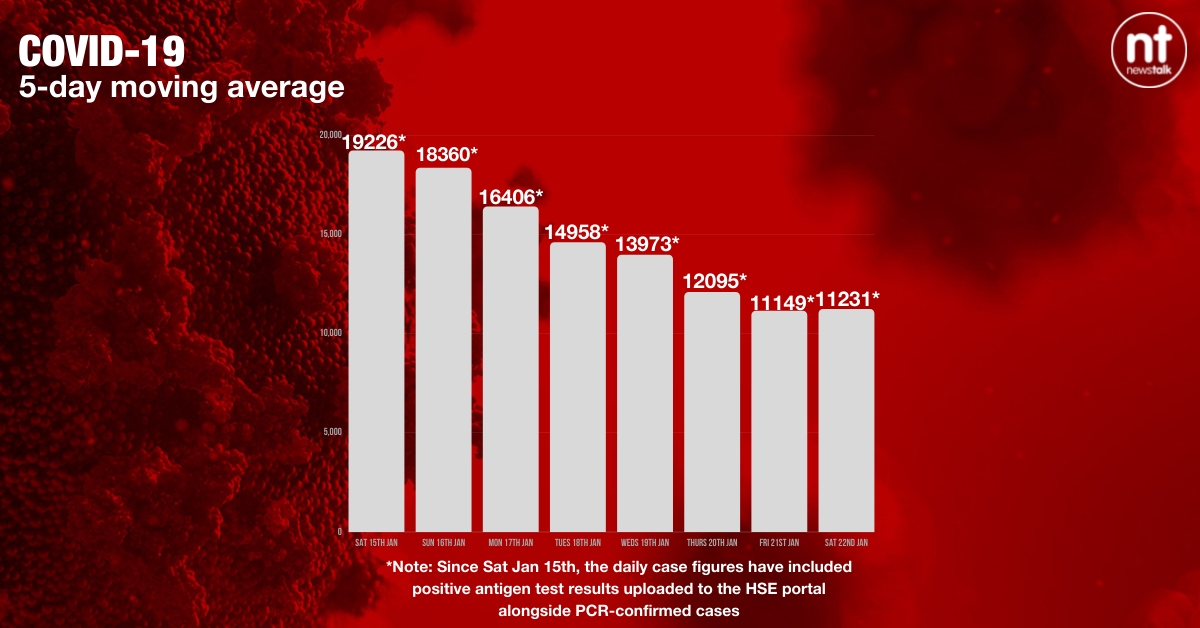 The news comes as most restrictions in Ireland end; mask wearing on public transport and in shops will remain, but hospitality will be allowed to remain open past 8 o'clock and the entertainment industry can operate at full capacity.  
However, the World Health Organisation cautioned that a return to full normality could still be a while away. Dr Margaret Harris told The Anton Savage Show that, "it's certainly not over yet": 
"In the last week we've recorded over 18 million new cases and the number of cases globally are breaking records every day. 
"And, sadly, 45,000 people died last week. So it is still a major global threat. 
"But where different countries, different societies are seeing a reduction, it's reasonable to start looking at how you negotiate the new normal. 
"But it's certainly not over yet." 
Dr Harris added that despite society reopening, it was important that individuals still think about their own personal risk: 
"I would say for individuals, it is still critical that you know what your situation is. Have you been vaccinated? Has your family been vaccinated? Are you in an area where there's still ongoing transmission? 
"It is very important, even though the overall signal is that things are improving. 
"Think about your own risk as well," she concluded.
Main image: A man is swabbed at a Covid-19 Test centre outside the Ballyfermot Sports Complex. Picture by: Sam Boal/Rollingnews.ie.