A further 6,307 people in Ireland have tested positive for COVID-19, the Department of Health has confirmed. 
429 hospital patients have contracted the virus - of whom 100 are being treated in ICU. 
The five day moving average has increased to 5,768 - up from 5,233 yesterday.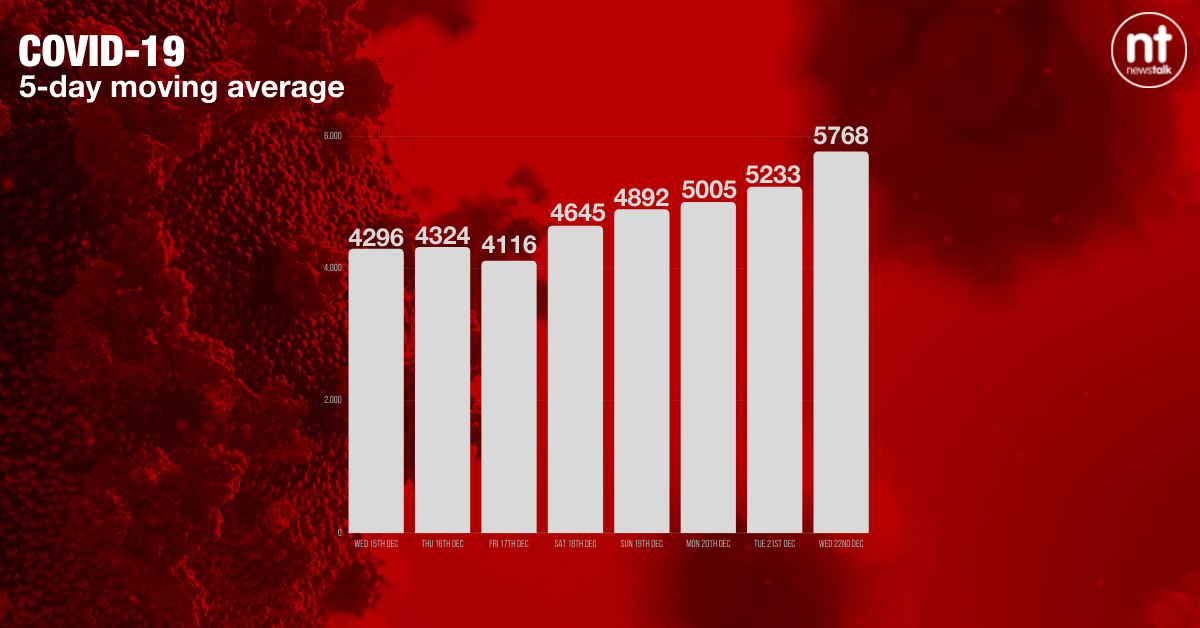 The Department also confirmed the deaths of a further 55 people who had contracted COVID - bringing Ireland's total death toll to 5,890. 
Young people
Deputy Chief Medical Officer, Dr Ronan Glynn, said that young people in particular were testing positive in high numbers: 
"We're seeing a level of disease incidence in people in their twenties which is about double the incidence across the rest of the population as a whole," Dr Glynn told Newstalk. 
"So the incidence level is really high and rising. 
"So the basic message has to be that you must assume at this point that you're infectious and that the other people that you come into contact with are potentially infectious because there's so much of this virus in circulation." 
HSE CEO Paul Reid said that the health service was under huge pressure: 
"If you take this day last year, we had 239 COVID positive patients in hospital and 25 in ICU. Today we have [429] - almost twice the number of COVID positive patients in hospital. 
"So we are heading into a period with a very high number of COVID patients already in hospital which has a high impact [on us]." 
Northern Ireland
Up north, Health Minister Robin Swann has announced fresh restrictions after a record 3,231 cases were confirmed.
Measures include the closure of nightclubs from St Stephen's Day onwards, the return to the rule of six for people meeting for drinks or a meal and stricter rules on the wearing of face masks. 
However, Minister Swann also said that the Executive would have gone even further had the British Government offered to reopen employment support programmes such as the furlough scheme: 
"I will say solely from a public health perspective, the precautionary approach would have been to impose much more severe restrictions right now. 
"All other things being equal, the Executive would have gone further today. However, all things are not equal. 
"Our options are extremely limited, especially given the absence of furlough".
Main image: A medical worker takes a swab sample from a resident for COVID-19. Picture by: Xinhua/Xiao Yijiu.