There have been 4,620 new confirmed cases of COVID-19 in Ireland.
Latest figures show 571 patients are hospitalised with the virus - with 118 of these in ICU.
The five-day moving average of cases stands at 4,515.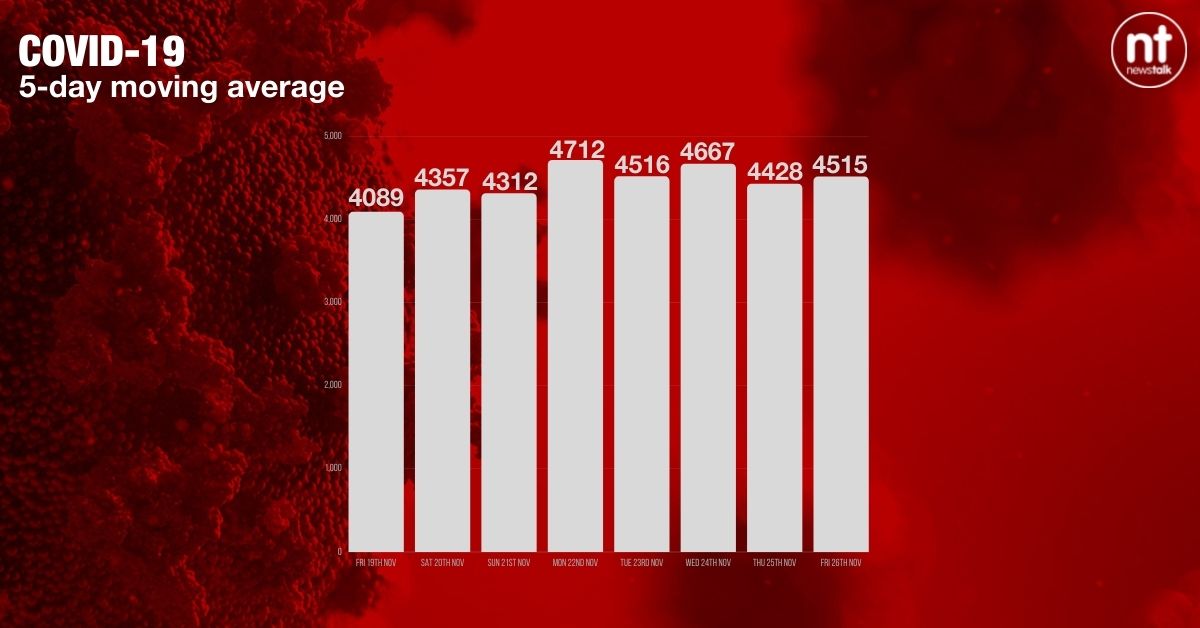 It comes as  a new variant of the disease has been found in Belgium.
The B.1.1.529 variant has been named a 'Variant of Concern' by the World Health Organisation (WHO).
The body has also named it as the 'Omicron' variant.
It was first reported in South Africa on November 24th, after the first known confirmed infection was from a specimen collected on November 9th.
The WHO says: "This variant has a large number of mutations, some of which are concerning."
It says preliminary evidence suggests an increased risk of re-infection with this variant, while the number of cases of it "appears to be increasing in almost all provinces in South Africa".
It adds that there are a number of studies underway and they will continue to evaluate the variant.
Meanwhile Ireland is to apply an EU 'emergency brake' system to several African countries, in response to the new variant.
While the Department of Justice is updating visa requirements for the countries affected, and the Department of Foreign Affairs has changed its travel advisory to 'avoid non-essential travel'.
Irish residents returning home from these areas will be required to undergo "strict home quarantine" - regardless of any vaccine/recovery/test status - and also undergo PCR testing during quarantine.
In a statement, the Government says Mandatory Hotel Quarantine options "are being examined on a contingency basis".
It comes after European Union states agreed to temporarily suspend travel to the southern African region, after the detection of the new variant.
Belgium earlier reported the first case of the new  variant in Europe.
Although the country's health minister, Frank Vandenbroucke, stressed there was no need to panic - as much remains unknown about the new variant.