There have been seven more deaths related to COVID-19 and 1,372 additional confirmed cases in Ireland.
The Health Protection Surveillance Centre (HPSC) says all of these deaths occurred in January.
The median age of those who died is 77 years - and the age range is between 43 and 94 years.
There has been a total of 2,977 coronavirus related deaths and 188,923 confirmed cases in Ireland.
This includes the denotification of three confirmed cases.
Of the cases notified on Monday:
616 are men / 751 are women
56% are under 45 years of age
The median age is 41 years old
Some 502 cases are in Dublin, 164 in Cork, 77 in Wexford, 75 in Waterford and 66 in Louth.
The remaining 488 cases are spread across all other counties.
As of 2.00pm, 1,905 COVID-19 patients are hospitalised - of which 219 are in ICU.
There have been 58 additional hospitalisations in the past 24 hours.
Meanwhile Monaghan has the country's highest 14-day incidence rate per 100,000 population - at 1,485.7.
It is followed by Mayo (1,213.7), Louth (1,151.4), Waterford (990.7) and Carlow (978.4).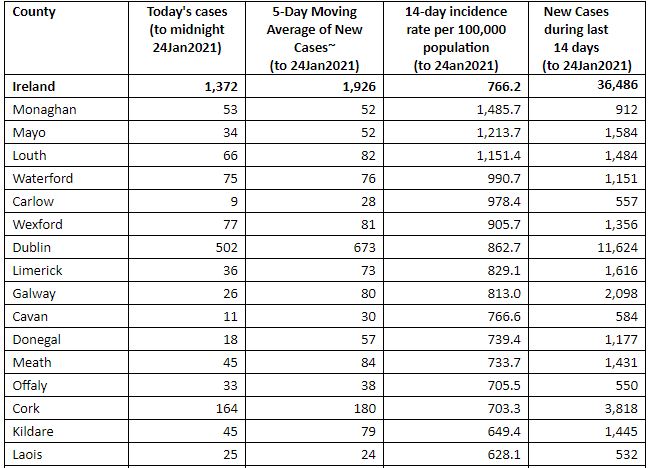 Deputy Chief Medical Officer, Dr Ronan Glynn, said nearly four-times as many people have died with COVID-19 this month as in all of December.
"So far in the month of January, there have been 688 deaths associated with COVID-19.
"And this compares to a total of 175 such deaths in the month of December and 164 such deaths in November."
Professor Philip Nolan, chair of NPHET Irish Epidemiological Modelling Advisory Group, says a drop in cases is down to people sticking to the restrictions.
"We can clearly see the efforts that they're making to stay apart, to prevent transmission of the virus - and that's transmitting into a very large change in the behaviour of the epidemic."
He said growth of about 18% per day in the run up to the New Year has now been replaced with daily growth of between 8% to 10%.
It comes as the Government has committed to the next phase of its Vaccine Allocation Strategy, which will begin in February.
This will see people aged over-70 and older being vaccinated through GPs in their surgeries.
However this is subject to regulatory approval of AstraZeneca - which has said deliveries to the EU are set to be cut by 60%.
Main image: Dr Ronan Glynn, Deputy Chief Medical Officer, at an update on COVID-19 in the Department of Health. Picture by: Sasko Lazarov / RollingNews.ie