More than 500,000 people are now receiving State employment supports.
It follows release of new figures for the numbers receiving the Pandemic Unemployment Payment (PUP).
More than 295,000 people were issued the payment on Tuesday - almost 52,000 more than last week.
The figures are in addition to the 211,492 people who were reported on the Live Register as of the end of September.
The sector most heavily represented in the figures remains the hotel, restaurants and bar sector - followed by wholesale and retail and admin support.
The sector least represented is the agriculture, forest and mining industries.
Almost 75,000 of workers on the PUP are aged under-25, with nearly 14,000 of these signing up for the payment in the last weeks: an increase of over 22%.
Dublin had the greatest number of recipients at 99,157, up from about 86,000 a week ago, while Leitrim has the lowest at 1,703 up from 1,447.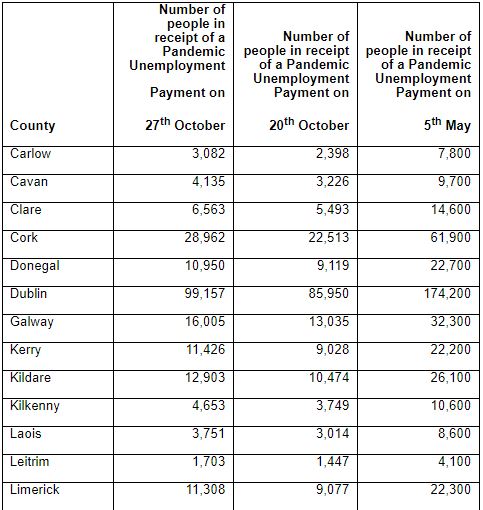 It was announced in the budget earlier this month that the PUP has been extended until April, by which time it is expected to have cost the state more than €5.2bn.
Social Protection Minister Heather Humphreys said the latest figures reflect the economic impact of the decision to move to level five.
She said: "I know this has been a really difficult few days, particularly for those who have temporarily lost their jobs or whose businesses have had to close.
"I know that people are worried about the next few weeks. They are worried about their families, their friends and their jobs.
"But I also know that we have it in us to suppress this virus and protect lives.
"So let's redouble our efforts this week - limit our contacts, work remotely where possible and stay within five kilometres of our home for exercise.
"This is in our gift. We have shown before that we can get this virus back under control and allow our economy to reopen again", she added.
Main image: Minister for Social Protection Heather Humphreys outlines changes to the Pandemic Unemployment Payment and the Employment Wage Subsidy Scheme at a press conference in Government Buildings, Dublin. Picture by: JULIEN BEHAL PHOTOGRAPHY