There have been 512 new cases of COVID-19 in Ireland - the highest daily total in nearly a month.
The latest available figures show there are 46 people in hospital with the virus - 14 of these are in ICU.
The Department of Health says the daily case numbers may change due to a future data review.
The five-day moving average stands at 413.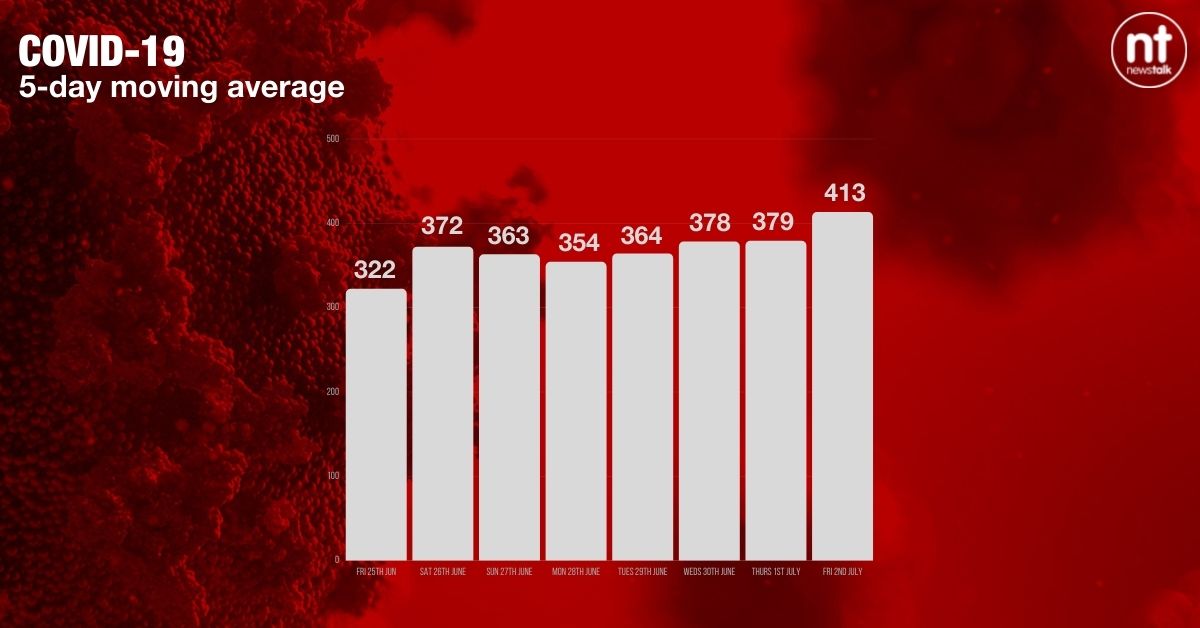 It comes as Ireland's vaccine rollout looks to accelerate, with younger people being able to receive a Johnson & Johnson vaccine in pharmacies from Monday. 
Health Minister Stephen Donnelly earlier confirmed the "significant acceleration" of the vaccine programme that younger cohorts can begin to access the one-shot Janssen vaccine in pharmacies in just a few days' time.
While Ireland is to buy one million vaccines from Romania, after an agreement was reached in principle between the Taoiseach Micheál Martin and the Romanian President Klaus Iohannis.
The deal, which was struck on Friday morning, has yet to be fully finalised.
A spokesperson for Mr Martin says work is ongoing to secure further supply from other EU countries that might have a surplus.
However an infectious disease specialist says accelerating vaccines will not stop the Delta variant from spreading.
Professor Sam McConkey earlier told The Hard Shoulder: "I'm hoping it will outrun a lot of the mortality and morbidity - the Delta variant is already here unfortunately, it's already spreading.
"So it won't outrun and get rid of the cases, there'll still be a surge in cases.
"But I'm hoping they'll mostly be in younger people and won't have that conversion onto hospitalisation and death.
"So I think it's impossible to completely outrun the Delta variant - we've left things open - we've chosen as a nation not to go down the zero-COVID route.
"Once you've done that, then inevitably it's here and it's spreading and it's growing.
"But what I'm hoping is - and what we're seeing in England - is that the hospitalisation rate is very low from it, the death rate from it is also very low".