There have been eight further deaths related to COVID-19 and 309 new cases of the virus in Ireland.
The Health Protection Surveillance Centre (HPSC) says of the deaths reported four occurred in April, two were in February and a further two happened in January or earlier.
The median age of those who died was 79 years, and the age range was between 43 and 92 years.
There has been a total of 4,820 COVID-19 related deaths and 242,402 cases here.
These figures include the denotification of 12 cases.
Of the cases notified today:
168 are men / 141 are women
71% are under 45 years of age
The median age is 35 years old
There are 107 cases in Dublin, 30 in Kildare, 14 in Offaly, 21 in Meath and 14 in Limerick.
The remaining 104 cases are spread across 18 other counties.
As of 8.00am today 184 COVID-19 patients are hospitalised, of which 51 are in ICU.
There have been 22 additional hospitalisations in the past 24 hours.
The seven-day incidence rate is 57.0, while the five-day moving average stands at 358.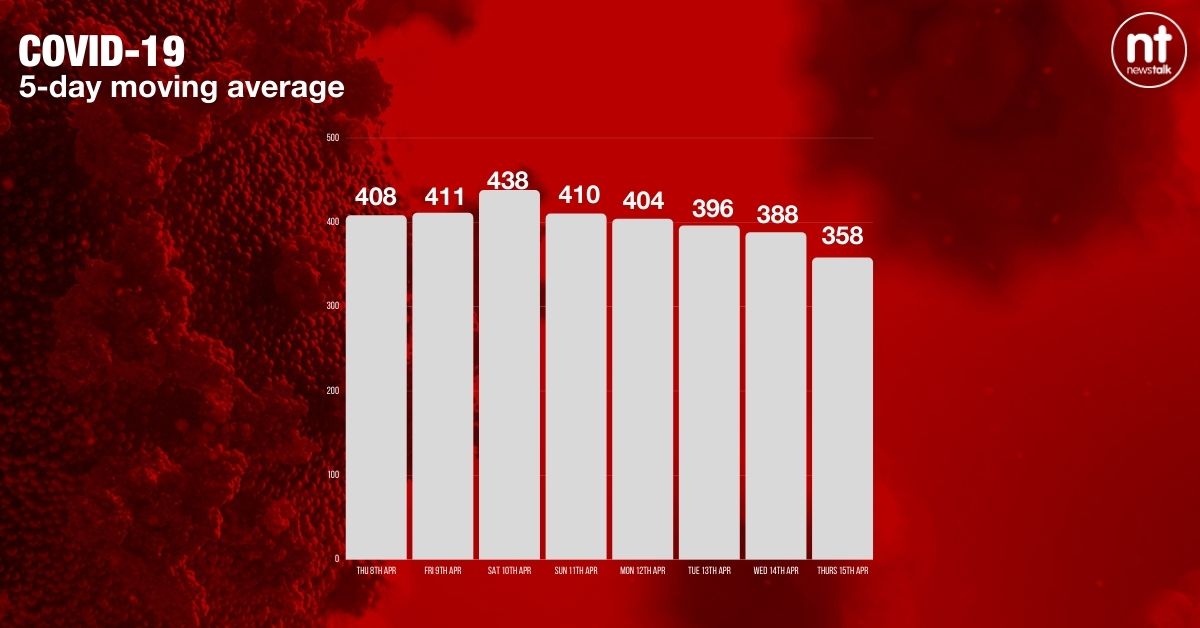 In terms of vaccines, as of April 13th, 1,094,964 doses have been administered in Ireland.
Some 769,721 people have received their first dose and 325,243 people have got their second dose.
Chair of NPHET's modelling group, Professor Phillip Nolan, said there are now clear signs infections are falling.
"We've seen a significant reduction in case counts last week compared to the preceding week: 2,803 cases last week, compared with 3,618 the week before.
"So a 22% reduction".
He also said incidents in the last 10 to 14 days show "a significant decrease in the average number of cases per day".
While Acting Chief Medical Officer Dr Ronan Glynn said Ireland is now one of the best-performing countries in the European Union.
"In January we would have been significantly above the EU average - and since the start of February we diverged.
"And we have continued on a very positive path the whole way through to where we are today.
"Just to put that in context: if we were at the EU average this evening, we'd be reporting somewhere between 1,500 and 1,600 cases.
"That's the average number of cases that member states are dealing with a the moment".
Main image: Dr Ronan Glynn, Acting Chief Medical Officer, at a media briefing in the Department of Health. Picture by: Sam Boal / RollingNews.ie