There have been 1,470 further confirmed cases of COVID-19 in Ireland.
Latest available figures show 367 patients are hospitalised with the virus, of which 59 are in ICU.
The five-day moving average of cases has dropped further to 1,382.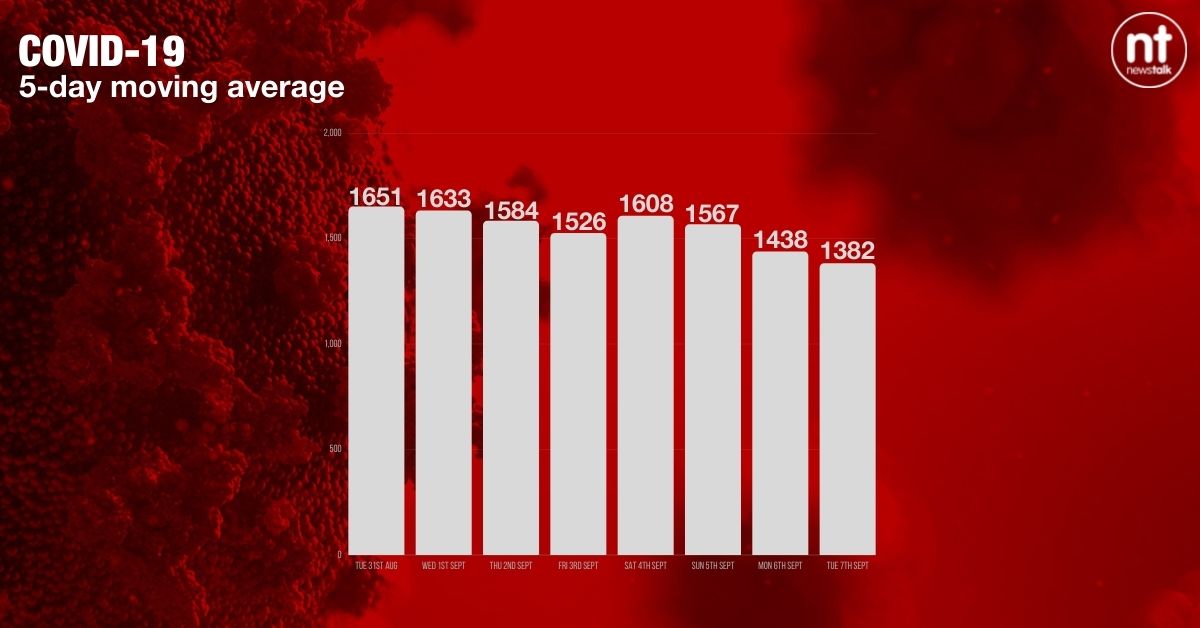 It comes as the European Medicines Agency (EMA) considers data around booster doses of the Pfizer vaccine.
Officials are looking at whether a third dose should be given six months after the second dose to everyone over 16.
While one immunologist suggests it is a "little bit self-centred" for Europe and Ireland to be thinking about large-scale COVID-19 vaccine booster campaigns at this stage.
Professor Cliona O'Farrelly says much of the world still hasn't been vaccinated, with even healthcare workers and vulnerable groups still waiting in some countries.
However, she told Newstalk Breakfast it does look like immunocompromised people will need a third dose of a vaccine.
"We should be celebrating the success of where we are, and take a few seconds to imagine where we'd be with respect to Delta if we didn't have vaccination.
"I am a little bit concerned that we're just a little bit self-centred to be talking about boosters at this stage, when there are so many countries that don't have vaccination - there are still healthcare workers who aren't vaccinated.
"I really think we should be continuing to put pressure on ways of getting technology to these other countries…. I think Ireland could have a much stronger voice", she said.
The WHO has urged wealthy countries to hold off on large-scale booster campaigns until more vaccine doses are sent to poorer countries.
While the Government will begin reducing Pandemic Unemployment Payment (PUP) rates after Tuesday.
From next week, recipients will receive smaller PUP payments, with the rates cut by €50.
The maximum weekly rate of €350 will fall to €300, with further cuts set to happen in November and February.
Around 28,000 students are also receiving their final payment under the scheme today.