There have been 1,269 more coronavirus cases and 13 additional deaths in Ireland.
There has now been a total of 1,865 deaths and 52,256 cases here.
This includes the denotification of six confirmed cases.
Of the cases notified on Tuesday:
657 are men/609 are women
63% are under 45 years of age
The median age is 34
Some 221 cases are in Meath, 203 in Dublin, 116 in Cork and 80 in Cavan.
The remaining 649 are spread across all remaining counties.
As of 2.00pm on Tuesday, 312 COVID-19 patients have been hospitalised - of which 34 are in an ICU.
There have been 13 additional hospitalisations in the past 24 hours.
There have also been 111,688 tests completed in the last seven days, with a positive rate of 7.3%.
The Chief Medical Officer Dr Tony Holohan has admitted that public buy-in to level five restrictions is a huge challenge.
Level five restrictions come into effect for the whole country at midnight on Wednesday, meaning everyone will be asked to stay within 5km of their home.
'Vast majority' behaving appropriately
Dr Holohan said everyone needs to take personal responsibility to slow the spread of the virus.
"We have a substantial burden of infection increasing in the population, we can see substantial changes in the hospitalisation rate.
"We've seen a significant number of deaths reported today - all from recent days - all telling us that the burden of this infection and the impact it's having is increasing.
"The Government has made a series of very significant decisions in recent days, and it now is over to each one of us as individuals in society to do everything that we individually can".
"This virus would transmit - left to its own devices, as it were - with a retrodictive number probably between four and five.
"So we're looking at a retrodictive number of 1.2 to 1.4 - that means the vast majority of people in fact are behaving and behaving appropriately.
"But we need to go a little further because we need more, and every little measure we can have - including the use of graduated fines in certain settings - can get us that extra little bit of improvement that we need".
Meanwhile, Cavan remains the county with the highest 14-day incidence rate per 100,000 population - at 909.7.
It is followed by Meath, Monaghan, Sligo, Westmeath and Donegal.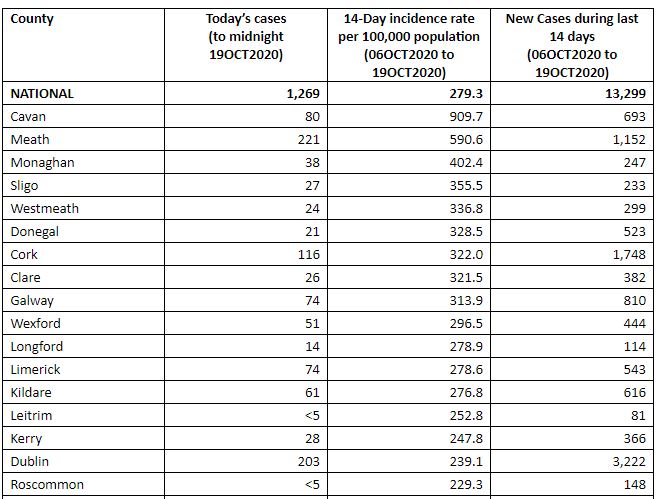 The national average stands at 279.3.
Tipperary has the lowest 14-day incidence rate of 114.7.
Meanwhile a new system of fines for breaches of coronavirus restrictions could come before the Dáil as early as next week.
The system will include a series of graduated penalties for things like breaking the 5km travel limit and not wearing a facemask in certain settings.
Main image: Dr Tony Holohan, chief medical officer, during a briefing at the Department of Health in Dublin. Picture by: Brian Lawless/PA Wire/PA Images