A further 17,071 people have tested positive for COVID-19, the Department of Health has confirmed. 
717 hospital patients have contracted the virus - of whom 87 are being treated in ICU. 
The five day moving average has increased yet again to 19,489 - up from 17,876 yesterday.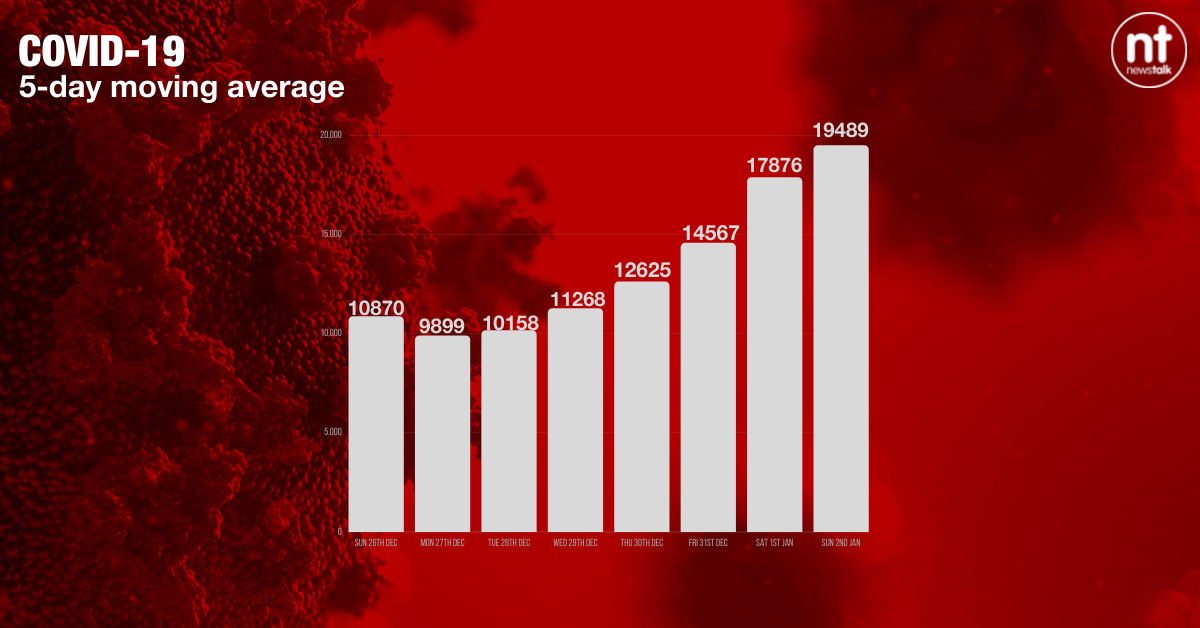 Hospitals
The move comes with hospitals struggling from the tsunami of cases. The Mater Hospital in Dublin has said it is under "extreme pressure" and the General Secretary of the Irish Nurses and Midwives Organisation, Phil Ní Sheaghdha, bluntly told Newstalk that many hospitals simply "can't cope": 
"I think the bottom line is that we have to make sure that the work that is now facing us in wave five is manageable," Ms Ní Sheaghdha said. 
"How do you do that? You do that by ensuring that all of  the elective and non-urgent care is not also the responsibility of the hospital system that currently can't cope. 
"Because all that will do is lead to daily cancellations and crisis operations being the order of the day.
"We have to plan how we deal with this because, unfortunately, it's here already and in every winter there is a predictable surge of activity amongst the public hospitals. 
"Nurses and midwives will do their best but the bottom line is the planning in relation to the work that they have to do must be better and must take into account the extraordinary work that they have done for the last 22 months." 
Booster shots
Vaccinated people over the age of 16 are eligible to book their booster shot from today as well; appointments can be booked online and individuals between 16 and 29 will be given a single dose of the Pfizer/ BioNTech vaccine. 
Those over 30 will be given Moderna.
Main image: A sign to a COVID test centre. Picture by: Sam Boal / RollingNews.ie.