Dublin football club Bohemians have announced they're finally able to launch their Bob Marley-themed jersey.
Back in 2018, the club announced plans for a Marley-themed away jersey, inspired by the reggae legend's 1980 gig in Dalymount Park.
Unfortunately, rights issues meant the club had to cancel their plans despite huge international interest in the jersey.
However, those rights issues have now been resolved, and today the club is finally accepting orders for its Marley jersey.
Pre-sale open: Our 2022 away kit, testament to Bob Marley's last-ever outdoor concert, in Dalymount Park 1980.

Shirt sales will also raise funds to bring football and music to asylum seekers in Ireland.

"Unity is the world's key, and racial harmony"

👉 https://t.co/7JnYwNbxWq pic.twitter.com/k1FMUcBcF1

— Bohemian Football Club (@bfcdublin) January 24, 2022
Dan Lambert, Chief Operating Officer at Bohemian FC, told Newstalk Breakfast the club wanted to celebrate Bob Marley's connection with the club's home stadium - describing the 1980 gig as one of "Ireland's truly special musical events".
He explained: "Dalymount had a lot of gigs, particularly in the 70s and 80s - almost all of them [organised] by promoter Pat Egan.
"The first big one was Thin Lizzy and the Boomtown Rats in 1977, but he brought Marley to Dalymount in 1980.
"He was the first major global star to come to Ireland and do an outdoor gig… but it was sadly Marley's one of the last gigs he performed."
That gig - part of Bob Marley and The Wailers' Uprising tour - took place in July 1980, less than a year before the Jamaican superstar's untimely death.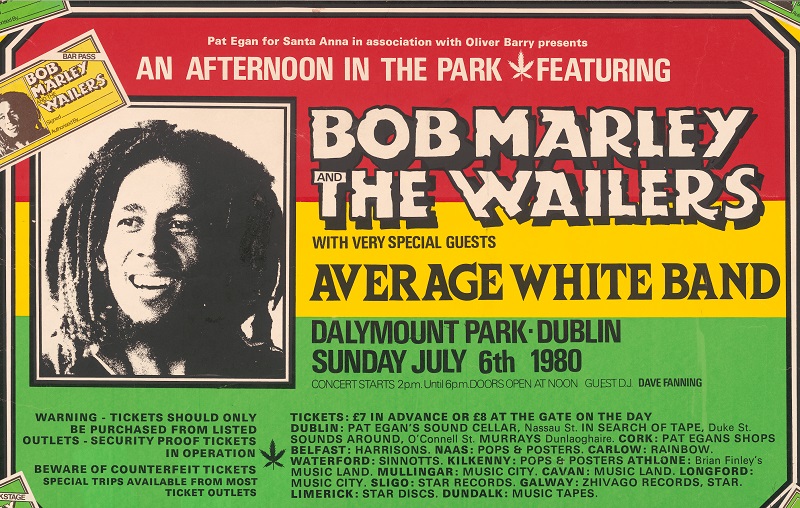 The previous announcement of a Bob Marley-themed Bohs jersey saw huge international interest, with orders coming in from China to South America.
However, those plans had to be scrapped.
Dan explained: "We worked with an organisation who thought they had the correct image rights, but in fact they didn't. So we went back and worked through Universal Music, the label, and [a group] representing the Marley family.
"Thankfully, today we can release the shirt with their blessing and their support."
Bohs are working with MASI to give 10% of the revenue from the sales to help people in direct provision, with the money to be used to buy them musical and sports equipment.
Lucky Khambule, MASI representative, said: "We at the Movement of Asylum Seekers in Ireland are delighted to be part of this project with Bohemian FC.
"People in the asylum system face many difficulties and being able to enjoy sport and music can truly brighten up days for adults and children alike."
Main image via Bohemian football club