Tesco Ireland has announced that it will cut the prices of over 700 products across 166 stores across the country and online.
The average price decrease of 10% will apply to a wide range of Tesco own-brand and branded products.
However a Newstalk investigation, which looked at the prices of 31 different Tesco items exactly a month ago, has found that prices have remained mostly unchanged.
The price of certain products like Tesco-branded pizza, Pampers nappies, Tesco toilet paper and Tesco sweet potato oven chips will be reduced in price by 10%.
However the prices of many products have remained unchanged.
For example one month ago, two litres of Tesco own-brand milk cost €2.19; today that price remains unchanged.
In total, of the 31 items priced on Tesco online a month ago, 27 of those have remained the same price.
Newstalk Chief Reporter Barry Whyte told The Hard Shoulder the cuts may not be as wide-ranging as they seem.
"Only one-third of the goods whose prices are being cut by Tesco are their own-branded products," he said.
"There is a price cut of 50c on Pampers Active Fit Size 4 Essential Pack - 37 nappies - that will bring the price down to €9.50.
"Flahavan's Progress Oats, 1kg of that, is being reduced by 14c to €2.35.
"Pro-Formula Sensitive Toothpaste is coming down by 75c to €1.25, while Tesco sweet potato oven chips will be reduced by €1.11 to €2.19.
"Tesco said its price cuts were part of a wider commitment to give customers value on their shopping and would complement its other value offerings - such as price-matching some of Aldi's goods and special deals via Clubcard".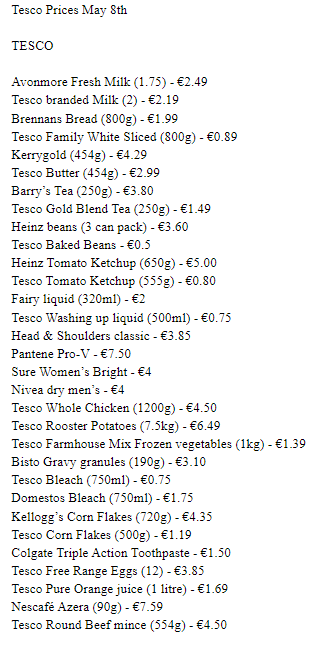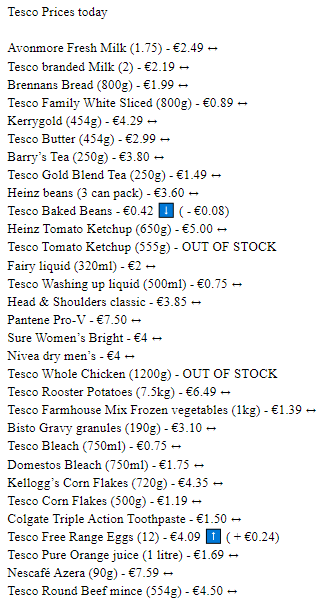 Barry said very few of the products he compared have actually dropped in price.
"Of the 31 products I listed on May 8th, today 27 of those items remained the same price," he said.
"There was only one price decrease: a tin of Tesco's own-brand baked beans came down by 8c.
"Last month a tin of Tesco beans cost 50c, while today the same product costs 42c.
"The only product that increased in price in the last month was a box of 12 Tesco free-range eggs," he said.
"Last month they cost €3.85 cents, while today they cost €4.09.
"I purposely listed grocery staples - milk, bread, butter, teabags, washing-up liquid, chicken, beef mince, frozen vegetables - basically almost everything has remained the same price".
He added: "Only certain products have come down, and the prices of staple products like bread, milk, butter and meat have remained about the same when you compare them to how much they cost four weeks ago.
"So shoppers may be able to save a few euro, but I do not think we will see prices dropping drastically anytime soon".
A spokesperson for Aldi said they did not need to lower their prices to compete with Tesco.
Listen back here:
Main image: A 'Price Cut' sign on canned lager on shelves of a Tesco supermarket in Scotland in July 2010. Picture by: David Kilpatrick / Alamy Stock Photo