The National Public Health Emergency Team has recommended that Dublin should be moved to level three of coronavirus restrictions.
That would mean people in the capital can't leave their county from this weekend, cultural venues closing and capacity limits introduced for weddings and funerals.
Third-level colleges in Dublin are to be told to offer courses online as much as possible over the coming weeks.
There may be some further restrictions or additional measures on top of the outlined level three plan.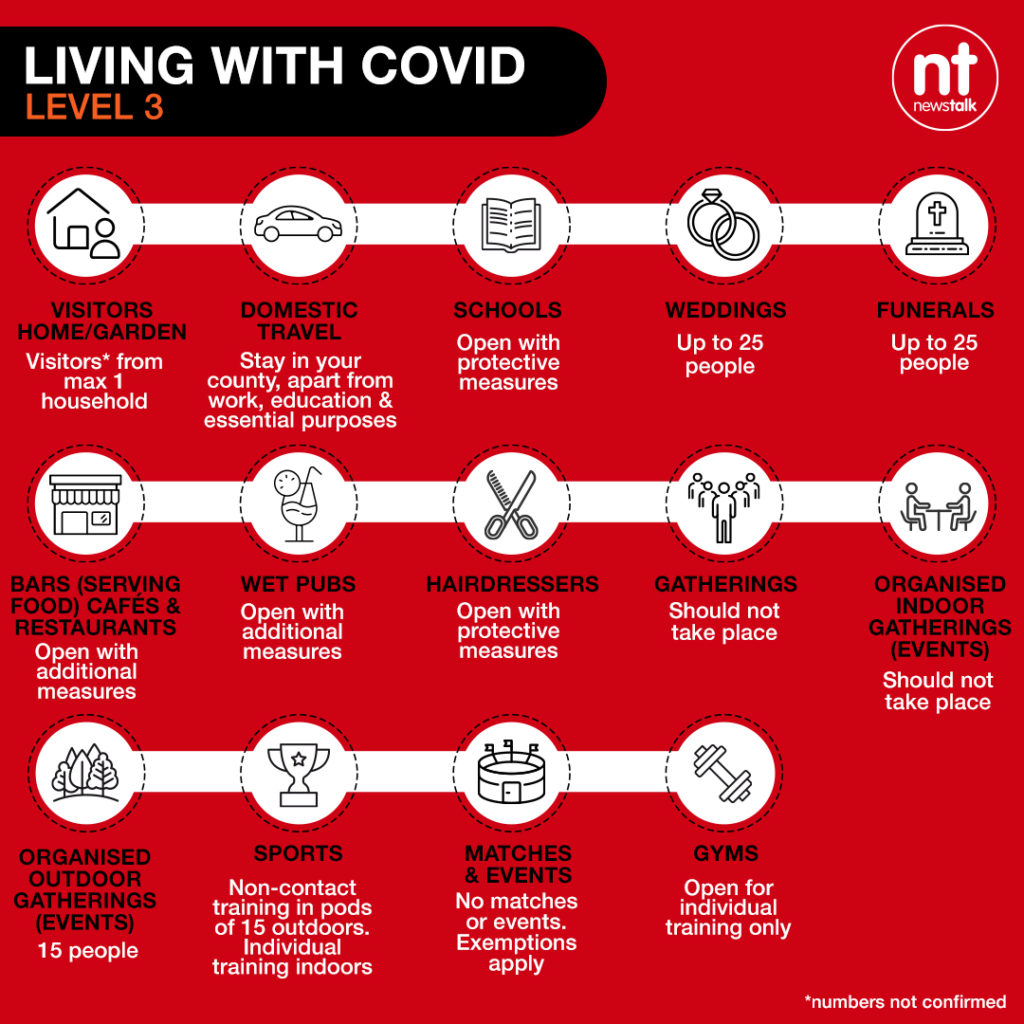 For example, under level three wet pubs would be allowed to open - but we know they won't reopen in Dublin next week.
Students starting or resuming college courses will be allowed to do so, but those institutions will be urged not to hold in-person classes where possible for the next few weeks.
Students at second and primary level, as well as essential workers, will still be allowed to travel into Dublin - but movement in and out of the county will be restricted.
The new Government steering group of high level officials will meet this evening to consider the NPHET recommendations.
The Cabinet sub committee on COVID-19 led by the Taoiseach will then meet in the morning, before a full Cabinet meeting later that day and an announcement sometime tomorrow evening.
It's likely the new measures will take effect from midnight tomorrow night ahead of the weekend.
'Government will act'
Earlier, Justice Minister Helen McEntee said the Government 'will act' on any NPHET recommendations.
She told Newstalk Breakfast: "We need to wait and see what comes out of NPHET, and certainly whatever recommendations - if they make any - we will act on those".
While Richard Guiney, CEO of DublinTown, said the capital needs to focus on COVID-19 transmission in people's homes, rather than in business.
"We need an economy, we need a vibrant Dublin city centre to attract FDI in the longer term, and we need to sustain employment for after there is a resolution to COVID.
"So we need to be quite strategic - the virus is circulating in the suburbs, it's circulating from people's homes and I think that's where we need to concentrate our efforts.
"And particularly speak to the young people who are perhaps not as aware of the implications for not just themselves [and] their families, but also the economy that they're going to be working in".
Reporting by Sean Defoe. Additional reporting: Jack Quann