In light of John O'Shea's decision to announce his retirement from professional football, former international teammate Kenny Cunningham assessed O'Shea's abilities as a player, and the traits that set him apart. 
Little under a year after playing his final game for the Republic of Ireland, John O'Shea has confirmed that he will now retire from playing professional football.
A career that saw the Waterford native play almost 400-games for Manchester United and make 118-appearances for his country, another former Irish defender Kenny Cunningham attempted to sum up O'Shea's capabilities as a player on Wednesday's OTB AM.
"Just looking at the physical attributes, the qualities he had as a player," Cunningham began, "John was exceptional."
Already an established Irish international when O'Shea made his first international appearance in 2001, Cunningham acknowledged that the young defender scarcely appeared over-awed by his surroundings.
"Just how he carried himself," Cunningham recalled, "he had great temperament."
"Even from a very young age when he came into the squad, young lads can be a little bit nervous, but very quickly John was comfortable in that international environment.
"He realised the ability he had but never in an arrogant way."
He carried himself with a degree of modest and humility but he had a little bit of that steel there underneath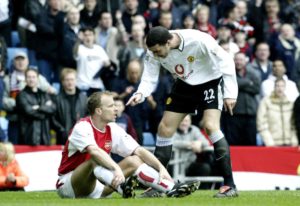 Often credited for his versatility as a player, such an assessment of his broad capabilities were often offered as reason for his inability to hold down a singular spot in the Manchester United team.
However, Cunningham was quick to detract from the idea that versatility is something to be scorned.
"You cringe sometimes when you hear yourself described as versatile," Cunningham explained, "but he really could play anywhere and he was quite exceptional."
"Technically he was so good. He was 6ft 3 or 4, a little bit gangly and when you first saw him so you might think he's a little unorthodox.
"We used to have little keep-ball sessions with the squad. Tight little squad, a lot of bodies in there and not much time - one, two touch, head on a swivel.
"It was a nightmare for a defender, but John was exceptional."
Praising O'Shea's understated steeliness, Cunningham upholds O'Shea's professional career to be among the very best an Irish player has had.