Formula One has confirmed that back-to-back races in Austria next month will get the season underway as they announced eight European events.
The coronavirus pandemic led to several races being postponed but preparations have now begun for the Austrian Grand Prix at the Red Bull Ring on July 5, followed a week later by a second race at the same track.
The races will be held behind closed doors but Formula One CEO Chase Carey expressed his hope that they can allow fans to attend races in the near future.
"In the past weeks we have been working tirelessly with all our partners, the FIA and the teams to create a revised opening 2020 calendar allowing us to restart racing in the safest possible way," said Carey.
"We are pleased to be able to set out our opening eight race calendar today and look forward to publishing our full calendar in the coming weeks.
"I want to thank every promoter and partner for their support and ongoing commitment to Formula 1.
"While we currently expect the season to commence without fans at our races we hope that over the coming months the situation will allow us to welcome them back once it is safe to do, but we know the return of Formula 1 will be a welcome boost to sports fans around the world."
The Hungarian Grand Prix will follow a week after the second Austrian event, before a break while it is expected that Formula One will be granted a quarantine exemption by the UK government.
That is ahead of the two back to back races at Silverstone which are then followed by the Spanish Grand Prix at Barcelona.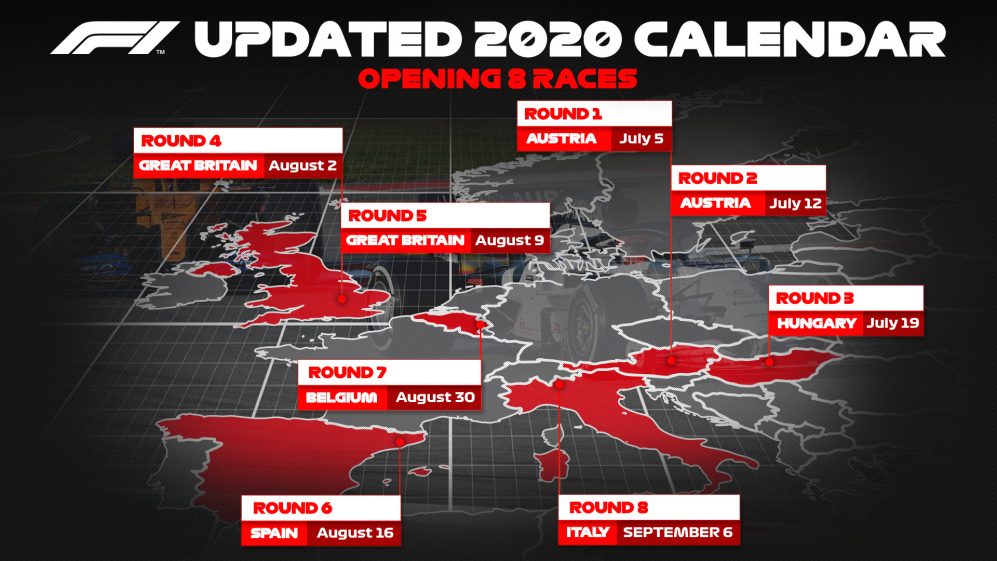 The Belgian Grand Prix will follow that, with the Italian Grand Prix at Monza a week later on September 6.
The second Austrian race will be called the Steiermark GP - the German name for Styria, the region the Red Bull Ring is situated.
The second Silverstone race will be called the 70th Anniversary GP, in honour of the circuit hosting the championship's inaugural event in 1950.
Formula One bosses hope to complete 15-18 races by December and to end the season with races in Bahrain and Abu Dhabi.
Lewis Hamilton will be looking to win his seventh world drivers' championship and go level with German legend Michael Schumacher.