Lidl National Football League Division 1 semi-final
Galway 1-12
Donegal 1-5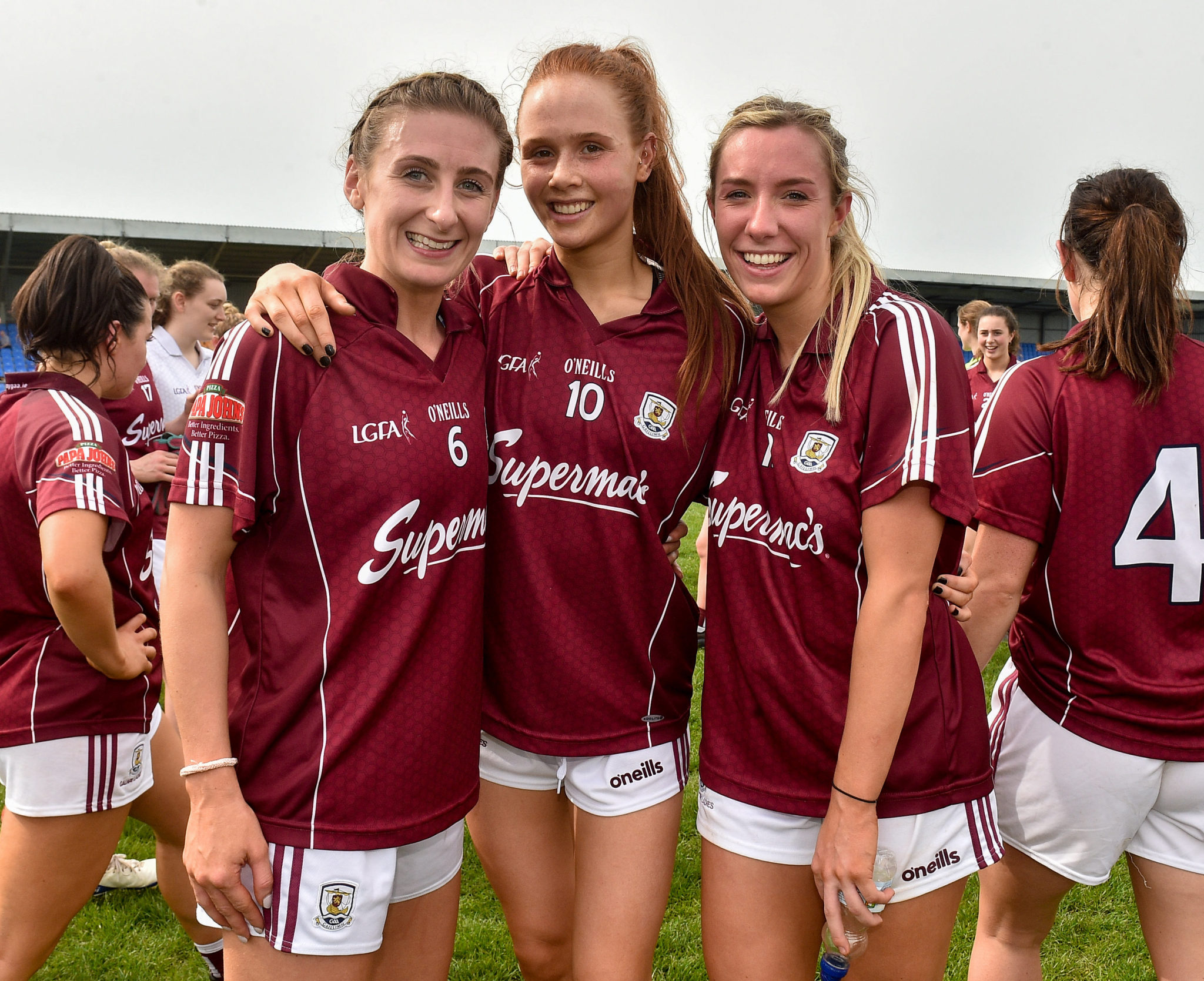 Galway's outstanding form this spring continued as they burst out of the blocks against Donegal and easily secured their place in the Lidl Ladies NFL Division 1 final, their first time to reach that decider since 2015.
The Tribeswomen enjoyed a nine-point win when the two sides met in the round robin stages but the very youthful age profile of this Donegal team suggested that they would benefit from that game in Corofin a fortnight ago. Instead Galway picked up where they left off, firing over three points in the first two minutes while playing some superb attacking football.
Louise Ward won the throw in and sprinted through to fire over the opening score after ten seconds and when Róisín Leonard and Mairéad Seoighe added points from the next two attacks, it looked as if Galway were capable of racking up a big score.
Donegal's first visit inside the Galway 20 metre line didn't arrive until the seventh minute but they made it count. Niamh Hegarty played in Geraldine McLaughlin, who arrived a split second earlier than Galway keeper Lisa Murphy and was bundled over by the Kilkerrin-Clonberne player.
Hegarty slotted home the penalty to tie the teams up, but Galway's rhythm was unbroken and they quickly took control of the tie again, with cousins Róisín and Tracey Leonard on the mark with scores.
Five wides were the only blemish on a scintillating Galway first-half that featured some wonderful kick-passing and tireless support play, all in the unseasonal mid-day sun.
Galway led 0-9 to 1-1 at half time, and the sides added a point each through Amy Boyle Carr and Róisín Leonard before Galway effectively settled the tie with a well-worked team goal in the 35 minute.
Megan Glynn and Mairéad Seoighe combined down the left wing and Glynn's electric burst of pace sent her clean through on goal. She drew Aoife McColgan out before handpassing the ball across to Sarah Conneally. Conneally palmed the ball towards goal, with Glynn getting the final touch before it crossed the line.
Donegal continued to apply themselves wholeheartedly and they enjoyed a brief spell of dominance when Niamh Hegarty, Geraldine McLaughlin and Karen Guthrie all pointed, but a succession of missed frees proved costly and ensured that Galway always had at least two goals to spare.
Scorers:
Galway: T Leonard 0-5 (0-4f), R Leonard 0-4, M Glynn 1-0, L Ward, B Hannon & M Seoighe 0-1 each.
Donegal: N Hegarty 1-1 (1-0 pen, 1f), K Herron, AB Carr, G McLaughlin & K Guthrie 0-1 each.
Teams:
Galway: L Murphy; S Burke, S Lynch, S Molloy; O Murphy, F Cooney, C Cooney; B Hannon, L Ward; O Divilly, T Leonard, M Glynn; M Seoighe, R Leonard, S Conneally. Subs: L Coen for Conneally (47), R Ní Flatharta for Glynn (59), M Coyne for C Cooney (59), L Noone for Seoighe (60+1).
Donegal: A McColgan; N McLaughlin, E Gallagher, E McGinley; N Carr, AM McGlynn, N Boyle; K Herron, M Ryan; E Melaugh, G McLaughlin, S McGroddy; A Boyle Carr, K Guthrie, N Hegarty. Subs: K McCleneghan for McGinley (HT).
Written by Kevin Egan
Lidl National Football League Division 2 semi-final
Kerry 2-15
Armagh 1-11
A 1-6 haul for Louise Ní Mhuircheartaigh was enough for Kerry to book their place in the Lidl National League Division 2 final, where they'll face either Cavan or Waterford in two weeks' time.
This was a patient and convincing win for the Kingdom over table toppers Armagh in a sun drenched Athy on Saturday afternoon.
The game hung in the balance at the break but an unanswered 1-5 in the second-half was enough to seal victory for Donal O'Doherty's troops.
The sides were evenly matched in the opening quarter, Ní Mhuircheartaigh swapping scores with Niamh Reel in the opening minutes. With Armagh missing regular sharpshooters Aimee and Blathin Mackin, the pressure was on Reel to keep the Orchard County's score ticking over and the Silverbridge player performed admirably, kicking 0-5 over the hour.
Early chances for Armagh to go ahead were missed and 1-1 in a minute for Miriam O'Keeffe put Kerry in the driving seat midway through the half. Ní Mhuircheartaigh and Sarah Houlihan pushed Kerry further in front and with 20 minutes gone, Armagh were trailing by six and could have been further behind as Houlihan saw her effort drift wide.
Armagh – who also lined out without Caroline O'Hanlon – hit a purple patch of their own with Reel and captain Kelly Mallon hitting a brace of scores each to bring the gap back to two. The sides went point for point as O'Keeffe raised her second white flag before a Mallon free and a Reel point brought the gap back to the minimum.
The sides traded scores once more before the break with Hannah O'Donoghue pointing her first score but Aoife McCoy had the last say of the half, shooting over right on the half-time whistle to leave just one between the sides.
Niamh Carmody and substitute Laoise Coughlan gave Kerry a three-point lead at the start of the second-half but McCoy and Reel brought the Orchard County back to within a point.
However, Kerry were enjoying more of the possession and their constant pressure finally cracked the Orchard rearguard. O'Donoghue pointed before Ní Mhuircheartaigh hit 1-1 in a minute to open up a six-point gap. It was a gap Armagh could not come back from and further scores from O'Donoghue and Ní Mhuircheartaigh ended the game as a contest.
There was consolation for Armagh as Kelly Mallon found the net on 60 minutes but it wasn't going to be enough to change the outcome. Anna Galvin raised the last white flag of the contest deep into injury time and the Kingdom can now prepare for a date with either Waterford or Cavan in the decider.
Scorers:
Kerry: L Ní Mhuircheartaigh 1-6 (2f), M O'Keeffe 1-2, H O'Donoghue 0-3, N Carmody, S Houlihan, L Coughlin and A Galvin 0-1 each.
Armagh: K Mallon 1-3 (2f), N Reel 0-5, A McCoy 0-2, N Marley 0-1.
Teams:
Kerry: R White, C O'Brien, T Breen, E O'Sullivan, S Murphy, A O'Connell, A Galvin, L Scanlon, A Brosnan (C), M O'Keeffe, C Murphy, N Carmody, S Houlihan, L Ní Mhuircheartaigh, H O'Donoghue. Subs:L Coughlan for O'Sullivan (28), E Dineen for O'Keeffe (33), S Lynch for Carmody (34), E McGlynn for Houlihan (54), A Foley for C Murphy (56).
Armagh: C O'Hare, S Marley, M Moriarty, C McKenna, A Donaldson, C McCambridge, R O'Reilly, T Grimes, N Coleman, N Marley, K Mallon, A McCoy, N Reel, N Murphy, S Grey.Subs: E Lavery for Murphy (37).
Written by Aisling Clery
Lidl National Football League Division 3 semi-finals
Sligo 1-11
Roscommon 1-8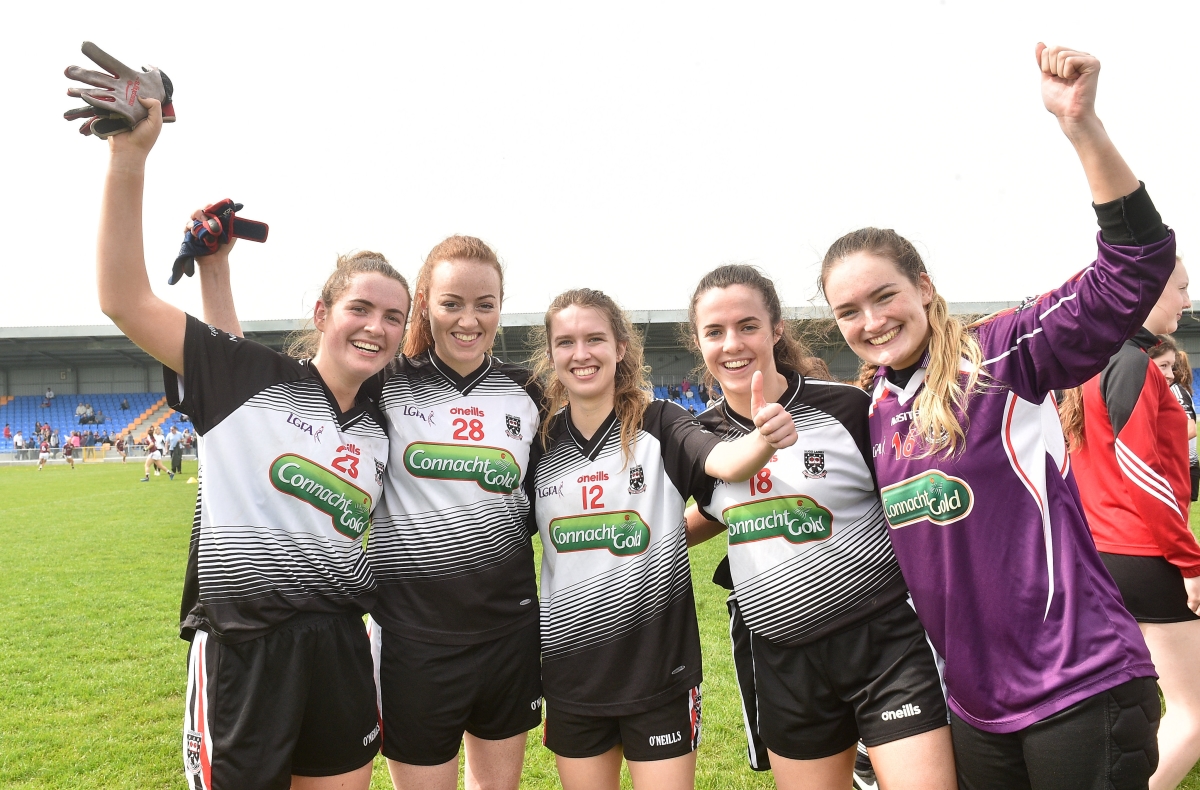 The free-scoring football that was on display when Sligo and Roscommon met in the 2018 Connacht Intermediate final didn't materalise when the sides met again in Longford, but Sligo won't be concerned as they sealed their place in this year's Lidl National League Division 3 final.
Ten wides, four shots dropped short and a missed goal chance in the first-half prevented Sligo from racking up a large total but their dominance in defence and around the middle ensured that they still had three points to spare at the final whistle and are now just an hour away from bouncing back up to Division 2, 12 months after being relegated.
The crucial phase of the game was immediately after half-time when Sligo scored 1-2 without reply, despite playing most of that spell with just 14 players due to Bernice Byrne's yellow card.
After a dour first half when the sides shared eight points equally, with Ciara Gorman (0-2) and Laura Fleming (0-3) leading the way for their respective sides, Emma Keavney and Jacqui Mulligan pointed for Sligo to put them two points up for the first time in the game.
The key moment came after 39 minutes when Roscommon goalkeeper Helena Cummins fielded a high ball but was deemed by referee Des McEnery to have barged through Katie Walsh as she attempted to clear her lines. Cummins was shown a yellow card and Walsh duly brushed herself off to slot home the penalty, putting Sligo five points clear.
While the scores continued to flow intermittently rather than freely, Sligo kept their noses in front and looked good value for their win, with Ruth Goodwin and in particular Laura Ann Laffey taking control of the battle at midfield and restricting the Roscommon forwards to very little possession.
The introduction of Rachel Fitzmaurice yielded an immediate benefit as the dual player burst past two defenders and then sidestepped Noelle Gormley in the Sligo goal with her very first possession. Her shot under pressure rolled towards goal and might have been cleared off the line, if Siobhán Tully wasn't on hand to add a final touch.
After playing second fiddle for most of the game, Roscommon were now just a point adrift but Sligo were unperturbed and calmly tacked on three late points to secure the win; the pick of the bunch a lovely dummy and shot from Katie Walsh that will be a centrepiece of the highlight reel.
Scorers:
Sligo: K Walsh 1-3 (1-0 pen, 0-2f), E Keavney, C Gorman & L Boles 0-2 each, J Mulligan & S Regan 0-1 each.
Roscommon: L Fleming 0-6 (0-5f), S Tully 1-0, R Finan 0-2f, J Higgins 0-1.
Teams:
Sligo: N Gormley; A Morrisroe, M McNamara, J Mulligan; N Brennan, B Byrne, AM Coleman; LA Laffey, R Goodwin; L Boles, C Gorman, S Naughton; K Walsh, E Keavney, L Casey. Subs: S Regan for Coleman (36), U Higgins for Naughton (49), J Breheny for Casey (56), R Monaghan for Keavney (60).
Roscommon: H Cummins; H Ennis, S Kenny, A McLoone; S Bannon, T Murtagh, N Feeney; J Higgins, J Cregg; A Kelly, K Daly, L Fleming; S Bruen, R Finan, S Tully. Subs: S Lavin for Bruen (40), L Brady for Daly (40), R Fitzmaurice for Cummins (50), L Flynn for Kelly (56), M Freyne for Finan (60).
Written by Kevin Egan
Meath 5-18
Longford 3-10
Emma Duggan inspired Meath to a second Lidl Ireland NFL Division 3 final in a row with this win against Longford at a sunny Coralstown, Kinnegad. Meath will now face Sligo in the decider in a fortnight's time.
Sixteen-year-old Duggan was brilliant in the second-half when her team brushed aside Longford's challenge courtesy of some incisive attacking forays in the sweltering heat.
Meath were 2-11 to 1-7 in front at half-time after goals from Stacey Grimes and Vicki Wall, as Aisling Greene provided the Longford reply.
Michelle Farrell tapped over an early Longford score but that was cancelled out by Grimes, as her side went on the rampage. Aoibhín Cleary and Wall added points before Grimes' penalty.
Mairéad Moore brought down Emma White, and Grimes stepped up to finish past Emer Esler into the top right corner.
That goal came in the sixth minute but despite trailing 1-4 to 0-1 in the seventh minute Longford stuck in the game and remained competitive coming up to half-time.
Ciara Healy tapped over a couple of frees while Farrell and Greene were causing trouble; Greene scoring Longford's goal in the 17th minute. She bundled the ball past Monica McGuirk after a fantastic save from close range. All of a sudden, Longford only trailed by 1-6 to 1-3.
But Meath finished the first-half on a high, and when Eimear O'Brien slipped, Wall capitalised emphatically and blasted the ball past Esler in the 30th minute.
Meath were seven points clear at the interval and Kelsey Nesbitt added their third goal in the fourth minute of the second-half. Michelle Farrell hit back three minutes later but the barrage of goals continued as Vicki Wall gave Meath a 4-11 to 2-8 lead with 20 minutes remaining.
Greene scored her second goal for Longford but their scores dried up a crucial juncture, as Meath kicked on, inspired by the wonderful Duggan.
She tagged on four quick points, while Stacey Grimes added the fifth goal in the 59th minute.
Scorers:
Meath: S Grimes 2-2 (2f), V Wall 2-2, E Duggan 0-6, K Nesbitt 1-1, E White 0-2, A Cleary 0-2, S Wall 0-1, O Byrne 0-1, O Lally 0-1.
Longford: A Greene 2-0, C Healy 0-5 (3f), M Farrell 1-2, E Heaney 0-1, J Brady 0-1, A McDonnell 0-1.
Teams:
Meath: M McGuirk; O Duff, S Powderly, S Ennis; S Wall, A Cleary, N Gallogly; M O'Shaughnessy, O Lally; V Wall, E Duggan, M Thynne; E White, K Nesbitt, S Grimes. Subs: O Byrne for White (47), K Byrne for Lally (53), K Newe for O'Shaughnessy (59), N Sheridan for Powderly (60).
Longford: E Esler; R O'Farrell, L Keegan, M Moore; O Nevin, E O'Brien, C Farrell; J Brady, M Reynolds; E Heaney, M Farrell, A McCormack; A McDonnell, A Greene, C Healy. Subs: K Shannon for McCormack, L Gallagher for C Farrell (39), S Shannon for McDonnell (46), U Clarke for O'Farrell (54), A O'Brien for Reynolds (61).
Written by Daragh Small
Lidl National Football League Division 4 semi-finals
Fermanagh 2-15
Limerick 4-7
Eimear Smyth scored 1-12 for Fermanagh as Limerick fell in the semi-finals of the Lidl Ireland NFL Division 4 once again.
The sun shone and it was ideal conditions for football at Coralstown in Kinnegad, the first-half was outstanding, and Limerick took a 4-6 to 1-4 lead into the break.
But it was an unbelievable second-half comeback that sealed the win for the Ulster outfit. Smyth spear-headed the challenge and late yellow cards for Cathy Mee and Loretta Hanley meant Limerick were down to 13 players at one stage.
When these sides met at Ederney on 23 February it finished in a 2-8 to 1-9 victory for Limerick, but Fermanagh dominated the opening stages and ran up an early lead.
The first score of the game was a goal, Courtney Murphy giving the assist as Fermanagh captain Joanne Donnan scored, in the third minute. And a couple of Eimear Smyth points meant Fermanagh were in control.
But the reigning TG4 All-Ireland Junior champions showed their experience, and they grew in confidence after Caitríona Davis landed her first free in the eighth minute. Davis tagged on another point before Limerick's opening goal.
Rebecca Delee attracted the covering defenders and her pass across the face of Róisín Gleeson's goalmouth was fisted to the net by Cathy Mee. It was the turning point for Limerick and they would score an unanswered 2-2 after that 11th minute strike.
Mairéad Kavanagh powered home the second goal when she cut in from the right in the 12th minute, Smyth provided a brief reprieve, but Mee fisted home her second goal on the 15-minute mark.
Kavanagh doubled her goals tally in the 19th minute and Limerick scored four of last five points in the first half, with Davis' fourth free ensuring John Ryan's team took a big 4-6 to 1-4 lead into half-time.
Fermanagh scored five points in a row at the start of the second-half, Smyth contributed four with Donnan also on target. Mee was shown a yellow card in the 47th minute, and although Davis scored again, Fermanagh charged to the win.
Limerick wouldn't added to their tally, while Blaithin Bogue reduced the deficit to 4-7 to 1-10 with ten minutes remaining. Hanley was sin-binned and Smyth fired to the net after Donnan's pass in the 53rd minute and a shell-shocked Limerick couldn't cope late on.
Scorers:
Fermanagh: E Smyth 1-12 (0-9f), J Donnan 1-2, B Bogue 0-1.
Limerick: M Kavanagh 2-1, C Mee 2-0, C Davis 0-5 (0-4f), R Ambrose 0-1.
Teams:
Fermanagh: R Gleeson; M Maguire, E Murphy, M Flynn; M McGloin, C Murphy, S McQuaid; R O'Reilly, A Flanagan; J Donnan, L Maguire, D Maguire; A O'Brien, E Smyth, B Bogue. Subs: A Woods for M Maguire (half-time), N Connolly for O'Brien (42), A Maguire for McQuaid (52), D McManus for Bogue (54).
Limerick: M Lyons; K Reidy, C Ryan, J O'Malley; C Mee, N Ryan, E Quinn; L Hanley, C Hickey; O Giltenane, R Delee, R Ambrose; C Davis, M Kavanagh, M O'Shea. Subs: C Ní Cheallaigh for Quinn (18), R Daly for Hickey (34), K Heelan for Giltenane (45).
Written by Daragh Small 
Antrim 2-20
Louth 2-14
After extra-time
Spirited Antrim dug deep to comeback from the brink of defeat to set up a Lidl NFL Division 4 Final with Fermanagh after an extra-time victory over Louth in St Tiarnach's Park, Clones.
Goals in either half from Louth corner-forwards Niamh Rice and Lauren Boyle looked to have Darren Bishop's troops through to a second successive league final. However, Antrim's Cathy Carey goaled in the game's dying minutes and sent the game into extra time.
The Ulster ladies were the better side overall and Ciara Durnein completed the comeback with a goal in extra-time in the scorching Monaghan sun.
Having suffered a heavy defeat to Louth earlier in the season, Antrim started much the brighter and they raced into a 0-4 to 0-1 early lead.
Two Caitlin Taggart frees bookended Antrim's best period, while captain Saoirse Tennyson might have made the start brighter, when she blazed over the bar.
Lauren Boyle got Louth off the mark with the first of her five first-half points, and she was a constant threat, but two outstanding points from Lara Dahunsi pushed Antrim back into the lead. That would be the last time the Ulster ladies would lead until extra-time.
Boyle grabbed the game by the scruff of the neck to level with two scores, before she played the ball into her clubmate Niamh Rice for the game's decisive goal, which was finished superbly.
Louth's goal ensured they made the most of the numeric advantage with Orla Ni Chorra sent to the bin for Antrim, but they suffered indiscipline of their own when Ceire Nolan received a yellow. However the Leinster ladies finished the half 1-7 to 0-8 ahead.
Another sin bin for Louth after break for Éilís Hand had Antrim level when Cathy Carey converted the resultant free, while Aoife Taggart also found the target.
As the tension rose the teams exchanged scores, with Katie Flood superb for Louth while Carey kept the scoreboard ticking for Antrim.
Substitute Michelle Magee had the required impact for Seán O'Kane's side, nudging Antrim back in the lead only for Flood to level with a free.
Louth looked to finally have gotten a grip on proceedings once they were back to 15. Corner forward Boyle had to survive on scraps in the second period, but her goal with ten minutes left looked to have sealed the win.
Cathy Carey had other ideas though, and her goal sent the game into extra time after the game ended at 1-14 to 2-11 after normal time.
A shell-shocked Louth couldn't recover in extra time, with Carey continuing with confidence to score two frees, which opened up a commanding lead. And it was left to Durenin to clinch the place in the final place against Fermanagh with a goal, while Louth could only muster three scores after normal time.
Scorers:
Antrim: C Carey 1-7 (5f), C Taggart 0-4 (3f), L Dahunsi 0-4, C Durnein 1-0, A Taggart, S Tennyson, M Magee, M McCurdy and M Cooper 0-1 each.
Louth: L Boyle 1-5 (1f), N Rice 1-4, K Flood 0-3 (1f), E Byrne and S Woods 0-1 each.
Teams:
Antrim: A McCann; N Killeen, M Hana, O Ní Chorra; K Farren, C Browne, S Tennyson; A McFarland, L Dahunsi; C Taggart, C Carey, SL McLaughlin; M Cooper, M McCurdy, A Taggart. Subs: M Magee for McLaughlin (37), C Durnein for Taggart (50), L Wallace for McCurdy (65).
Louth: U Pearson; S McLaughlin, E Hand, S Matthews; C Nolan, M McMahon, A Breen; R Carr, E Byrne; A Russell, S Byrne, S Woods; L Boyle, K Flood, N Rice.Subs: C Woods for S Byrne (40), M McGuinness for Woods (65), G Murray for Hand (73).
Written by Dan Bannon