Shamrock Rovers captain Ronan Finn believes that new signing Neil Farrugia will strike fear into the hearts of opposing full-backs.
Farrugia and midfielder Gary O'Neill's switch from UCD was confirmed yesterday but neither will be registered in time for Friday night's Premier Division top-of-the-table clash with Dundalk.
Finn believes that Farrugia is a winger like no other in the league at present.
"He is unorthodox in terms of, he's not your traditional small, jinky winger," Finn told Off The Ball at the Rovers training base on Thursday.
"He's big, tall, fast, direct. He's [a player] that, I'm sure full backs...when they're eye-balling each other at the start of the game, they're probably not used to marking a six-foot-tall, six-foot-one, strong boy."
The skipper also thinks that the Republic of Ireland under-21 international is a really good fit for the club.
"He's strong and direct and he's got a lot of physical attributes that you wouldn't associate with wingers but he's also got the technical ability to match it. He's a real big signing for the club.
"Once he buys into what we do, which I'm sure he will, a lot of UCD players they come with good ethics and good morals and that's what we have at this club and he'll buy into what we do and hopefully he can be a really big signing for us."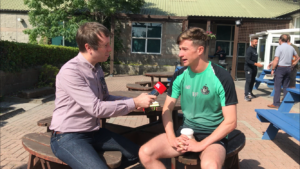 The arrival of the UCD duo adds to an already stacked selection of midfielders at Rovers, which means more competition for Finn and co.
But it's the kind of competition that the Dubliner believes will make head coach Stephen Bradley's team selection job harder while also helping to improve the players that are already there.
"It gives the manager a nice headache which in turn pushes everybody on in the club and in the team," said Finn. "You have got to be at your best to be in the manager's plans."
Ronan Finn relishing Dundalk clash
Finn will be hoping he is in Bradley's plans when they take on the Premier Division champions and leaders on Friday night.
The Hoops are currently just five points behind the Lilywhites and the 31-year-old expects Tallaght Stadium to be heaving when the teams take to the pitch.
"It's a perfect game for us to get up for," said Finn. "Tallaght will be in great condition, the fans will be brilliant. It's just a really big game for us.
"There's a long way to go still in the season but we know the aim is to get three points.
"We know Dundalk are a really good team and it's not going to be easy but we feel if we can get a result...there's still a long way to go if we get a result, but it's an important game for us."
You can watch the full Off The Ball interview with Ronan Finn here on YouTube.