The RDS has announced it's new dates for the 147th Dublin Horse Show in the summer of 2021.
This year's Dublin Horse Show was cancelled last month on foot of public health and safety concerns associated with the pandemic.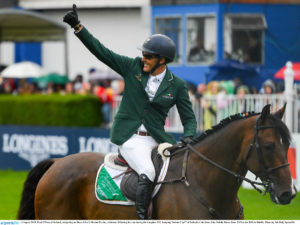 The 147th Longines FEI Jumping Nations Cup Dublin Horse Show has been scheduled for the week of August 18th to 22nd in 2021.
The show has been moved away from the traditional early August dates to allow for the horses and riders that will be competing in the Olympic Games in Toyko which has also been moved to next year due to Covid-19.
The RDS say they will continue to monitor further developments with regard to Covid-19 and adhere to Government guidelines regarding public safety.
Speaking about new dates, Chief Executive of the RDS, Michael Duffy said: "It was very disappointing to have to cancel this year's Show, but it was the most responsible decision that we could take in the circumstances.
"The 147th Show will instead take place next year and we are looking forward to the 100,000 visitors that the Show attracts over the five days. The Show is considered one of the best in the world and is also vital to the Irish sport horse industry and the community.
"However, the health and safety of our visitors, and of the general public, will continue to be of paramount concern for the RDS. Because of this we will continue to monitor Covid-19 developments for the forseeable future."
Like all sport in the country, equestrian sports are all currently suspended. June 29th is the likely resumption date for competition behind closed doors, as per phase three of the Irish government's roadmap for returning to business after the coronavirus.
Although like horseracing, submissions are being made to the government to see if restrictions can be lifted sooner and some training facilities may open in that time.