Medical experts are calling for mandatory inspection of hurling helmets to be carried out by referees before matches.
It comes as one player suffered a serious injury after impaling his hand on a metal bar in a modified face guard.
An entry in the February edition of the 'Irish Medical Journal' highlighted a case under the heading: An Unusual Case of a Facial Guard Causing Penetrating Soft Tissue Injury in the Game of Hurling.
Doctors from the Orthopaedic Department at the Midlands Regional hospital in Tullamore, Co. Offaly detailed the dangers of altering hurling helmets.
The unnamed player had a metal bar from an opponent's face guard puncture his ring finger and exit the little finger.
31% of players surveyed admitted to tampering with their helmet either by changing the faceguard completely or removing some bars.
The doctors detailed the injuries sustained by the 24-year-old who was playing for his local club in May 2018. He was attempting to catch the ball with his left hand but struck the helmet of an opposing player.
Writing in their report the three doctors recommended that referees undertake the inspection of helmets prior to games:
"Ultimately, the rules of helmet modification will need to be enforced by coaches and referees at a local level.
"As footwear studs are checked prior to rugby or soccer and gloves inspected in combat sports the inspection of safety equipment should become a mandatory pre-match checklist for any referee or match officials.
"This study's intention is to highlight the dangers of helmet modification and to encourage safety changes as recommended.
Players warned against adapting hurling helmets after player injured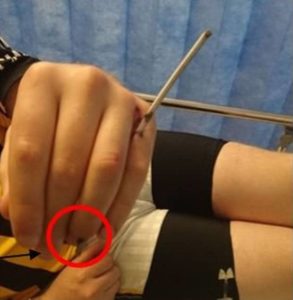 The injury was a direct result of the modifications of the opposing player's helmet, which had a single bar removed leaving a jagged chunk of metal in its place.
The Irish Medical Journal note that the man sustained a "penetrating soft tissue injury to the ring and little finger of his dominant hand, becoming lodged in the nailbed of the ring finger"
He was subsequently discharged from hospital after 24 hours. He returned to hurling 4 weeks after the injury once his wounds had healed.
The experts say: "We believe that there is a lack of awareness among players and coaches as to the dangers of helmet modification."
"These modifications are responsible for some of the most serious injuries sustained in hurling
They add: "As footwear studs are checked prior to rugby or soccer and gloves inspected in combat sports the inspection of safety equipment should become a mandatory pre-match checklist for any referee or match officials."