Jurgen Klopp says he is looking forward to celebrating with Liverpool fans when it is safe to do so, but the Reds' manager isn't counting his chickens yet.
Klopp's side is 25 points clear at the top of the table and chasing the club's first league title for 30 years, that title could be sealed in less than two games back should Manchester City drop points.
The German manager was asked how he would celebrate given the coronavirus curtailments by Kelly Cates on BBC Five Live.
"We will see how life is until then," said Klopp who warned, "we are not champions yet, we have to play football games, we want to play football and we have to win them on top of that.
"We don't want to stop winning after two games or whatever. Our first three games are Everton, Crystal Palace, and Man City so I don't see any results written in the stars already, we have to work really hard for that."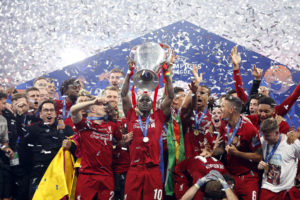 Celebrations
Klopp says celebrations can have downsides, while Liverpool will most likely lift the trophy without fans, crowded celebrations can also lead to people missing out.
"Look, you celebrate always," says the Liverpool manager, "whatever it is, you celebrate, the Champions League, we celebrated first in a hotel in Madrid with a lot of people around, you don't have time for your family and if you want you can always find any issues in a situation."
"If we are Champions then whatever celebrations are possible, we will do that. As a team internally and with all our supporters in a moment when it is allowed to do so again."
Once safe to do so, Jurgen Klopp is looking forward to sharing the experience with the Liverpool supporters.
"Then I can promise there will be a parade again whenever, who cares, we only need that one day to come, and then we will do that."