Vera Pauw has admitted the Republic of Ireland need to win their next two qualifying matches to keep their hopes alive of making it to Euro 2021.
The Girls in Green face Montenegro next Wednesday but first they entertain Greece at Tallaght Stadium tomorrow night (k/o: 19:15).
"We consider this a must-win game if we are to secure second place in the Group," said Pauw ahead of the crucial qualifier.
"We played Greece in our last game so we know a lot about them and we are ready for this test, which will be different as we have more of our players available to us this time."
It was a disappointing draw last time out as Ireland took the lead thanks to an Amber Barrett but then conceded in the third minute of added time at the end of the game.
The players should be spurred on by the Green Army with 5,500 tickets sold for the match in Dublin 24.
"We are delighted that ticket sales have been going so well, but I would like to encourage everyone who has a ticket to come to the game," added Pauw.
"We need the support of the fans and we want them to be loud, because that gives the players a real boost during difficult moments in the game."
AS IT STANDS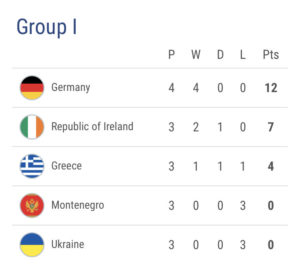 Ireland are unbeaten and second in the group after three matches.
Before the November draw in Greece, they beat Ukraine (3-2) and Montenegro (2-0) at Tallaght Stadium.
The nine group winners and the three best runners-up (not counting results against the sixth-placed team) qualify directly for the finals in England, while the remaining six runners-up advance to the play-offs.
It is vital that Ireland win as many points as they can with two games against a very strong Germany team yet to come.
TEAM NEWS
Pauw was already left without Man City defender Megan Campbell who is out with a long term injury.
The trio of Megan Connolly (shoulder), Jessica Ziu (groin) and Leanne Kiernan (knee) have also been ruled out of the game, but American-born Kyra Carusa is one of four uncapped players in contention after receiving FIFA international clearance last week.
Centurion Aine O'Gorman looks set to feature for the first time after reversing her decision to retire from international football.
SQUAD LIST
Republic of Ireland
Goalkeepers: Marie Hourihan (SC Braga), Grace Moloney (Reading), Courtney Brosnan (West Ham United)
Defenders: Harriet Scott (Birmingham City), Aine O'Gorman (Peamount United), Diane Caldwell (SC Sand), Claire O'Riordan (MSV Duisburg), Louise Quinn (Arsenal), Claire Walsh (Peamount United), Chloe Mustaki (Charlton Athletic)
Midfielders: Niamh Fahey (Liverpool), Denise O'Sullivan (North Carolina Courage), Hayley Nolan (Connecticut Fusion), Jamie Finn (Shelbourne), Julie-Ann Russell (Sydney University), Ruesha Littlejohn (West Ham United), Niamh Farrelly (Peamount United)
Forwards: Katie McCabe (Arsenal), Rianna Jarrett (Brighton & Hove Albion), Amber Barrett (FC Koln), Clare Shine (Glasgow City), Heather Payne (Florida State University), Krya Carusa (HB Hoge)
Greece
Goalkeepers: Gavriilidou Evdoxia (Doxa 2016), Papakonstantinou8 Anthi (PAOK), Giannakouli Dimitra (Atromitos)
Defenders: Xatzigiannidou Natalia (PAOK), Nefrou Irini (DIOSGYORI  VTK), Sidira Danai-Eleni (Apollon Ladies), Parasxou Michaela (Agrotikos Asteras), Kynosidoy Kyriaki (Apollon Ladies), Gatsou Anastasia (PAOK), Moraitou Athanasiou (South Alabama), Kaldaridou Danai (DIOSGYORI  VTK), Kotsaki Stella (Ergotelis), Kydonaki Vasileia (OFI Kreta)
Midfielders: Karapetsa Dimitra (PAOK), Kakabouki Eleni (PAOK), Markou Eleni (Apollon Ladies), Sarri Veatriki (Sheffield United)
Forwards: Pouliou Grigoria (PAOK), Vardali Thomais (PAOK), Koggouli Sofia (UPC TAVAGNACCO), Kokoviadou Christina (Aris Thessaloniki), Spyridonidou Anastasia (Apollon Ladies), Chatzinikolaou Despoina (Napoli)
CAPS LIST
Goalkeepers: Marie Hourihan (22 caps / 9 clean sheets), Grace Moloney (2 caps / 0 clean sheets), Courtney Brosnan (0 caps / 0 clean sheets)
Defenders: Harriet Scott (18 caps / 0 goals), Aine O'Gorman (100 caps / 13 goals), Diane Caldwell (74 caps / 1 goal), Claire O'Riordan (15 caps / 0 goals), Louise Quinn (77 caps / 11 goals), Claire Walsh (2 caps / 0 goals), Chloe Mustaki (0 caps / 0 goals)
Midfielders: Niamh Fahey (88 caps / 0 goals), Denise O'Sullivan (75 caps / 10 goals), Hayley Nolan (0 caps / 0 goals), Jamie Finn (1 cap / 0 goals), Julie-Ann Russell (58 caps / 4 goals), Ruesha Littlejohn (54 caps / 6 goals), Niamh Farrelly (2 caps / 0 goals)
Forwards: Katie McCabe (43 caps / 8 goals), Rianna Jarrett (8 caps / 1 goal), Amber Barrett (16 caps / 2 goals), Clare Shine (5 caps / 0 goals), Heather Payne (10 caps / 0 goals), Kyra Carusa (0 caps / 0 goals)
STATS
3 games played
6 goals scored
1 clean sheet
43 attempts on goal
12 attempts on target
18 attempts off target
13 attempts blocked
16 corners won
33 fouls committed
34 fouls suffered
3 yellow cards (Jamie Finn, Katie McCabe, Julie Ann Russell)
RESULTS
September 3, 2019: Republic of Ireland 2-0 Montenegro
October 8, 2019: Republic of Ireland 3-2 Ukraine
October 8, 2019: Greece 0-5 Germany
November 6, 2019: Montenegro 0-4 Greece
November 12, 2019: Greece 1-1 Republic of Ireland
FIXTURES
March 5, 2020: Republic of Ireland v Greece
March 11, 2020: Montenegro v Republic of Ireland
April 11, 2020: Germany v Republic of Ireland
June 5, 2020: Ukraine v Republic of Ireland
September 22, 2020: Republic of Ireland v Germany
NOTES
- Ireland and Greece have both yet to qualify for the UEFA Women's European Championships
- Over 5,500 tickets have been distributed for this game and Ticketmaster vans will be on-site outside Tallaght Stadium. The record attendance for a WNT home game was set in the victory over Ukraine last year with 5,328 spectators turning up
- Defender Diane Caldwell is set to win her 75th senior cap having made her debut on March 16th, 2006
- Aine O'Gorman returns from international retirement having decided to step away in 2018 with 100 caps and 13 goals on her record
- Forward Kyra Carusa, born in San Diego, qualifies through her maternal grandparents, from Cork & Laois respectively. She has just joined HB Hoge in Denmark having previously been the 19th overall pick by Sky Blue FC in the NWSL Draft
- Carusa follows a long line of American-born players to represent WNT, including current goalkeeper Courtney Brosnan, as well as the likes of Fiona O'Sullivan, Shannon Smyth, Michele O'Brien, Mary Therese McDonnell and Shannon McDonnell
- English-born forward Nicole Douglas trained with the squad this week but her eligibility has not yet been finalised. She plays for Arizona State University
MATCH DETAILS
Republic of Ireland v Greece
Thursday, March 5
Group I
Tallaght Stadium
Kick-Off: 19:15
Match preview and live updates on Off The Ball from 7pm - which you can listen to on the Go Loud app.
Live on TV: RTÉ2
Referee: Maria Dolores Martinez Madrona (Spain)
SOCIAL MEDIA
Game Hashtag: #IRLGRE
Ireland Team Hashtag: #IRLWNT