Alan Quinlan joined OTBAM to give a revealing insight into the vulnerability behind his confident commentary while dealing with online abuse.
Quinlan is familiar with the online barbs that arrive on a high profile social media timeline, but the former Munster flanker knows he has developed his skills behind the microphone.
"If I'm doing commentary. I think I'm good." However, Quinlan concedes that wasn't always the case, with humility not often associated with pro sports stars: "I use not think I was, I was lacking confidence."
Alan Quinlan discusses the anxiety which comes with broadcasting to over a million people and the impact of social media 📲

Full video ➡️ https://t.co/KKimjhvjEi pic.twitter.com/x06qFZyMKr

— Off The Ball (@offtheball) February 14, 2020
Quinlan says he doubted himself as a commentator, however that sensation is not unfamiliar to the dual Heineken Cup winner
"It's the same as when you play sport. I doubted myself a lot when I was playing rugby. Confidence and self-belief (are important)"
Putting the phone down
Following Rory McIlroy's admission he has cut down on social media usage for the betterment of his game, Quinlan says putting down the phone can help, no matter how big a star or how good you think you are.
"It's not that I'm not being cocky (about being a good commentator) or anything, I'm my own worst critic. But sometimes people will have a pop-off you and that's what social media is like.
"Sometimes you are better staying away from it (social media).
"That's why it's a totally different level where Rory McIlroy is. I can believe no matter who it is in sport, you will have negative self-analysis."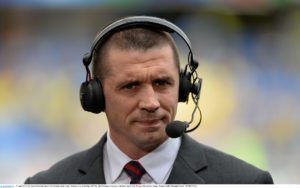 The ex-Ireland back-row says that kind of negativity can eat away at even the most confident performers.
"You'll have that negative voice in your head that can rattle you. Then you look at something you read something you focus on that negative thing and it can have an effect on you.
Quinlan says in his role as a commentator he has self-doubt, which feeds his existing anxiety, part of an unfortunate cycle of overanalysis and self-criticism. He finds comfort in his honesty behind the microphone.
"I believe what keeps me sane or enjoying the job, is that you try and give an honest opinion and that's not always right.
"Of course, there are always people who disagree with you. I don't mind that, constructive criticism is great, but the part of firing out abuse at people online (is out of line)."