In our latest Documentary on Newstalk, Producers Maurice Kelliher and Shaun O'Boyle take a look at life before, and after, the evacuations and depopulation of Ireland's islands—particularly the Donegal islands of Rutland, Inishfree, and Arranmore in: Leaving The Island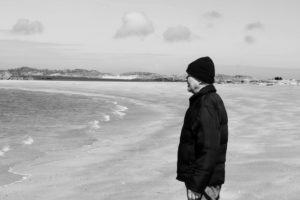 Today, once populated and thriving north-western islands, such as Rutland, are deserted—while others like Arranmore, though still inhabited, have seen a significant decline in population over the decades since the middle of the last century. Leaving The Island explores island culture and identity, and considers the factors which played a part in subsequent population decline and evacuations—including emigration, economic conditions, modernisation, and the politics and strategic policies (or lack thereof) of the Irish state, with regard to the islands and their standing in the national infrastructure.
Leaving The Island explores ideas around home, change, emigration, community, identity, loss, and islanders' relationship to the sea. With personal stories at its centre, Leaving The Island looks at how the lives of island people changed when they had to leave for the mainland.
As Diarmaid Ferriter, Professor of Modern Irish History at University College Dublin, points out in Leaving The Island, the offshore islands are 'Ireland to the power of two'—in that they are a microcosm of the larger island (Ireland), and are themselves symbolic of national narratives such as emigration. Looking at life on and off the islands west of Donegal, Leaving The Island holds up a mirror to the broader national Irish experience as we hear how "having to leave our home" was an experience common to both mainlanders and islanders.
BROADCAST DATES: Leaving The Island will air on Newstalk 106-108FM on Sunday February 10th at 7am, Repeated Saturday February 16th at 9pm.
PODCAST: Podcast will be available on www.newstalk.com after the first broadcast.
CREDITS: Leaving The Island was produced by Maurice Kelliher and Shaun O'Boyle (aka Bureau); supported by the Broadcasting Authority of Ireland.
About the producers: Bureau is a producing collaboration between science communicator Shaun O'Boyle and artist/maker Maurice Kelliher. Bureau have made radio documentaries and podcast-based audio stories, on a diverse range of subjects, for: BBC Radio 4, Documentaries on Newstalk, Science Gallery Dublin, UCD/Dr Judith Harford, Irish Design 2015, LGBT History Month UK, Inspirefest, Science Gallery International, Festival of Curiosity, Dr Shane Begin/UCD, Science Foundation Ireland, and the BBC World Service. Their radio documentaries have been supported by Broadcasting Authority of Ireland, ID 2015, and the Mary Raftery Journalism Fund.
The BAI Sound And Vision Scheme: Sound and Vision is a funding scheme for television and radio that provides funding in support of high quality programmes on Irish culture, heritage and experience, and programmes to improve adult literacy. The scheme is managed by the Broadcasting Authority of Ireland.