This weekend on Documentary on Newstalk, Producer Patricia Baker's new radio documentary, Egg Money, celebrates a generation of women who worked to improve life in rural Ireland; countrywomen often stereotyped and overlooked in their roles as mothers, homemakers and farmer's wives. These women, now aged between 70 and 90, tell their stories, and when woven together, highlight a very different story than the one expected.
These women played a vital role in the development of rural Ireland. They were activists, lobbyists, and business women with very independent means.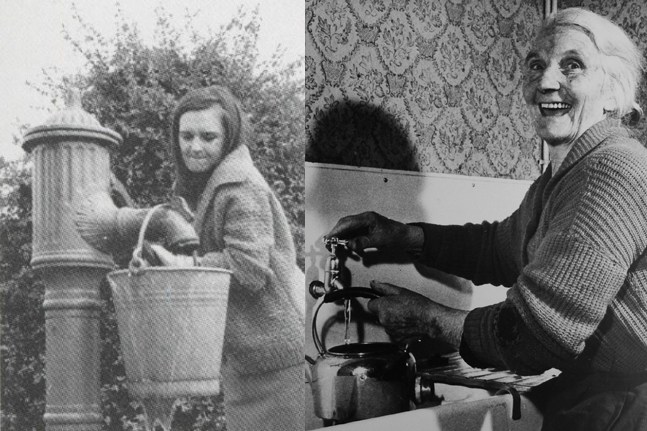 Photograph Courtesy of ESB Archives
Egg Money is broadcast on Newstalk 106 – 108FM on Sunday 17th November at 7am, and again Saturday 23rd November at 11pm. 
Quotes from Egg Money:
"I had a journalist say to me once, 'I went to an ICA Guild meeting wanting to talk about changing the world, and what did I finish up doing? I was asked to judge a jam making competition'.  And I said  'and are jam making and saving the world mutually exclusive' ?"
Mamo McDonald
"My parents were farmers.  There was seven of us in the family, no bathroom, no electricity, very basic stuff. We all did jobs.  We had to milk the cows before we went to school in the morning, everyone had to milk by hand. Turning the turf in the evening, or the hay. Everyone just mucked in and did what they had to do.  Cleaned out the houses.  You just did it and there was no saying that you won't, you just got on with it."
Eleanor Calnan
"The one word that has come up all the time in my research is drudgery.  Housework was a constant drudgery at the time.  If you didn't have electricity, you're cooking on an open fire., You had to light the fire in the morning if you wanted a cup of tea. Most people did not have running water in their houses, so you are talking about getting water from a well, or from a pump.  Washing clothes in a basin with a scrubbing board, it is hard manual work.  Also you're talking about families where you could have anything up to four children in nappies at the same time, and no one had disposable nappies at the time." 
Dr Sorcha O'Brien design historian
"Women were expected to bring in some income to keep the family afloat. They did it in various ways, child minding, knitting, sewing various. Poultry raring was seen as one for the women.   Egg Money was often the only income stream that the women controlled themselves.  It was put away to pay towards a child's education, to improve conditions in the home.  It could be used for diverse purposes. It was pretty central to the life of the family."
Professor Emeritus UCD History Mary E Daly
"My mother always had the Egg Money, and so did all the other women I knew, my aunties and grandparents, and myself, and it was never questioned.  We were independent enough, we did a lot of the work, the women milked the cows, cleaned out cow sheds. They did everything, pitched hay. We were brought up to be independent since the time we could walk.  My mother and all her counterparts regarded herself as business women, they knew a lot about running business in those days, and they were trained by their mothers."
Connie McEvoy.
"They are hidden from all the statistics.  Farmwives were never counted as economically productive people in the census."
Professor Emeritus UCD History Mary E Daly
"ICA was very good for interaction with women, different ages. The ICA would have been very vocal on women's rights." 
Mary Therese Coen
"I started off a conservative, I was as conservative as anyone.  I thought these radical women's movement were … (pause) well I thought Neil McCaffrey had cloven feet. Then I meet her and heard her speak, and I thought she was very articulate, she was very funny, and I was also admiring of a lot of the things the radical women were doing. They were going along a different path to the one we were going, but they had echoes of one another.  I became a born again feminist.  I claimed our place in the women's movement, because we were part of the wider women's movement because we were working for women too.
Mamo McDonald, Past National President of the ICA, founder of Age and Opportunity.
Egg Money is broadcast on Newstalk 106 – 108FM on Sunday 17th November at 7am, and again Saturday 23rd November at 11pm
CREDITS: Egg Money is a Curious Broadcast production funded by the Broadcasting Authority of Ireland with the Television License Fee. It was narrated and produced by Patricia Baker, with edit and final mix by Gerry Horan at Contact Studio.
Sound and Vision is a funding scheme for television and radio that provides funding in support of high quality programmes on Irish culture, heritage and experience, and programmes to improve adult literacy. The scheme is managed by the Broadcasting Authority of Ireland.