Northern Ireland in the 1990s was as far away from peace as it was possible to imagine, according to a unionist political leader.
Former PUP leader Dawn Purvis was speaking to Newstalk's latest podcast, As I Remember It: Bertie Ahern & The Good Friday Agreement as the 25th anniversary of the accord approaches.
She is just one of the key players to speak to the former Taoiseach for the historic podcast, which launches today.
Ms Purvis said the Troubles was well into its third decade at the time and it was "just a horrendous time" in Northern Ireland.
"If anybody had said to me then, 'First of all, the IRA's going to call a ceasefire in a few months' time and then loyalism a couple of months after that' - I'd have told them to go away and get their head looked at,'" she said.
"You'd have never, ever thought that there was any sign of violence ending if you looked at '93 and the early months of 1994. 
"The IRA killed two police officers in Lurgan just a month before they called their ceasefire, so you had really no idea that these [ceasefires] were coming."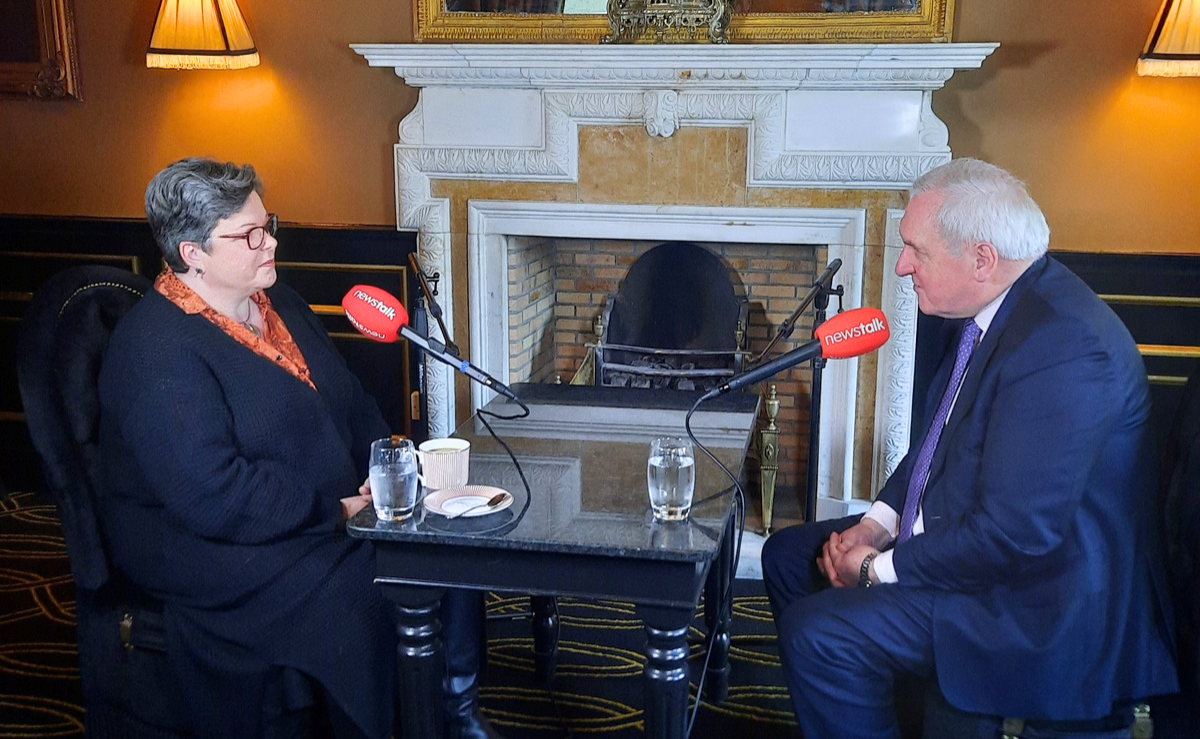 Many in loyalism had trouble believing there could ever be a peace agreement of any kind with the IRA. 
Others were increasingly convinced there was a realistic prospect; David Ervine, a former UVF paramilitary prisoner, was especially hopeful and told loyalists to prepare themselves for talks. 
In August 1994, the IRA declared a ceasefire and in October, Gusty Spence read a statement on behalf of the Combined Loyalist Military Command announcing that loyalist paramilitaries would cease hostilities as well. 
It was soon afterwards that Ms Purvis joined the negotiating team of the Progressive Unionist Party - a small loyalist party linked to the Ulster Volunteer Force. 
In elections to the Northern Ireland Forum in 1996, the party won two seats and the right to attend peace talks.
The party had six principles - the most important of which was that of consent in relation to Northern Ireland's constitutional future. 
All parties with an electoral mandate were invited to the talks - except for Sinn Féin. 
The IRA's 17-month ceasefire had come to an end in February after it set off a bomb in London's Docklands - killing two people and injuring many more. 
British Prime Minister John Major said the party could not take part in peace talks "with the gun under the table" and demanded an unequivocal IRA ceasefire. 
Even though there was no love lost between loyalism and Sinn Féin, to the PUP this was a disappointment. 
"The talks started in June '96 and I was a very politically naïve 30 something," Ms Purvis said.
"Gusty [Spence] said to me the first day, 'Right, we're all in now, now we need the Shinners in.' 
"I was horrified and I went, 'Are you mad?' 
"And he said, 'No, no, no, RSM' - he called me 'Regimental Sergeant Major'. 
"'RSM, we need them in.' 
"I said, 'Why do we need them in?' 
"And he said, 'We need them in so we can see the whites of their eyes. We need to lock them into the democratic process. That's when the war will be over.'"
As I Remember It
As I Remember It is a nine-part series that will launch on all streaming platforms this February 23rd.
Three episodes will be released each week throughout the run.
For bonus content including interviews, videos, an interactive timeline of the peace process and a full glossary off the key players head to newstalk.com/goodfridayagreement.
You can hear Episode One here:
Download, listen and subscribe on the Newstalk App.