A Sligo TD has questioned why the Government was able to build houses for 24 Ukrainian families in under five months – but cannot get to grips with Ireland's homeless crisis.
Construction on the brand-new modular homes at Doorly Park in Sligo only began in mid-February, with the families moving in this week.
The homes have an 85-year lifespan and were built on land that was owned by Sligo County Council and diverted to the Department of Integration.
They were built under emergency planning legislation that saw the normal planning processes waived for a three-year period, after which retention permission will need to be applied for.
Should the Ukrainian families return home after the war, the homes will revert to the council for social housing.
On The Pat Kenny Show this morning, Sligo-Leitrim TD Marc MacSharry said there are around 4,600 families on the housing list in his own constituency who would love the chance to move into this type of home.
"This is a stark reminder to the many homeless people and people on the housing list nationally of what can be done when the same can-do attitude, blank chequebook approach is being taken to our own," he said.
"It seems, in the face of so many difficulties we are having in terms of our own homegrown issues, solutions, when it comes to other issues, are immediate.
"Money is not an issue; there aren't long-winded tendering processes and so on and this is the latest manifestation of that today."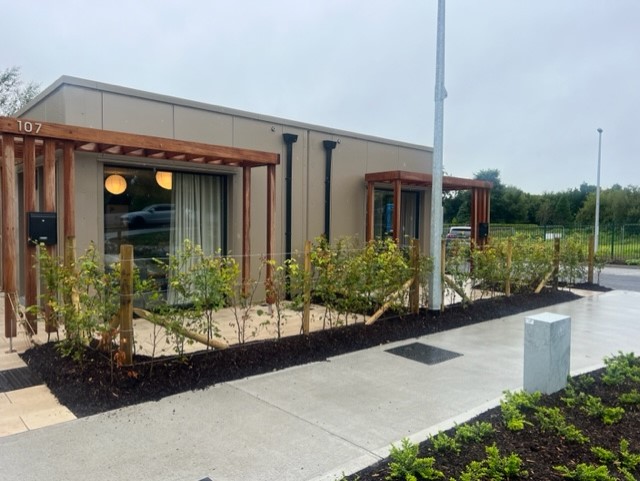 The new modular housing for Ukrainian refugees at Doorly Park in Sligo. Image: Claire Ronan/Ocean FMDeputy MacSharry said his issue is not the fact the homes are going to the Ukrainian families – but that the same approach has not been taken for people who are already living in Ireland.
"It is not a question of either/or," he said. "It's a question of our own as well."
The Sligo TD suggested other politicians are afraid to question the State's asylum seeker policy for fear of being branded racist.
"It is terrible, but we have to preface this engagement by saying, I am not a racist, I'm not a zealot, I'm not a xenophobe," he said.
"We are a compassionate and welcoming nation, hugely conscious of our own story when it comes to emigration."
The new homes at Doorly Park come just over a month after it emerged that up to 500 students could be left without accommodation in Sligo next semester with two student housing hubs planning to house refugees instead.
"This is the biggest issue on the ground among people in Ireland at the moment, bar none," said Deputy MacSharry. "But they are afraid of their lives.
"Normal people are afraid of their lives to open their mouths for fear of being labelled a racist or a xenophobe or whatever.
"Without an appropriate response to Government from this, we do risk our reputation as a welcoming and compassionate nation, because people who are based here - not just Irish, of many nationalities - be they students, be it families in the northwest or elsewhere in the country where these modular units are being put in place are thinking, well what about us as well?"
He said there is "no strategic approach" in Dublin or Brussels when it comes to asylum seekers.
"Ireland is an outlier in Western Europe by a country mile in terms of the supports we are providing," he said.
"We are de-facto marketing Ireland as a location and on top of that, we have an un-joined-up Government, ambivalent to the needs of their own in prioritisation of an international reputation for those at the top.
"Because of the supports we have available and as much as it is not nice to hear for some people, we are de-facto marketing Ireland as a destination above the likes of Denmark, Belgium, Netherlands – comparable nations."
The Sligo TD said there is no shortage of State-owned land all around the country where similar modular homes could be built, labelling it a "no-brainer" for the housing crisis.
"Now this is a good news story in many ways because it shows what can be done in four months when we are under the international spotlight," he said.
"Let's bloody well get on with it, in catering for some of our own."
You can listen back here: