A range of cheap baby-carriers and slings purchased on sites like Amazon, eBay and AliExpress fail basic safety standards, according to a new study.
The research, carried out by British watchdog 'Which?' found 10 out of 11 products studied failed safety standards.
It found that ten had at least one serious failure and nine could "potentially be lethal is used to carry a real baby".
Among the issues reported were shoulder straps falling apart at the seams, leg holes big enough for a baby to slip through and suffocation risks.
'Which?' noted that all the products tested cost less than £30 (€35) – compared to the £100 (€117.50) similar products would cost in high street shops.
Baby carriers tested by Which?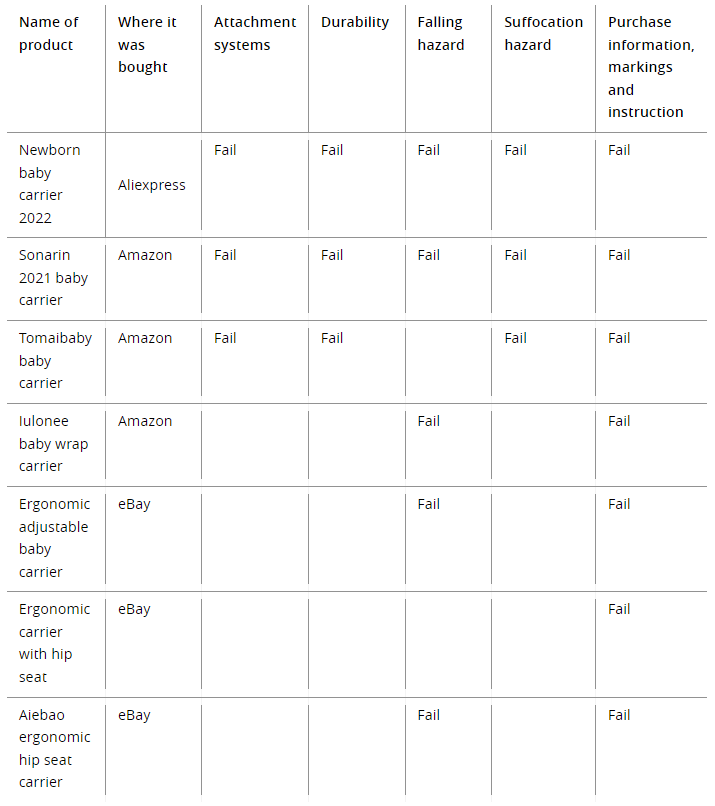 Baby slings and pouches tested by Which?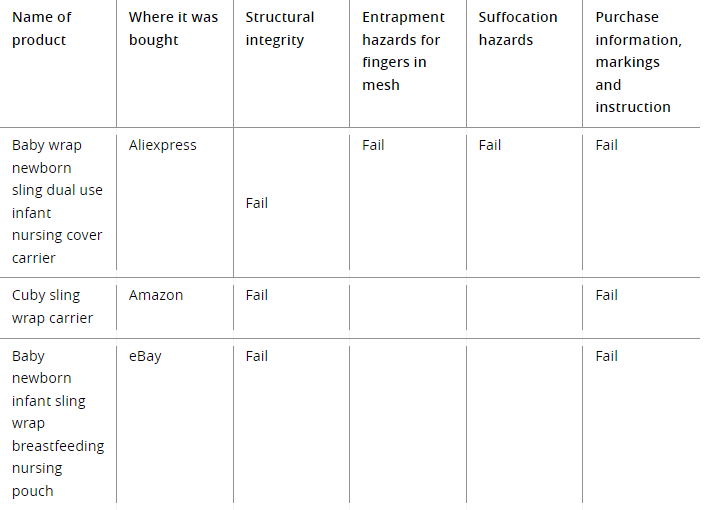 "We're really shocked and disappointed about the poor quality of these baby carriers," said Kamisha Darroux, principal scientific advisor at 'Which?'. "They're flimsy and offer very little ergonomic support for your baby."
"If you're buying a baby carrier, you should follow the T.I.C.K.S rules for safe baby carrying. This stands for Tight, In view at all times, Close enough to kiss, Keeping chin off the chest, and Supported back.
'If a baby carrier or sling is unable to do this, for example, it doesn't hold your baby high or tight enough on your chest, or it holds your baby in a position where their chin is forced down into their chest, then you should avoid using the product."
Six of the carriers and slings were found to have faults in their attachment systems and their durability and structural integrity.
Which? warned that the faults could see your baby falling out and injuring themselves.
It said there were also issues with leg opening which could see babies falling through and injuring themselves.
Which? tested the leg openings with a 120mm diameter ball and found that five had leg openings that were dangerously large.
The research also uncovered a range of entrapment hazards and suffocation hazards.
Finally, every product included in the testing did not come with the correct instructions, warnings and markings to ensure the products are used safely and correctly.
AliExpress, Amazon and eBay all said they removed the items identified as faulty in the study as soon as they were informed.