New figures show that Cavan is the county with the highest 14-day incidence rate per 100,000 population for coronavirus cases.
NPHET data shows it has an incident rate of 758.8 - far above the second highest county Meath, which stands at 450.2.
Donegal has an incidence rate of 356.2, Monaghan is at 350.2 and Clare rounds out the top five at 320.7.
The cities of Dublin (201.8), Cork (256) and Galway (262.7) all have incidence rates of more than 200.
Westmeath and Wexford also have rates above the 250 mark - at 252.3 and 250.5 respectively.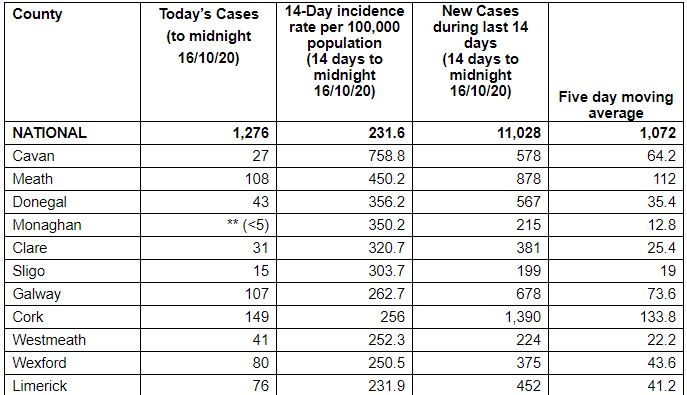 Limerick has a rate of 231.9, while Leitrim stands at 218.4.
At the lower end of the scale, Mayo is reporting a 14-day incidence rate of 131.
Waterford (130.8), Carlow (115.9), Wiclow (102.5) and Tipperary (93.4) have the lowest rates in the country.
It comes as there have been eight further deaths and 1,276 new cases of COVID-19 in Ireland on Saturday.
However the Health Protection Surveillance Centre (HPSC) says of the eight deaths one of these happened in June, two in September and five in October.
There has been a total of 1,849 COVID-19 related deaths and 48,678 confirmed cases here.