Ireland needs radical change from a left-wing Government to resolve the housing crisis, according to protestors in Cork this afternoon.  
Large numbers participated in the 'Raise the Roof' rally in Cork city this afternoon, protesting the current housing crisis.  
Led by the Raise the Roof campaign and SIPTU, protestors marched from Connolly House, demanding a radical change of housing policy. 
SIPTU members are taking to the streets of Cork demanding a radical change of housing policy. #RaiseTheRoof

The #HousingCrisis will continue to spiral out of control unless we see a real change in housing policy and treat housing as a human right!

We need #HomesForAll now! 🏘️ pic.twitter.com/MMVJPMvVMh

— SIPTU (@SIPTU) June 10, 2023
SIPTU organiser Adrian Kane said the housing crisis will only be resolved by the election of a left-wing Government. 
"The Government is not listening. If anything is a testament to this fact, it was surely the last two significant actions concerning housing that this government took," he said.  
"Lifting the eviction ban and waiving development fees. It will continue not to listen because it comprises parties that are united in an ideology of... a fundamental disregard for the working people of Ireland. 
Mr Kane said students, families and single people alike are suffering in Cork due to the housing crisis.
"We need radical political change," he said. "We need, for the first time in the history of our state, a left-wing Government." 
Mr Kane said the next general election will offer the opportunity to elect a left-wing government, and this "once-in-a-lifetime opportunity cannot be lost".  
"That will mean parties and organisations genuinely working together, putting aside doctrinal differences, to do what is right and necessary for all people resident in Ireland," he said.  
In its manifesto, Raise the Roof called for a State-led housing programme focused on affordability and the retention of all public land for the delivery of "public, affordable, and cost-rental homes". 
It also called for a return of the eviction ban and a rent-freeze.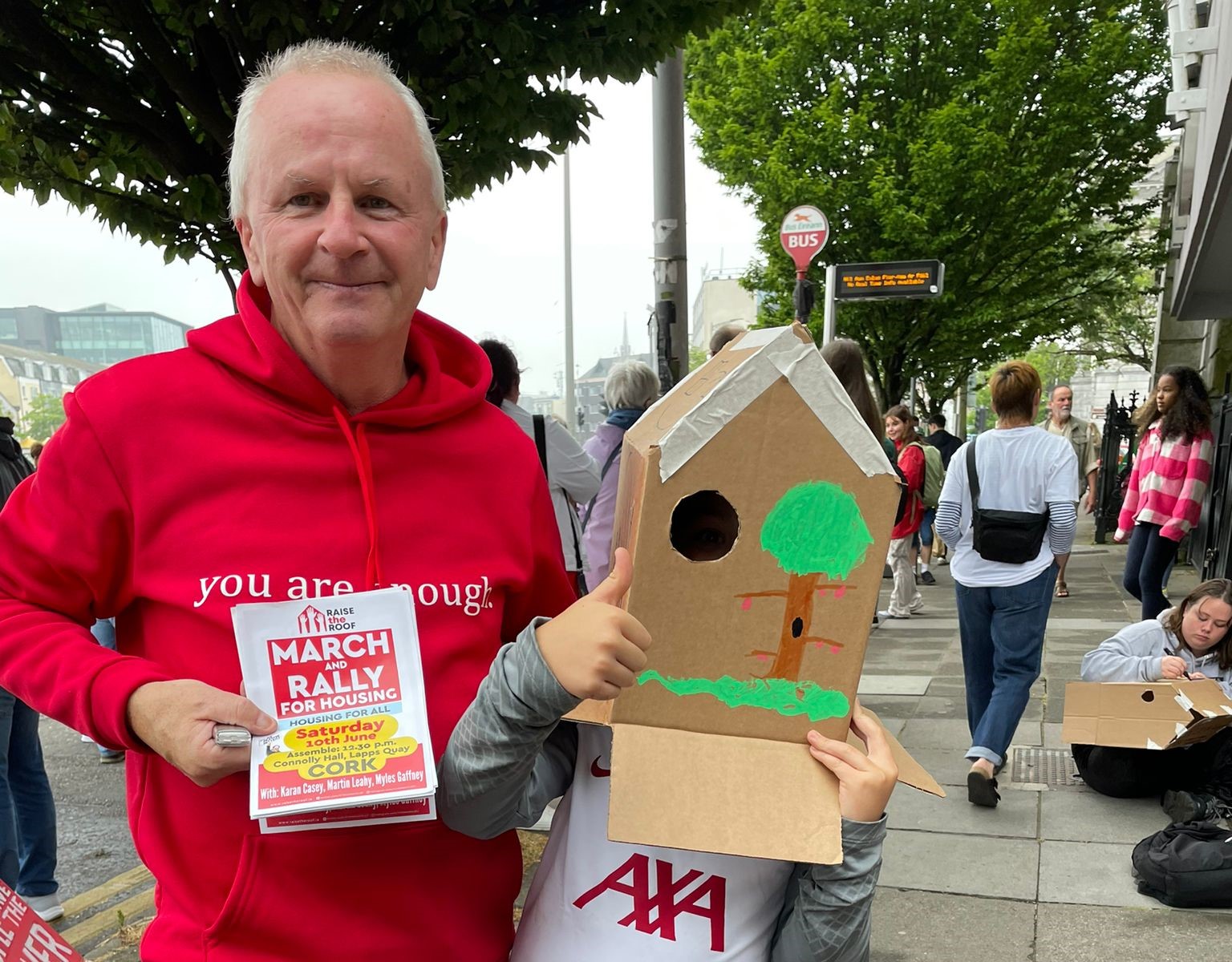 Demonstrators taking part the housing demonstration said many young people are not planning their future in Ireland. 
"We have a few people that have emigrated and lots more who are talking about it," one protestor said.  
"When people are planning their future, they're not planning it for Ireland. They're planning to move away." 
Another demonstrator said as the crisis deepens, people who have homes are affected as well.  
"I have a five-bedroom house, car outside my door, good job – but today I had to borrow €100 from my daughter because I'm not paid until next week" he said.  
"I'm in a different situation to people that are homeless. But there's a lot of people like me."