Plans have been unveiled for a Liffey cycle route in Dublin.
Work has been underway since 2013 to develop a segregated cycle route in the capital.
To achieve that, newly-published plans have recommended creating new sections of boardwalk along part of the quays.
It's among the measures proposed to make room for five kilometres of continuous cycle lanes between Heuston Station and the Tom Clarke-East Link bridge.
Under the proposals, the cycle route would alternate between 'buildings side' and 'river side' lanes.
The new boardwalks would be built 'where necessary' to ensure a space for pedestrians.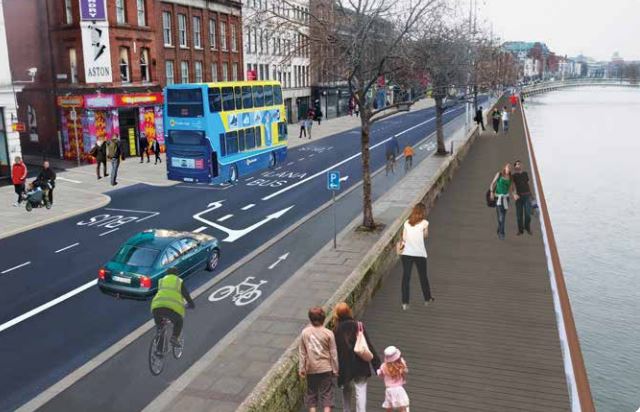 The National Transport Authority has published the plan, and Dublin councillors are set to discuss it later today.
It comes after a long-running row over how best to fit cars, buses, cyclists and pedestrians all in the one space.
According to the NTA, their plans would ensure "full segregation of cyclists from other traffic" along the length of the new route.
The scheme would cost more than €20 million to build.
A public consultation is due to be carried out before the plans are finalised.
"Something for everybody"
Nuala Kelly from the Dublin Cycling Campaign believes the proposals being put forward should keep most road users happy.
She said: "There would be segregated cycle lanes. There would be separated and continuous bus lanes, and separated and continuous car lanes as well.
"Overall I think it does have something for everybody."
Green Party Cllr Ciaran Cuffe welcomed the proposals, and said he was 'delighted' there's finally a plan for the route.
He admitted: "The scheme isn't perfect, and has had to make compromises.
"But I'm hoping that this latest plan prepared by the National Transport Authority's consultants will get the green light from the Transportation Committee so that we can move towards construction.
"People are crying out for segregated bike lanes that will make it safer for cyclists young and old to travel safely along the Liffey Quays."
He added: "Let's hope we can now move these plans forward to construction."
Detailed plans are available to view on the Dublin City Council website.