Police searching for Irish teenager Nóra Quoirin are checking the phone records and emails of staff at the resort she went missing from.
The 15-year-old schoolgirl has not been seen since she went to sleep with her family at the Dusun Holiday Resort around 60km south of Kuala Lumpur.
The search is now in its sixth day and, at a press briefing this morning, Police Chief Mohamad Mat Yusop said teams have combed through a 6km² area around the resort without finding a trace.
He said officers are now re-focusing their efforts on the resort itself to find "any information" on where she went missing from.
They are also investigating the buildings and chalets within the resort and checking phone and emails records.
It's day 6 - please urgently RT this poster - Nora needs your help!! & send any information you think is relevant. #NoraQuoirin #FindNora #FindingNora @MissingAbroad pic.twitter.com/OOQk4SQJhu

— findingnora (@findingnoraq) August 9, 2019
The 15-year-old has special needs and her family have described her as "very vulnerable."
She lives in London with her Irish mother and French father.
He rejected claims that investigators had uncovered Nóra's footprints – despite reports quoting fire department personnel claiming they had.
Police have been in contact with immigration and have found no evidence of Nóra leaving the country.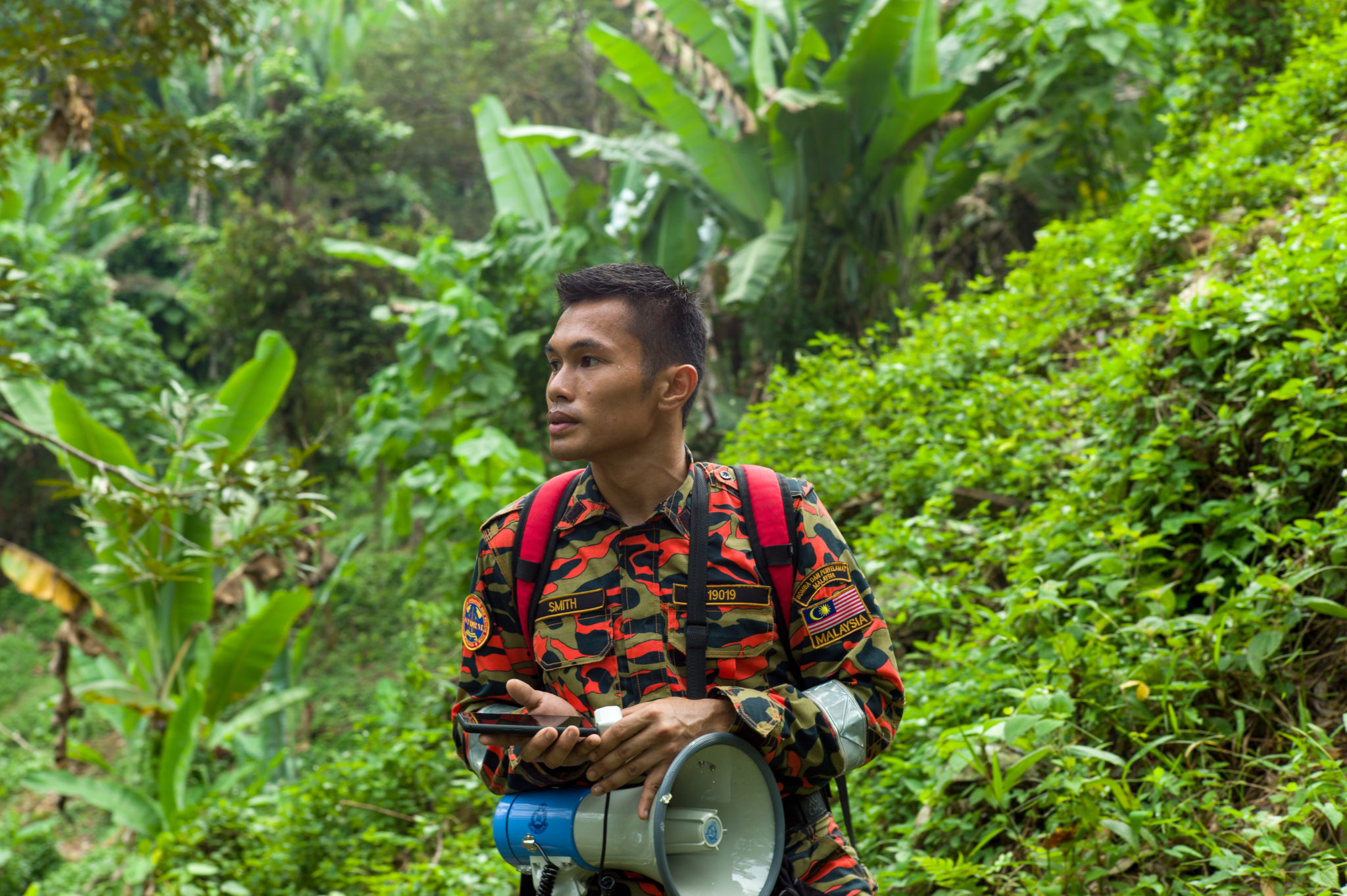 A search and rescue team member carrying a loudspeaker looks for a missing missing schoolgirl Nóra Quoirin, 09-08-2019. Image: Chris Jung/ZUMA Wire
Although police have been treating it as a missing persons case, he said criminal investigation teams have been involved since day one.
He said an initial was carried out at the family chalet on the first day, with a full forensic investigation carried out as soon as the family granted police permission to do it.
The family is still staying at the same chalet.
A recording of Nora Quoirin's mother calling for her daughter is being used by police searching for the missing London teenager in the Malaysian jungle.

For more updates on the search, click here: https://t.co/Cq5mUQFtIi pic.twitter.com/jpR2ZJKT5X

— Sky News (@SkyNews) August 9, 2019
Searchers are using loudspeakers to play a recording of her mother calling out for her and telling her she loves her in the hope she will respond.
Her picture has been posted around the area and distributed to police manning nearby roads. the road blocks were put in place on Monday - 24 hours after she was reported missing.
Teams have been searching the 12 acres around the resort and have been steadily expanding into jungle area further out.
A specialist police force led by indigenous communities known for their tracking ability has joined the search alongside emergency services and a range of government bodies.
Searchers are also using a helicopter with thermal imaging capability, two drones and sniffer dogs.
Police joined hundreds of residents in special prayers to aid the search and rescue operations for Nora Quoirin at the Pantai Mosque in Negeri Sembilan today.

(: Negeri Sembilan police) pic.twitter.com/cuviQ4c3pO

— Sumisha Naidu (@sumishanaidu) August 9, 2019
Police say they are treating it as a missing persons case but cannot rule out foul play.
Investigators have carried out a full forensic examination of the cottage and have taken fingerprints from an open window on the bottom floor.
Please repost and RT across all your social media and help find Nora.

We are in KL and doing a concert tonight & it's very upsetting to hear this news. pic.twitter.com/frsqmvBgcm

— Westlife (@westlifemusic) August 8, 2019
Nóra's family have said they remain hopeful she will be found and will do everything they can to bring her home.
They said the experience has been "extremely traumatic" and Nóra's parents Meabh and Sebastien are too upset to speak themselves at the moment.
A gofundme account, set up to help the family travel to Malaysia and assist in the search, has now reached nearly €76,000.
The Department of Foreign Affairs is providing consular assistance to the family.