The Government is defending changes to the COVID-19 vaccine rollout, amid strong criticism from sectors that believe they should be given priority.
The new model will see people vaccinated based on age after the over-70s, medically vulnerable and those with underlying conditions have been vaccinated.
It means groups like gardaí, teachers and family carers that had been pushing for early vaccination now won't get it.
The change follows advice from the National Immunisation Advisory Committee (NIAC).
The changes will come into effect once over-65s, people with underlying conditions and residents of long-term care facilities are vaccinated.
People aged 64-55 will be vaccinated first under the new plan, with younger age groups vaccinated in descending order.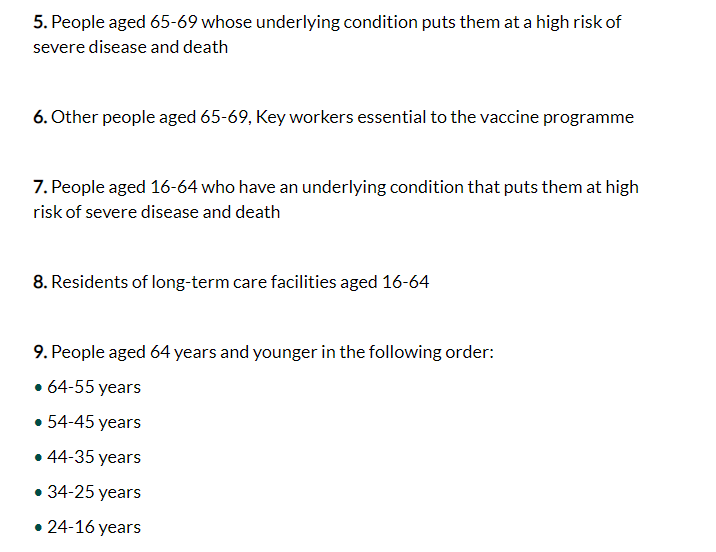 Health Minister Stephen Donnelly says the new system will be "more efficient, more transparent and fairer".
However, there has been strong criticism of the move from unions and organisations representing workers who were previously expected to be prioritised ahead of the general population.
GRA President Frank Thornton said the treatment of frontline gardaí has been 'disgraceful'.
ASTI General Secretary Kieran Christie, meanwhile, said teacher groups are now demanding an urgent meeting with the Department of Education.
Government and NPHET stance
Explaining the move, Deputy Chief Medical Officer Dr Ronan Glynn said officials are following scientific advice.
He explained: "Once you account for age and underlying conditions - and those are already taken [into] account in the way the prioritisation framework is set out - there's no evidence that any particular occupational group stands out as being at higher risk of severe outcomes from COVID-19."
Micheál Martin, meanwhile, said prioritising different groups of workers would prove difficult and could potentially delay the vaccination programme.
The Taoiseach pointed to challenges that have already been experienced as they work to vaccinate people with underlying health conditions.
He suggested that older teachers, gardaí and other professionals will now get vaccinated more quickly than they would have under the previous plan.
He stressed that NIAC has been clear that the new model is a 'better way to do it from a health perspective'.
The Government says it still plans to administer around three million vaccine doses between April and June, saying 80% of adults will have received at least one dose by the end of June.
The announcement of the changes came alongside a series of changes to the current coronavirus restrictions, with some measures now due to be eased between now and the end of April.
Main image: Taoiseach Micheál Martin addresses the Nation at Government Buildings,Dublin and holds a press conference with Tánaiste Leo Varadkar,Deputy CMO Ronan Glynn and Minister for the Environment, Climate and Communications Eamon Ryan. Image: Julien Behal photography.