Lee Grace joined the army when he was told he was too small to play football, and now he is knocking on the door of European football with Shamrock Rovers.
Rovers will play Ferencvaros in the UEFA Europa League play-off, following on from the success that Stephen Bradley's side had in the qualifying rounds.
One of the key members of the Rovers squad en route to this success is defender Lee Grace. The 29-year-old played for Waterford premier league side Carrick United before signing for Shane Keegan's Wexford Youths.
He spent two seasons there where he won the First Division title in 2015. Grace reunited with Keegan and joined Galway United ahead of the 2017 season where he played every minute of every game before signing for Rovers in the Summer 2017 transfer window.
However, his route to League of Ireland football was not as simple as that.
Speaking on Thursday's Football Show, Grace recalled his struggles to be involved in youth football, as he was always deemed 'too small'.
"There were a few of my friends that were my age who were born in January, and they were making teams that I wasn't making a year younger," Grace said. "I was sure that I was a better player than them.
"They'd probably agree now because there's not that many of them playing anymore. I was always the smallest at the trials, I just physically wasn't ready.
"Looking back now, it definitely did hamper me. I just didn't have a chance when I was smaller, unfortunately. I went to so many trials and I was always told I was too small."
Grace was not able to break into any squad he tried out for, due mainly to his size. This lead the Tipperary native opt for a slightly different career path.
"I didn't sprout up until I was probably 15 or 16," Grace said. "At that stage it is too late, so I set my sights on the army and that's it.
"It was always a dream to play football as my job, I didn't care where. When the time came when I was in the army and I had the choice between staying or leaving for Galway, I would have kicked myself if I hadn't taken it.
"It was a big decision at the time, but one that I definitely don't regret.
"I've no regrets from joining the army," Grace added. "I wouldn't be here without it. I loved it, I loved all the outdoor stuff. There was obviously times where it was tough during the training, but all in all I very much enjoyed my time."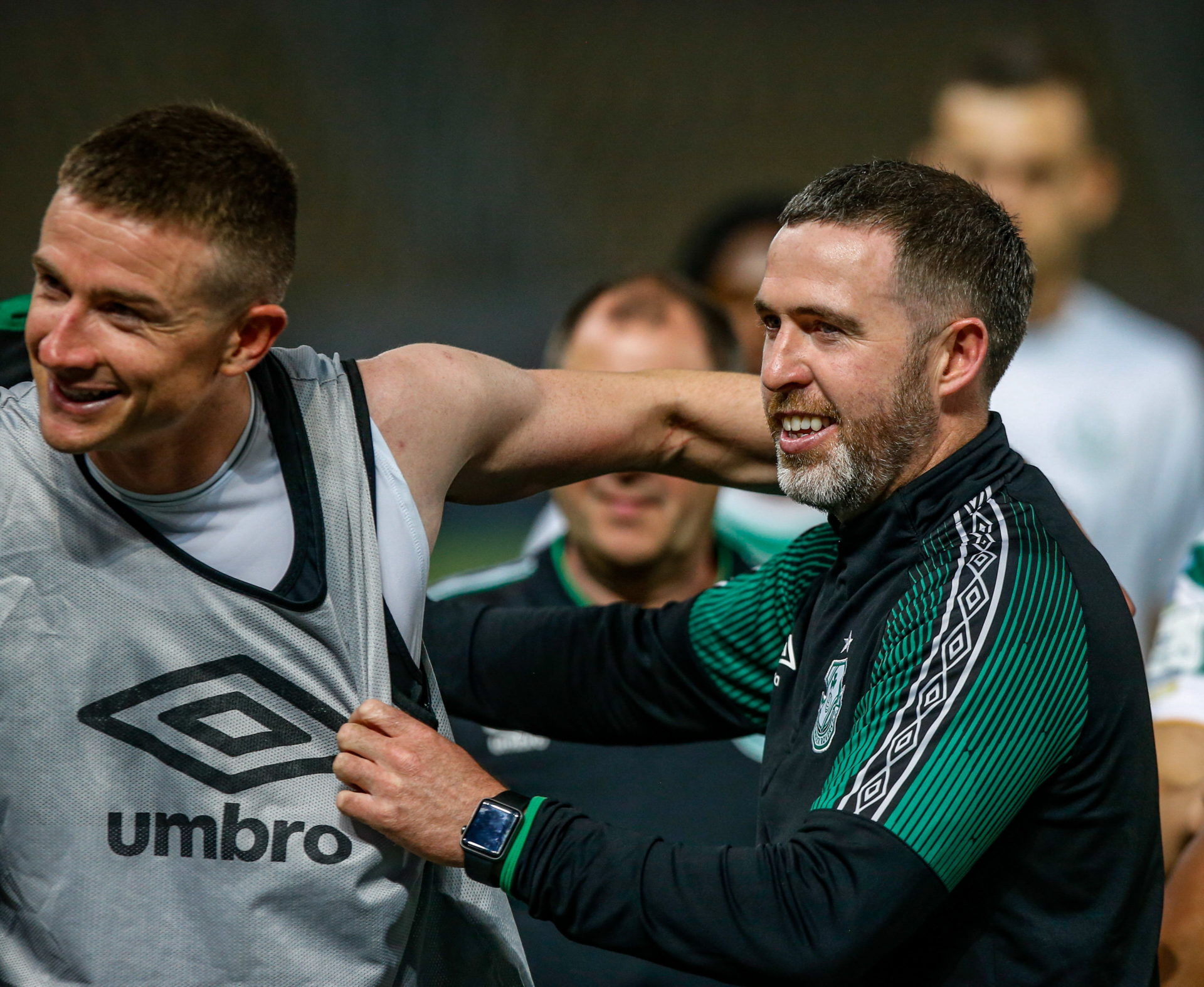 Rovers are soaring under Stephen Bradley
Rovers defeated KF Shkupi in the third round of the Europa League qualifiers, winning 5-2 on aggregate. This result would be enough to put Bradley's side into the play-off stages, where they will come up against Ferencvaros on Thursday August 18th in the first leg.
This European success echoes Rovers' League of Ireland success, as they currently top the Premier Division table. Grace discussed how Bradley has formed his preferred squad over a number of years to play the style of game that has enjoyed this success.
"He just tells us to play our own games," Grace said. "He picked the squad very carefully. He doesn't just sign players out of nowhere, he picks them very carefully.
"He brings in the type of player that he wants and tells you to play your own game. It's taken him a few years to get the squad he is after building now. I just think he's brilliant.
"He leaves no stone unturned, and I just think he's a brilliant manager."
Rovers have a particular style, which is not what many consider the traditional Irish style. However, Grace has seen the entire squad buy into the philosophy that Bradley has put in place.
"He constantly says it, to be us, do what we do, trust the process and don't get away from it," Grace said. "It does work a lot of the time.
"You'll very rarely see us, in the 90th minute, lob the ball on. Sometimes you have to, but more often than not you'll see us play through the lines and try and break teams down that way.
"That's his philosophy, and we are have all bought into it. Anyone that comes in buys into it straight away. That's his philosophy and I don't think we'll change."
Football on Off The Ball brought to you by Sky. All the football you love in one place across Sky Sports, BT Sport & Premier Sports.