Airbnbs need to be tightly regulated to create more long-term rentals, according to people affected by the flood of short-term lettings.  
Newstalk revealed earlier today that there are more short-term holiday lets available on Airbnb than long-term rentals listed on Daft.ie in all 26 counties in the Republic of Ireland.  
In west Donegal, for example, there are 572 properties available on Airbnb - with just one rental property on Daft for €2,800 a month. 
George from Co Clare told Lunchtime Live he got "sick of house hunting" every summer and resorted to living in a mobile home with his daughter.  
"It's always a planned eviction, so to speak," he explained. "You rent a house and they say, 'come May, I like to Airbnb this [property] for the summer'." 
There are also 66 times more Airbnb properties on offer in Co Clare than there is to rent on Daft. 
George said as a software developer with a good income, he was shocked at the lack of available houses. 
"Someone can have a house on Airbnb for two days and get the same amount I can pay in a month," he said. "We obviously have a big problem there."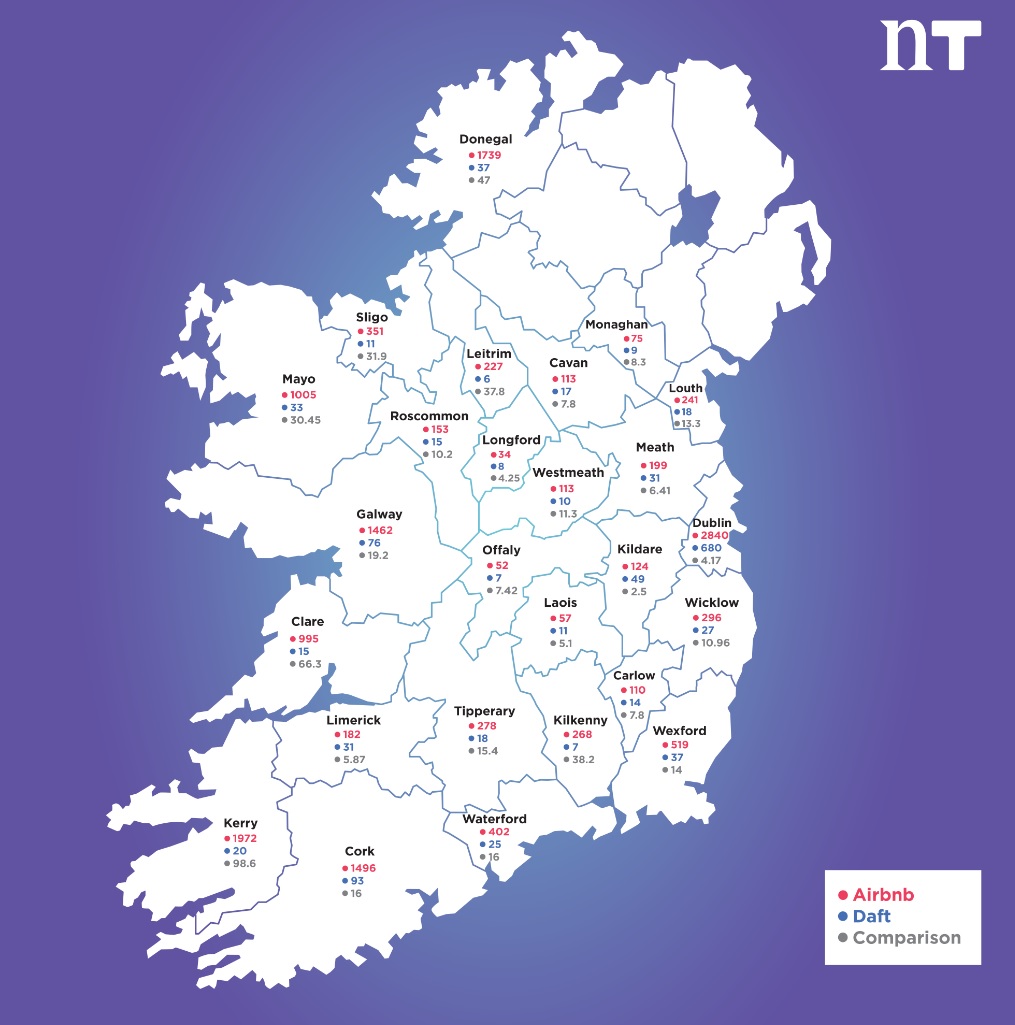 George said, even though his mobile home is yet to have running water, he is one of the "lucky ones". 
"I can live throughout the year with my daughter," he said. "Many people don't have that security." 
"Debunking" Airbnb
Fianna Fáil Councillor Cillian Murphy said we need to "debunk" some of the preconceptions around Airbnb.  
"People have it in their heads that it's like a cottage industry," he said. "Eurostat will tell you in 2022, Ireland had five and a half million [Airbnbs], average price around €130 [per night]." 
Cllr Murphy said international and national tourists are coming to Ireland and "blowing [residents] out of the water" by paying high prices for short-term lets.  
"We absolutely need to regulate this industry, and the best mechanism through which that can be done is a planning authority," he said.  
Cllr Murphy suggested a cap on Airbnbs in areas to allow residents to find security in their community. 
"A long-term rental is 100% occupancy for that community," he said. "You've got people who are living there year-round, spending year on year." 
"Unfairly blamed"
Airbnb host Barry said Airbnb hosts are being "unfairly blamed" for the Government's failures.  
"The fundamental problem is a government problem," he said. "A point-blank refusal to build houses... following this kind of neoliberal model that has failed." 
Barry said he would support further regulations on short-term lets if he could trust the Government to do it right. 
"Every time the Government steps in with regulation they make a mess of it," he said. "It was the Government that brought the vulture funds in, and they don't pay nearly any tax and their profits are brought off to a Swiss bank account." 
You can listen back here: