The price of food and drink in Irish restaurants and pubs is set to surge as businesses respond to the ongoing inflation crisis.
One restaurant owner in County Waterford told Newstalk he has been advised that the only way he will turn a profit is by charging €15 for a pint.
Paul Horan from 'The Esquire' in Tramore has no intention of doing so – but is urging the Government to step in before restaurants start closing en masse.
The crisis has already proved too much for some restaurants, with a number of high-profile closures in Dublin in recent weeks followed by last night's closure of the popular Alba Italian restaurant in Enniscorthy.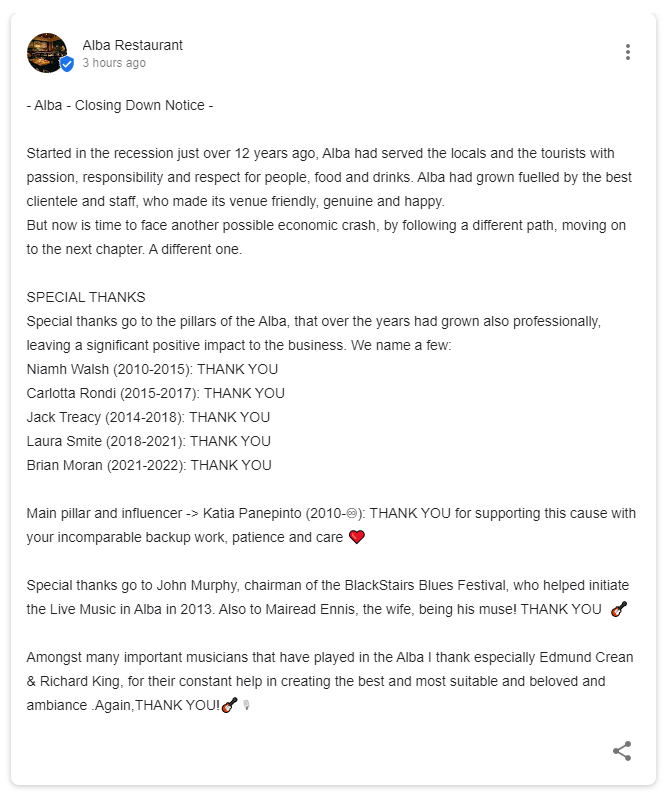 Mr Horan, who has been in business for 40 years, has undertaken a viability study of his business.
He told Newstalk about the prices he is being advised to charge.
"If I was to remain in business and retain any profit margin, I would now have to raise a steak, which is currently €25 up to in the region of, €60 to €70," he said.
"If we were to maintain the price margin that I had for my profits say, two years ago, I would need to sell a pint for around €15 to €20."
 

View this post on Instagram

 
He said the Government must step in – as he will not be asking his customers to pay those kinds of prices.
"It's very, very simple," he said.
"I mean people now won't pay €12 for a pint. Is it a fair price? No, it is not.
"A man goes out for a pint, he might have five or six, and put that down at €12, he's in and out for €60 – it is not going to happen.
"There has to be some action taken where we can curtail the prices of everything."
 

View this post on Instagram

 
Meanwhile, advisory firm BDO Ireland is warning that price hikes and further closures are on the cards.
BDO Ireland Director Austin Hickey told Newstalk reduced profit margins will be felt across the industry – and the New Year will bring even more challenges.
"It is probably a situation that is going to be even more challenging in the months ahead," he said.
"We're facing into rising interest rates, obviously the reduced VAT rate that was in situ for the hospitality sector is going to revert back to the higher rate and also then, planned increases in terms of the minimum wage are just going to have inflationary impacts on costs for the sector."
Blathnaid Bergin, Ballymaloe Cookery School Business Lecturer and Restaurant Advisor with 'The Business of Food,' said price increases are imminent.
"We're going to have to understand that the restaurant and hospitality industry will probably have to increase prices."
A host of well-known restaurants have already closed their doors in recent months.
The Michelin-recommended Circa in Terenure closed its doors after four years saying it could no longer deal with price increases and staff shortages.
The Vegan Sandwich Company in Smithfield and Stephen's Green has also closed its doors alongside Listons Street Grocer on Camden Street, which closed after more than 20 years in business.
The end of an era - very sorry to see #Listons Deli on #CamdenStreet #Dublin closing at 6pm today. Thank you for 20+ years of providing such a great service to our local community #Portobello pic.twitter.com/wGoLosv78t

— Ivana Bacik (@ivanabacik) September 16, 2022
Other well-known businesses to close include Lenehan's Bar and Grill in Rathmines, Dorian in Donnybrook, Monck's Green in Phibsborough and Lifeboat Beef & Reef in Skerries.
Additional reporting Michael Staines.