Hong Kong police have fired pepper spray at protesters as they continue to demonstrate a controversial new extradition law.
Police in riot gear were deployed after tens of thousands of people joined demonstrations against a law that could open the way for people to be sent to China for trial.
Human rights groups say the law could be used by Beijing to make critics and political opponents "disappear."
The bill was due for its second reading today; however, the region's governing Legislative Council has been postponed indefinitely due to the unrest.
The demonstration had largely been peaceful as protesters, largely young and dressed in black, took to the streets.
Tempers flared this morning however, amid claims some had thrown bottles at officers.
Police fired rubber bullets and riot units with shields and batons pushed back against people attempting to storm past barricades to get to into Hong Kong's government headquarters.
Protesters have claimed police used compressed water around official buildings.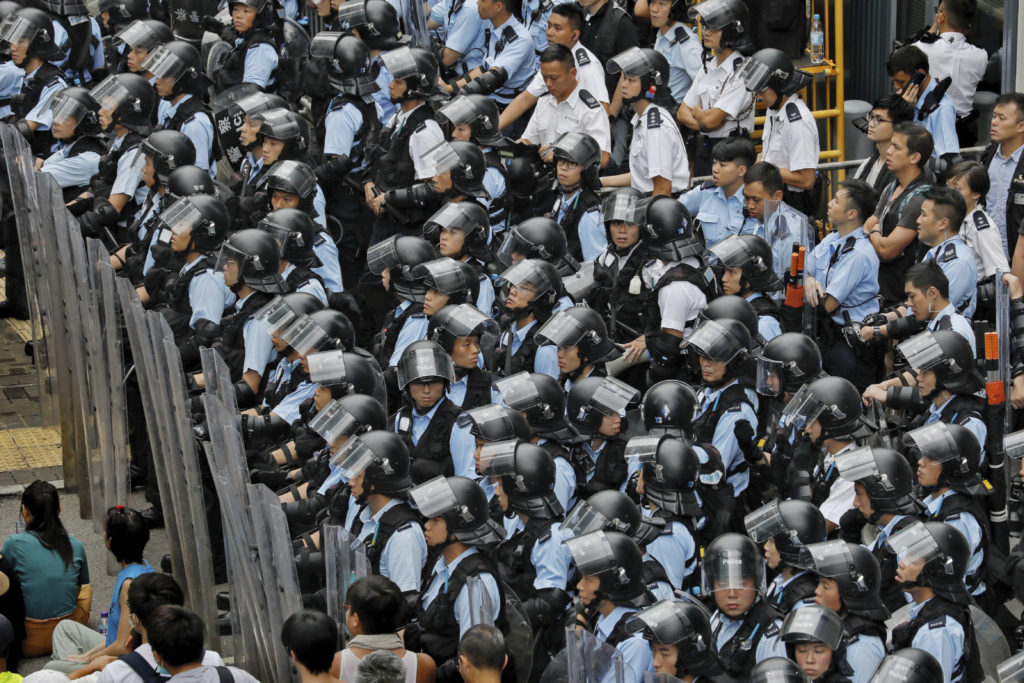 Police in anti-riot gear stand watch as the protesters gather outside the Legislative Council in Hong Kong, 12-06-2019. Image: AP Photo/Vincent Yu
Many of the protesters have been wearing surgical masks due to fears over Beijing's growing use of electronic surveillance and facial recognition technology.
One 18-year-old protester, who told Sky News her name was Jacky, said: "We're young but we know that if we don't stand up for our rights, we might lose them."
The protest comes three days after a major rally against the bill that organisers said was attended by more than one million people.
On Monday, Hong Kong's chief executive, Carrie Lam, vowed to press ahead with the legislation despite the concerns.
She has insisted that extradition cases would be decided by Hong Kong courts and that, without the changes, Hong Kong could become a haven for criminals evading justice.
A re-scheduled vote on the proposals is set for June 20th.