Dublin Airport does not expect to use the new outdoor holding areas this bank holiday weekend, DAA chief Dalton Philips has told Pat Kenny.
The airport operator's new plan for avoiding a repeat of last weekend's passenger chaos involves placing passengers that arrive too early in holding areas at the short-term car parks and directly outside the terminal buildings.
The areas will have 'bad weather covers', toilets and seating – and will be used when the terminals get "particularly busy" with passengers.
On The Pat Kenny Show this morning, DAA Chief Executive Dalton Philips said he does not expect to see them used anytime soon.
"I don't expect the holding areas to be in place this weekend," he said. "I don't expect it to be in place."
"If people are coming two-and-half or three-and-a-half hours before their flights as we have said, it should flow well.
"There will be periods when queuing could be up to an hour but if we have to introduce a back-up contingency - which we didn't have last Sunday - we will have this contingency where we will say, sorry sir you're in the queue for a flight that's in seven hours' time we are just going to ask you to hold."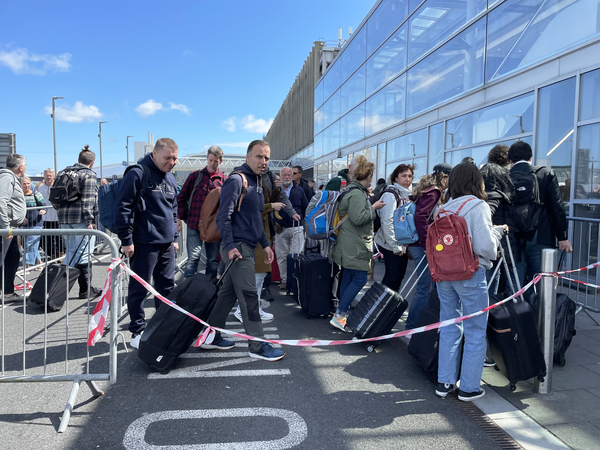 Queues at Dublin Airport at 3pm in the afternoon on Sunday 29th May. Image: Eamonn Farrell/RollingNewsHe admitted that the system is "not ideal" but noted that it will only be in place temporarily.
"It will be a covered facility. It will be a little bit temporary as we start off, but it will be covered and we will have restroom facilities there," he said.
"It's not ideal but what I don't want is somebody who comes in on time to find they can't get to the front of the queue because there are many people there who have been there from six or seven hours before.
"I understand why people are coming so early. They are spooked because we have let them down, but we've just got to manage this until we can restore people's confidence again."
Passengers are being advised to arrive two-and-a-half hours before short-haul flights and three-and-a-half hours for long-haul flights.Those who are checking in bags are advised to add an extra hour for bag drop or check-in.
Staff shortages
Mr Philips said he never would have offered redundancies during the pandemic if he had any expectation that aviation would rebound as quickly as it did.
"Nobody knew it was going to come back this quickly and of course, from March it accelerates at a rate of knots that nobody expected," he said.
"We have absolutely put our hand up – the experience is not what passengers should expect. In the month of May about 95% of passengers got through in less that 45 minutes but then you had the situation on Sunday which was a total breakdown in the system."
Flights
He said other European airports have reduced the number of flights they are operating but said that is something DAA "really wants to avoid".
He confirmed that Government ministers were aware of the decision to offer redundancies during the pandemic – and did not warn against it,
He said DAA is State-owned but remains a commercial enterprise and ministers realise it needs to be run in a commercial fashion."
The DAA chief also told Pat that 167 new security staff members will be working by the end of June, taking the total complement to 700.
That will rise to 800 by the end of August.