Dry robes have reached infamy on South Dublin beaches, and this summer's heat waves means they're now popular everywhere else too.
Millions have flocked to coastlines, with many bringing their furry friend along for a splash.
Now there is new beachwear that will get your dog dry and warm after a dip.
Creator of DogDry Frances O'Reilly told Down to Business that inspiration for the product came from personal experience.
"Dogs like my Luna like to get wet. She voluntarily launches herself into any body of water or puddles that she comes across."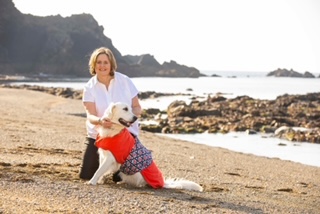 The Waterford-based entrepreneur's golden retriever is often brought on beach trips, but the mess afterwards was less than desirable.
"She makes a mess."
"We take her to the beach in the car and we need a way to get her dry so that she doesn't spread the mess around."
Ms O'Reilly insists it's a "problem solves" and avoids "those big piles of smelly wet towels that everybody has in their car".

So how do the dogs feel about their new apparel?
"The thing about DogDry is that we spent so much time designing it so that dogs would be comfortable wearing it", she said.
"They're happy to have it on."
"They can jump into the car when they're wearing it, they can move completely naturally as they wear it."
Product development
Ms O'Reilly is not new to product development, having worked previously with alcoholic beverage company Diageo.
"Even in a big company where you have so many resources and great big teams, it's very very difficult to get a product right."
"The issue with most new products is, there isn't probably a market for them."
"Rejection isn't personal"
So what's the secret to a successful product?
"The product needs to be good. It needs to be different. It needs to be solving a problem."
She also advises entrepreneurs that "rejection isn't personal".
"If you want a business to succeed, you really need to develop a thick skin", she said.
"At the end of the day, if consumers want the product, retailers will want to stock it."
Listen back to the full conversation here.