There have been 3,692 further confirmed cases of COVID-19 in Ireland.
Latest figures also show that 4,347 people registered a positive antigen test through the HSE portal on Sunday.
While there are 885 patients hospitalised with the virus - of which 76 are in ICU.
When the PCR-confirmed cases and positive antigen tests are combined, the cases figure for Monday is 8,039.
On that basis, the five-day moving average of cases has fallen to 9,699.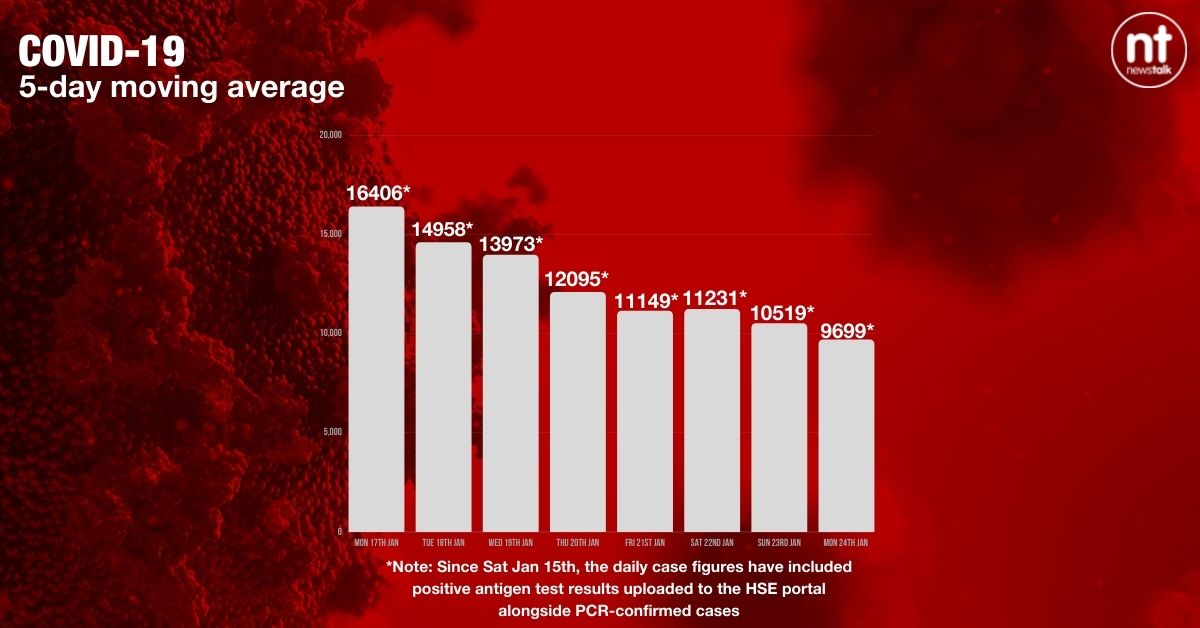 It comes as the Fórsa trade union is urging businesses not to 'revert back to 2019 as if none of this ever happened' as the return to the workplace begins.
Businesses can ask their workers to return to the office from Monday, after the Government on Friday gave the green light to a phased return.
But Fórsa's head of communications Bernard Harbor earlier told Newstalk Breakfast businesses, unions and Government must work together to ensure we keep the benefits offered by remote working wherever possible.
"To put it bluntly, what we don't want to see is a reversal back to 2019 as if none of this ever happened," he said.
"One of the very few benefits that has come out of the pandemic is that this model has been tested and has been shown to have worked."
And a leading GP said getting children vaccinated against COVID-19 will help 'control the chaos' in schools.
Dr Brendan O'Shea told Newstalk the vaccines' benefits to individual children are "definite but small", but they also bring significant benefits to the wider community.
He said it's clear parents carry "a whole lot of doubts around everything to do with their children" - including vaccination.
He said: "We're having a lot of conversation in practice, and there's a lot of conversation on social media and indeed mainstream media about this.
"People are really working this one through in their heads."
However, he said his own practice is "deliberately and systematically" encouraging parents to bring their children in for vaccination.
He added: "The benefit to children individually is definite but small, but the benefit to their communities - and particularly their extended family networks - is significant.
"We know at this stage that the immunisation is very safe, so there is really a compelling argument at different levels.
"It's not just about the individual child: it's about their family, their granny, their aunt, their uncle… or if they have a significant medical condition.
"It's about controlling the chaos in schools.
"For the foreseeable future, for the next several years, any time gets a cough, cold or runny nose… this whole question of isolation is going to crop up and continue to be a big issue."