There have been 3,628 further confirmed cases of COVID-19 in Ireland.
As of 8.00am Friday, 420 patients are hospitalised with the virus - of which 105 are in ICU.
It is estimated that around 35% of reported cases are now due to the Omicron variant.
The Department of Health says possible Omicron cases can be identified by the number of PCR results with 'S gene target failure.'
The five-day average of cases has fallen to 4,116.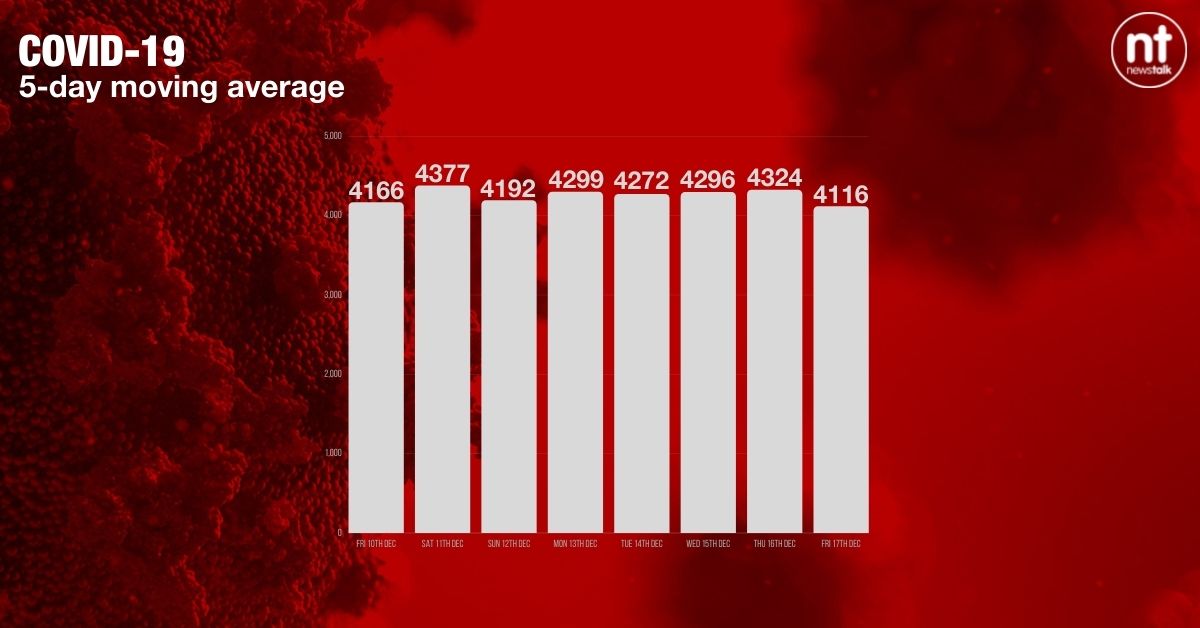 Meanwhile new restrictions from Sunday will see an 8.00pm closing time imposed on the hospitality sector in a bid to curb the spread of the Omicron variant.
Indoor gatherings will not be allowed after 8.00pm and will be limited to 50% capacity or 1,000 attendees - whichever is lower.
Outdoor gatherings will see 50% capacity to a maximum of 5,000 people.
There will be an exemption to the 8.00pm closing time for weddings - which can continue until midnight, but with a cap of 100 guests.
All people coming into the State from overseas will be advised to do daily antigen testing for five days after arriving.
Earlier Fine Gael Senator Regina Doherty said some of the restrictions do not make sense.
She earlier told Lunchtime Live: "You saw the Taoiseach a couple of weeks ago telling the world that people weren't showing up for their boosters.
"People are now questioning today that if I'm double-vaccinated and boosted and I still can't go for a pizza and a pint, what's the bloody point?".
And she said the Government has 'lost the room' on this one.
"I think they're all well aware - but I think we can also see the concern and the tone from the texts and the tweets from some of our political leaders today is that the hangover from the decisions that were made last year are obviously weighing heavy on people's shoulder.
"But if we are to believe that this year is different from last year.... is all of that for nothing?
"I've a real concern about what that will do to the remanding [sic] vaccination process that's obviously going to be ongoing.
"They've lost the room, they've stopped listening - and I think that's really, really scary and dangerous".