A further 2,029 new cases of COVID-19 have been reported in Ireland today.
The five-day moving average of new cases is now 1,907 - a slight decrease compared to yesterday.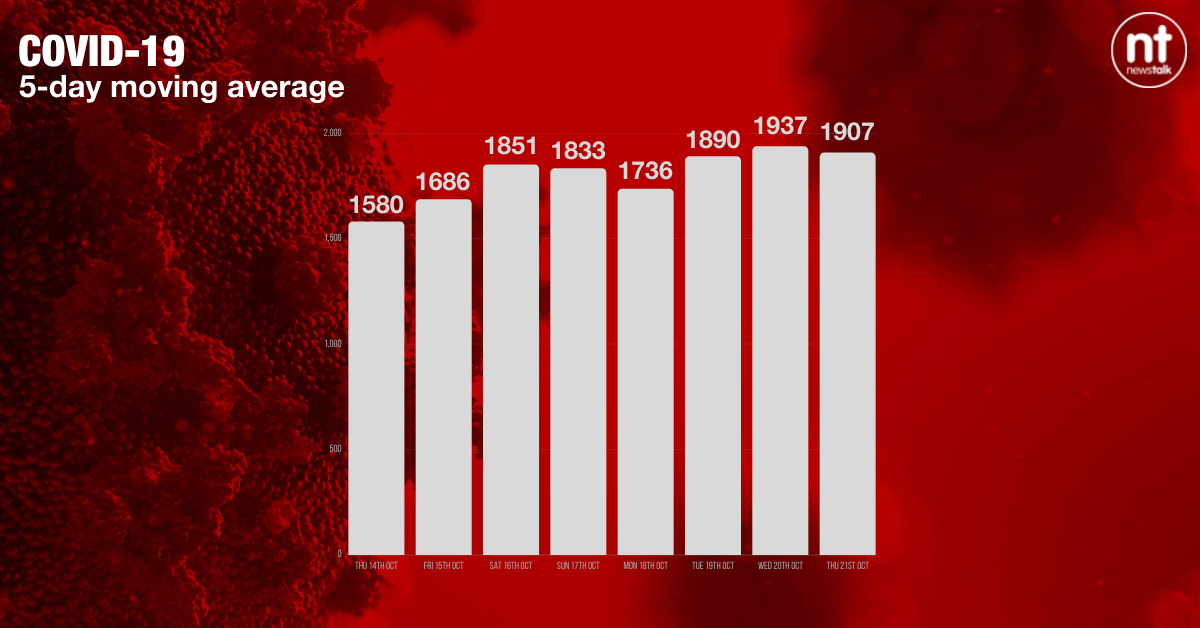 CMO Dr Tony Holohan said there are now more than 500 cases per 100,000 population.
He said: "As we come into the bank holiday weekend, take particular care with the three Cs – crowded places with many people nearby, close contact settings - especially where people may not be vaccinated, and confined and enclosed spaces with poor ventilation.
"It is important that we continue to follow public health advice as we know vaccination alone, even at very high levels of uptake, will not be sufficient to achieve suppression of the disease."
Hospital numbers
The latest HSE figures show there are 448 patients in Irish hospitals with COVID, down from 464 yesterday.
The number of patients in ICU has risen slightly to 88, compared to 86 yesterday.
HSE boss Paul Reid says hospitals are now struggling to deal with the rise in virus patients after the recent surge in cases.
He says officials are now looking at whether surge capacity will be needed to cope with the spike.
However, he said that isn't ideal.
He said: "We should not give the impression that's a line-up of doctors or nurses ready and waiting to just go in - it usually means redeploying from other core activities we have in hospitals."
Mr Reid also said the projections from NPHET earlier this week are causing concern among health officials.
Dr Tony Holohan's letter to the Government warned that a 'pessimistic scenario' could see 800-1,000 people in hospital in late November, including 150-200 in ICU.
Main image: File photo of a COVID-19 swab test. Picture via PA Images / Alamy Stock Photo.