Another 14,961 people have tested positive for COVID-19, the Department of Health has confirmed. 
10,753 were diagnosed after taking PCR tests, while the remaining 4,208 people informed the HSE they had received positive antigen test results. 
965 Irish people in hospital have COVID, of whom 88 are being cared for in ICU. 
The five day moving average now stands at 18,360 - down from 19,226 yesterday.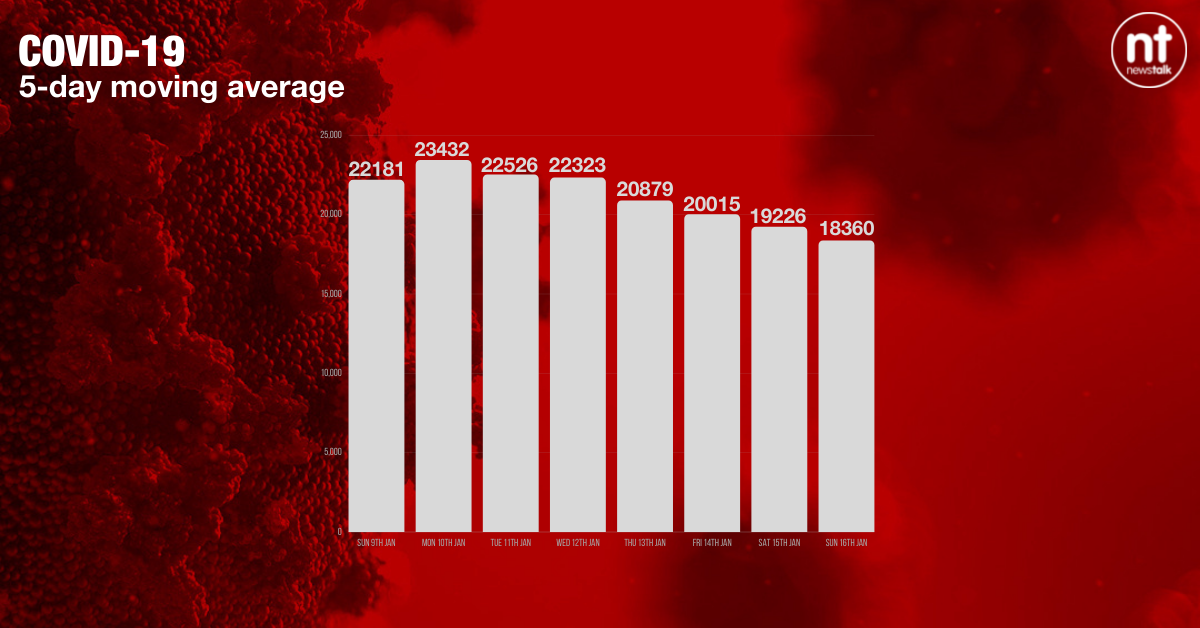 Earlier in the week Monaghan based GP Dr Illona Duffy told Newstalk that medics are seeing a steep reduction in cases: 
"The number of cases has dramatically reduced from the last time I was on call just about ten days ago," Dr Duffy said. 
"So I think it's a welcome sign to see that it is being reflected in, as [HSE CEO] Paul Reid has said, the number of those presenting with COVID like symptoms seem to be dropping."
However, the avalanche of cases over Christmas means that many of the state's booster jabs could well expire before they are used: 
"A lot of people got Covid over Christmas and if you were one of them you can't get the booster for three months," one healthcare worker told The Sunday Times. 
"GPs have noticed a significant fall-off in the numbers coming forward since Christmas, so there will be a significant challenge now to use up the supply they have in stock before the end of the month."
The state has some 400,000 booster jabs in storage, of which an estimated 244,000 doses are Pfizer and a further 160,000 are Moderna.
Main image: A COVID testing centre in Finglas, Dublin. Picture by: Sam Boal / RollingNews.ie