Have you ever thought about fostering a guide dog puppy? 
During the pandemic, demand for pets soared as people sought company while working from home. 
However, for those who also want to give back to society, fostering and training a guide dog puppy is a rewarding thing to do. 
But there's a big catch - puppy foster carers only get to keep the dog for a year and giving it up is usually heart-breaking. 
"It is very difficult," Erin McDonald, Puppy Raising Manager at Irish Guide Dogs for Blinds, told The Anton Savage Show. 
"There is certainly a grieving process but typically they're comforted knowing that the dog is going on to greater things. 
"Usually when they come in they get assigned a trainer and the trainer gives them periodic updates on how that dog is progressing in training." 
Guide dogs are transformative for blind people, giving many an ability to live independently in a way that would otherwise be impossible: 
"I lost my sight at 27 and I'm now 56," recalled blind woman Tina Lowe.
"And before I lost my sight I honestly was, no joke, terrified of dogs.
"The first time I went [to meet the dogs], I was so afraid, it was unbelievable and the second time, when I realised I had to get a guide dog because I couldn't use a cane, it was too difficult. 
"My sister used to tell me all the time about the benefits of guide dogs. She'd see people with guide dogs and when it came to the crunch it was amazing!"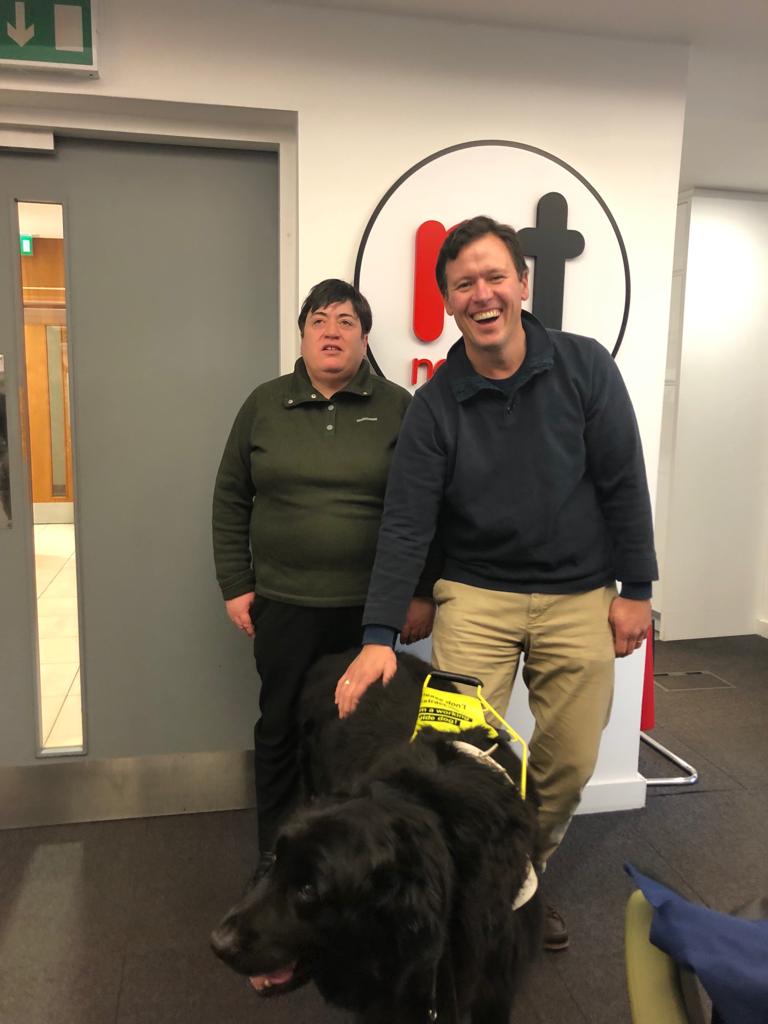 Tina Lowe and Anton Savage. 
Training
Guide dog puppies require a huge amount of training and it starts as soon as they are placed with their foster carers: 
"They [foster carers] are assigned a puppy raising supervisor that will support them throughout their journey," Erin explained. 
"And they'll be learning to work basic behaviours with the pup as well as keeping an eye on their health and [taking them] into public spaces such as shops and parks and public transport."
People who are retired or work at home are preferred, as the pups cannot be left by themselves for long periods of time. 
"We are looking for folks that are available to be home," Erin continued. 
"We ask that they are not alone for more than four hours. So that's usually folk that work from home, retired folk and homemakers and such. 
"So it can be any person, it's just they have to have that flexibility to put the training into the pup." Those with an interest can contact erin@guidedogs.ie or get in touch via Irish Guide Dogs' website.
Main image: A guide dog puppy in training during his walk in a British country park.