There have been 2,549 further confirmed cases of COVID-19 in Ireland.
Latest figures show there are 481 patients hospitalised with the virus, of which 97 are in ICU.
The five-day moving average of cases has risen to 2,165.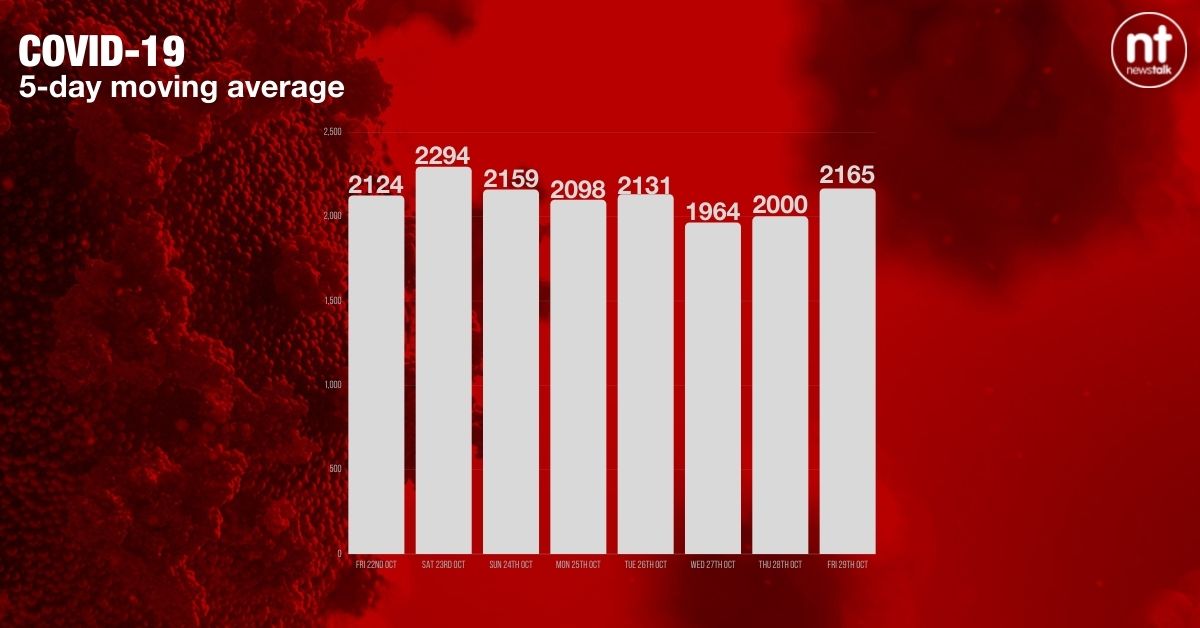 Chief Medical Officer Dr Tony Holohan says the incidence rate is highest across the five to 12-year-old age group.
"Today we are reporting a high number of cases across the entire population, with the highest incidence amongst 5-12-year-olds.
"While the COVID-19 vaccines give high protection against severe illness, hospitalisation and death the way to break transmission is by following all aspects of the public health advice."
He is advising people to take "simple precautions" over this Halloween weekend.
"If you are having visitors over, provide hand sanitizer, open windows and try to ensure people can spread out and keep their distance from one another - avoid crowded parties.
"For trick-or-treaters, give out treats outdoors if possible. Wash or sanitize hands frequently, and before eating or handling treats.
"Neither children nor adults should go trick-or-treating or meet up with others if they have any symptoms of COVID-19, even if symptoms are minor – instead, please isolate and get a test."
It comes as Tánaiste Leo Varadkar suggested COVID testing of close contacts of children in primary schools could be re-introduced.
Contact tracing of school children was suspended in late September because thousands of pupils who had been designated close contacts were absent from school even though they did not have any symptoms.
But Mr Varadkar said earlier a new system could see pupils offered antigen tests if they are a close contact but are not experiencing symptoms.
"So, one of the matters that NPHET is now reviewing at the moment is whether we should now resume testing of primary school children.
"At the moment, if you are an adult and you are a close contact of somebody who gets COVID, if you have symptoms, you get a PCR test and if you don't have symptoms, you are now going to get an antigen test.
"At the moment that doesn't apply to primary school children, but it might make sense to do that and that is something NPHET is reviewing at the moment," he said.
Main image: Dr Tony Holohan, chief medical officer, during a briefing at the Department of Health, Dublin in May 2021. Picture by: PA Images / Alamy Stock Photo