There have been 2,605 new cases of COVID-19 in Ireland.
This is the biggest daily figure since January 21st.
Latest figures show, as of 8.00am on Thursday, 487 patients are hospitalised with the virus - of which 99 are in ICU.
Hospitalisations are down 16 from Wednesday, while there are two fewer people in intensive care.
The five-day moving average of cases has increased to 2,000.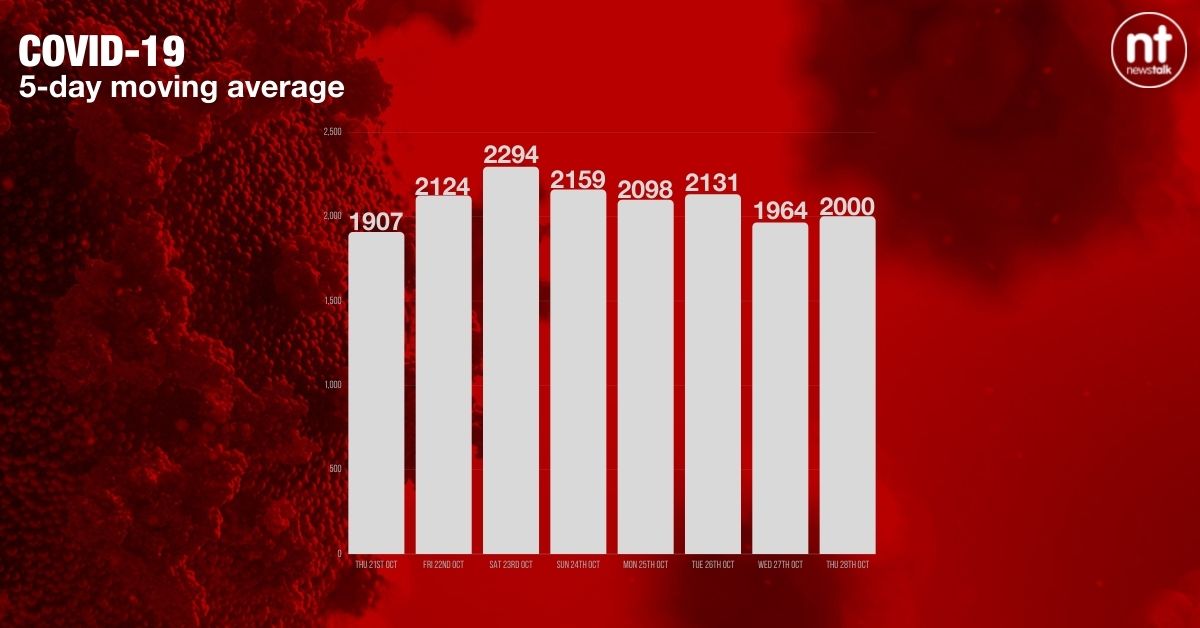 It comes as Health Minister Stephen Donnelly says there is no red line number at which the Government will re-introduce COVID-19 restrictions.
However, he earlier warned that elective surgeries may have to be cancelled if ICU numbers continue to increase.
Meanwhile the Taoiseach Micheál Martin says Government has been given no specific advice from NPHET on children limiting their activities.
On Wednesday, Deputy Chief Medical Officer Dr Ronan Glynn asked parents to consider cutting down on what their children are doing for the rest of the mid-term.
It comes amid fears over the rising number of new COVID-19 cases, and the strain it is putting on the hospital system.
Dr Glynn suggested trick or treating can still go ahead, but reducing frequency needs to be considered.
"People can trick or treat, people can do the things they normally do at Halloween.
"But maybe don't do it every day over the weekend; maybe don't meet up with multiple different groups of children.
"It's not a message that any of us want to be giving, and it's not a message that I'm sure parents want to hear.
"But we do need to take the basic precautions - on the other hand, if we do take the basic precautions, there's no reason why people can't do the things that we normally do at Halloween", Dr Glynn said.
But Mr Martin says it is important for the mental health of children they can keep up activities.
"We have received no advice in terms of children not doing outdoor sports, or being engaged in outdoor activity.
"And I think one of the dangers of the next phase is - because of the nature of our weather - that you're going to get far more indoor activity and living conditions, which can be a factor in the spread of the disease".