There have been 1,828 new cases of COVID-19 in Ireland.
The latest available figures show there are 198 patients in hospital with the virus - 33 of these are in ICU.
The Department of Health says the case numbers may change due to a future data update.
It brings the five-day moving average of new cases to 1,486.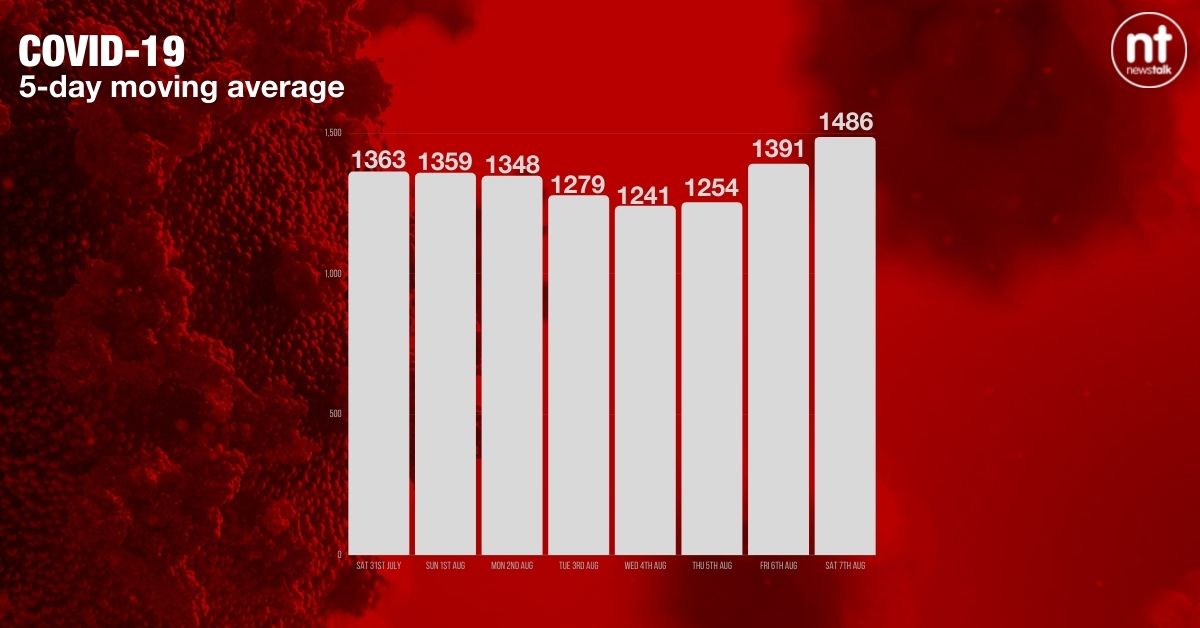 It comes as walk-in COVID-19 vaccination centres open across the country for more people to get vaccinated.
They are open to anyone who is set to receive their first dose of Pfizer who is aged 16 and over.
Those who already have an appointment booked can also use the walk-in facilities.
The head of the HSE, Paul Reid, said officials feel there is still more "potential" to vaccinate people through the centres, following a successful campaign during the bank holiday weekend.
"We do feel that there's still a further potential in walk-in facility process.
"Therefore we will be running these again this coming week - the three days over the weekend.
"We do feel that last weekend we will have captured probably most of this opportunity that there is there.
"But we once again open the facility to see if there are some further people that we can cover and capture through this process once again".
Tweeting earlier, he said Ireland is now at a "key juncture" to path our way out of COVID-19.
We're at a key juncture to path our way out of #COVID19. With 77% of adults fully vaccinated, rising cases still pose a real threat. Two types of walk in centres play a key role this weekend, ie to receive a first vaccination or a Covid test. Please avail as appropriate @HSELive

— Paul Reid (@paulreiddublin) August 7, 2021
Speaking to Down to Business earlier, economist Moore McDowell suggested the Government should have prioritised young people over older people for when restrictions were lifted.
"Maybe - with hindsight - instead of worrying as much as they did about a precious person as much as myself, they should have been saying 'We really must do something about the people whose bahaviour, once you get rid of restrictions, whose bahaviour must be expected to cause a big increase in infections'.
"It's so obvious in retrospect".
Mr McDowell said the approach of vaccinating older people and those in nursing homes "was fundamentally to do with the preserving the position of the HSE.
"In other words: that public sector hospitals could to be swamped by people.
"In effect at the time they clearly over-estimated the degree to which this was going to happen".
And he added that the approach to older people could have been more 'hard-nosed'.
"In retrospect, a harder-nosed approach to that - telling older people like me 'If you get it sunshine, you're history' and then telling us 'And here's how you avoid getting it' was a better strategy than making sure I don't get sick by giving me the vaccine.
"I am of an age where I know that, statistically speaking, if I come down with COVID-19... the probability is that I'll die of it.
"So do you think I'm going to take chances?"