Irish Water is hoping the boil water notice affecting parts of the Greater Dublin Area will be lifted before the Bank Holiday weekend.
Irish Water issued the warning to 600,000 people in parts of Dublin, Kildare and Meath on Tuesday.
The utility said a mechanical fault at the Leixlip Water Treatment Plant had "compromised the disinfection process."
It said the problem had since been fixed; however, the untreated water in the system must be flushed out before the water can be passed as safe to drink.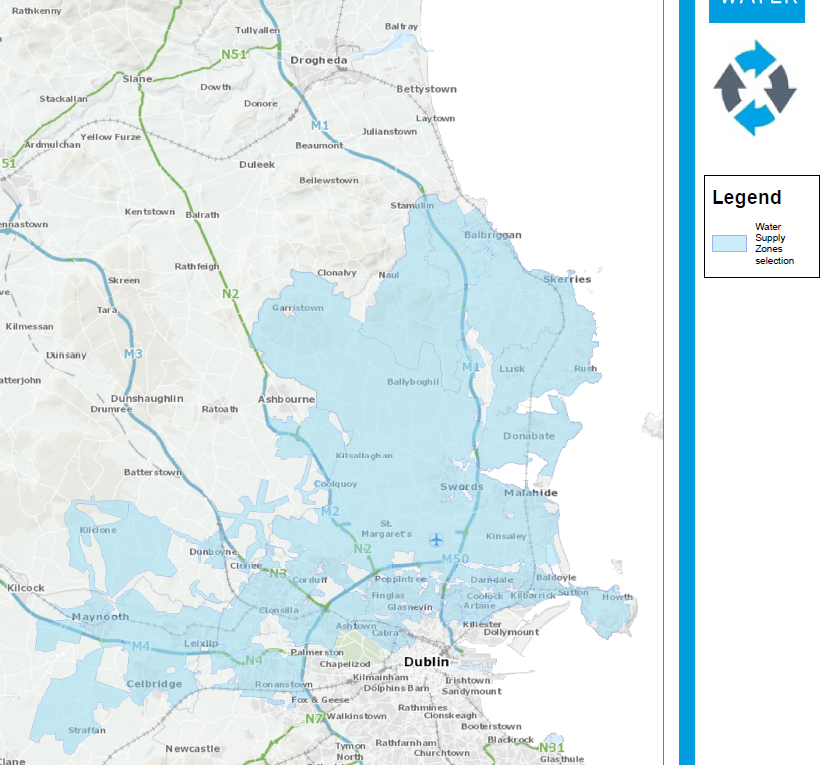 The HSE said it was informed by Irish Water of issues at their Leixlip Water Treatment Plant.
Leixlip supplies north Dublin city and county, part of South Dublin County Council area, north Kildare and part of east Meath.
The HSE explained: "As a result of these issues drinking water produced at the water treatment plant may contain cysts of cryptosporidium and giardia.
"These may cause gastrointestinal infections with symptoms such as diarrhoea and stomach cramps.
"People who develop such symptoms should consult their General Practitioners for testing and treatment."
Get more information on cryptosporidium and giardia here from the HPSC.
Advice regarding Boil Water Notice from Irish Water for North Dublin, North Kildare East, Meath: https://t.co/iDg0MZbOQf pic.twitter.com/x7DtyjDDOt

— HSE Ireland (@HSELive) October 23, 2019
People are also being reminded to not give contaminated water to dogs, cats or other animals.
On Newstalk Breakfast earlier, Irish Water general manager Eamon Gallen said the notice could remain in place for a number of days to come.
"It is up to the HSE," he said. "We would be hopeful it doesn't go into the Bank Holiday weekend but I don't want to be presumptuous here; it's the HSE that makes the call and we will fully support whatever their decision is.
"The tests at the moment are clear and all the indications are very positive.
"We all want this boil water notice lifted but we have to err on the side of caution. We have to make sure that the safety of the public is number one.
"We have to make sure that the water is up to the standard it needs to be before this notice can be lifted."
The notice covers parts of Fingal, Dublin City Council, South Dublin County Council, Kildare and Dunboyne in Meath are affected.
A detailed map of affected areas is available here.
A boil water notice means water must be boiled for the likes of drinking, making ice, preparing salads / food that will not be cooked, and brushing teeth.
The untreated water could contain parasites like cryptosporidium and Irish Water has urged anyone who is feeling unwell to contact their GP.
People in Swords are struggling to buy bottled water this morning. This is Tesco.

Not helped by the fact that own brand bottled water has been recalled from a number of stores over contamination fears: Dunnes, Aldi, Lidl, Applegreen.. even the Plane water sold at Dublin airport pic.twitter.com/JyS1i2FV8c

— Kacey O'Riordan (@KaceyORiordan) October 23, 2019
Fingal County Councillor Duncan Smith said people in the area are stocking up on water.
"My phone lit up last night when the notice went out," he said. "People panicked wondering whether it affected parts of Swords, all of swords – all of Fingal," he said.
"It was reminiscent of the Beast from the East. There were pictures last night of empty water shelves from the local Tesco down in Holywell and I am sure that is reminiscent of other shops.
"So people are definitely going out making sure they are stocked up on bottled water."
Green Party MEP Ciarán Cuffe said Dublin's water supply has suffered from a "chronic lack of investment over many years."
"Irish Water needs to show us very clearly how they are going to minimise the chances of something like this reoccurring," he said.
He said the utility should outline what they are doing to "safeguard our water supply."
Additional reporting: Jack Quann