An audit has found 90% of audited sushi makers and sellers failed to meet food safety standards.
Food Safety Authority of Ireland inspectors (FSAI) examined sushi manufacturers, restaurants and takeaway outlets.
The FSAI says 11 premises were audited, and only one premise had no breaches of food safety and hygiene legislation.
In total, 76 breaches of food safety were discovered across the businesses.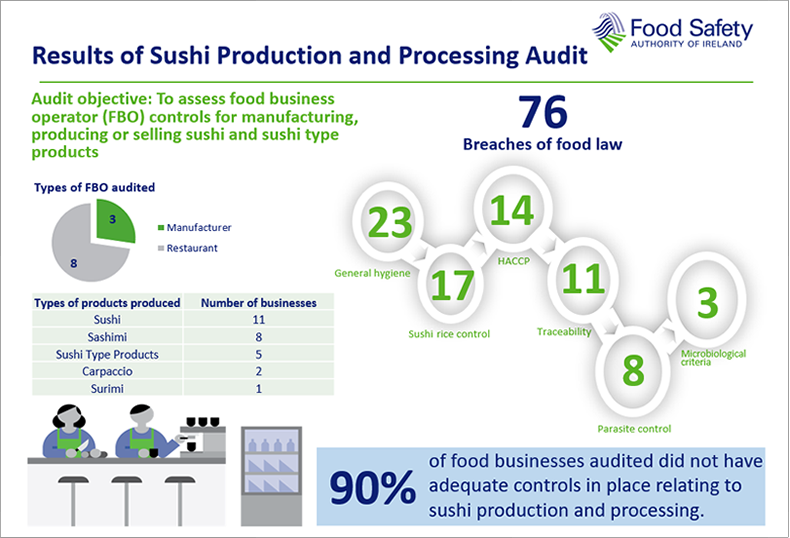 75% of the businesses did not meet the requirements of the legislation for freezing fish for parasite control, while more than 90% did not have adequate operational controls for sushi rice production.
FSAI officials say they carried out the audit due to an 80% increase in the number of restaurants offering sushi since 2018.
Dr Pamela Byrne, FSAI chief executive, explained: "The poor standards overall are worrying and suggests a lack of awareness by the sector as a whole of the serious food safety risks that sushi can pose if there are inadequate food safety controls in place.
"We found frozen fish being defrosted at room temperature. Defrosting should only be undertaken in refrigerators to avoid bacteria multiplying at room temperatures.
"We found freezers not at the required minus 20 degrees Celsius for fish parasite control, as well as fish being delivered without temperature checks."
She added that all premises have since rectified the issues, noting that the authority will continue to apply enforcement measures for non-compliance.
Main image: File photo of sushi. 

Picture by:

 

Tobias Hase/DPA/PA Images