There are 3,685 new COVID cases in Ireland today, the Department of Health has confirmed. 
444 people in hospital have tested positive for the disease, of whom 74 are being treated in ICU. 
The five-day moving average of cases has increased to 3,502 - up slightly from 3,336.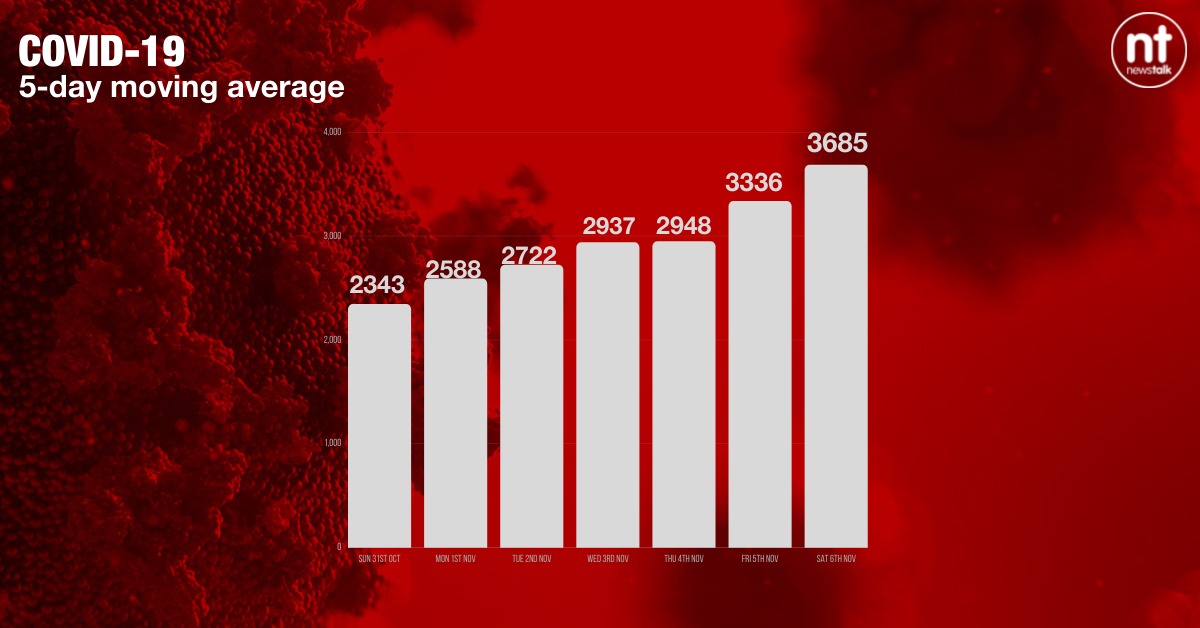 Game changing drug
The news comes as a leading professor has predicted that Pfizer's new anti-COVID pill could soon bring the pandemic under control. 
Clinical trials found that the new drug Paxlovid slashes the risk of hospitalisation or death among vulnerable adults by 89%. Pfizer plans to submit the findings to the US Food and Drug Administration and ask for approval to manufacture and sell the drug to patients. 
Speaking to The Anton Savage Show, Professor Paul Moynagh, Director of the Human Health Research at NUI Maynooth, says while other antiviral drugs failed, Paxlovid is different and, when combined with vaccines, could help bring the pandemic to an end: 
"It was designed to specifically target this virus. If that works as well as the data that we saw released yesterday, if that works as well in the real world, that in combination then with the vaccine are very powerful tools. 
"And in my view they should go a long way in terms of allowing us now to control this pandemic." 
Listen and subscribe to The Anton Savage Show on Apple Podcasts or Spotify.
Download, listen and subscribe on the Newstalk App.
Professor Moynagh said that while the vaccine protects most people from contracting severe COVID-19, in some cases patients still need help: 
"The vaccine doesn't work in everybody, the vaccine is still incredibly effective in terms of protecting from serious illness and hospitalisation - 80 to 90%. 
"But we know now there are breakthrough infections. Some of them will develop into hospitalisations and serious illness. Now potentially we have this antiviral drug that can treat those individuals, so suddenly we have a situation where we have really very strong pharmaceutical interventions". 
Meanwhile, Higher Education Minister Simon Harris said that the rollout of booster jabs would speed up in the coming weeks:  
"We're seeing lots of people, yes getting COVID but we're also seeing them getting COVID in the context of 92% plus of us being fully vaccinated," Mr Harris told Newstalk.
"And I think there's three parts to it; the roll out of the booster campaign, over 60s now starting. I would certainly think we're going to see a much more expanded booster campaign than I think we should but we've been guided by medical advice on that. 
"Better use of antigen testing - we need to do more on that - and also all of continuing to use that 'cop on' that we've been using throughout the pandemic in terms of our own safety."
Main Image: A woman takes a pill. Picture by: Annette Riedl/dpa